OMAHA, Neb. (NCBWA) – Five collegiate stars (three from 2018 NCAA Super Regional contenders) are the finalists for the 32nd annual Dick Howser Trophy presented by The Game Headwear in balloting by the National Collegiate Baseball Writers Association in conjunction with the Dick Howser Trophy committee and the St. Petersburg Area Chamber of Commerce.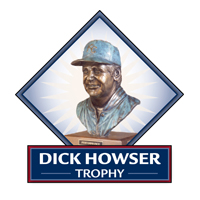 Catcher Joey Bart of Georgia Tech, Texas second baseman Kody Clemens, Auburn starting pitcher Casey Mize, Florida starting pitcher Brady Singer and Illinois first baseman Bren Spillane are the five finalists for the prestigious 32nd annual awarding of the Howser Trophy.
The winner will be announced on Saturday, June 16, at a 10 a.m. (CDT) national news conference at TD Ameritrade Park – home of the 72nd annual NCAA World Series.
Each finalist embodies the major principles of character, leadership, desire, and competitive spirit exhibited by Dick Howser, the All-America shortstop and later head coach at Florida State before managing the Kansas City Royals to the world championship in 1985. He also is the namesake for Dick Howser Stadium at FSU.
Bart, who was the second overall pick in the MLB draft earlier this week, was named a finalist for the Johnny Bench Award for the nation's outstanding collegiate catcher. He also was named the Atlantic Coast Conference Player-of-the-Year after hitting .359 with a team-high 16 home runs and drove in 38 runs. A junior, Bart also was tabbed by the ACC as the league's Defensive Player-of-the-Year and was a first-team All-ACC selection. He has been named to both the Baseball America and Collegiate Baseball All-America squads.
The Buford, Ga., native led the ACC in hitting and was second in slugging percentage (.632) and hits (79), and was in the top 10 in home runs, runs scored and on-base percentage (.471). He posted a season-high 16-game hitting streak, the longest of the year for a Yellow Jacket player, and totaled 24 multi-hit games on the season overall, which included a pair of multi-home run games in which he blasted two long balls at Mercer on April 10 and on the road at Virginia on May 14.
A solid defensive catcher, Bart posted a .992 fielding percentage on the season, threw out 12-of-33 would-be base stealers and recorded three pickoffs from behind the plate.
Clemens, who led the Longhorns to their first Big 12 conference title since 2011, spurred Texas to the Super Regional round as a junior, hitting a team-high .346 with 21 home runs and driving in 68 runs. The Houston native was selected by Detroit in the third round of the MLB Draft and was honored as the Big 12 Player-of-the-Year and named to Baseball America and Collegiate Baseball's All-America teams. A Golden Spikes Award finalist, Clemens defensively has been a stalwart at second base, helping turn 68 double plays, which ranks third in the nation.
Mize, a first-team All-Southeastern Conference honoree, was the first overall pick by the Detroit Tigers after posting a 10-5 record and posting a 2.95 earned run average. He has struck out 151 batters in 109.2 innings, while helping the Tigers to the Super Regionals against top-seed Florida. Mize was named a finalist for the Golden Spikes Award, was a first-team All-America selection by Baseball America, while Collegiate Baseball slotted him on its second team.
His 151 strikeouts not only lead the SEC and rank second in the country, but are also tied for the third most in a single-season in program history. Dating back to the beginning of last season, the Springville, Ala., native has struck out 260 batters and issued only 21 walks. Along with his strikeout total, Mize also leads the SEC in strikeout-to-walk ratio (12.58), strikeouts per nine innings (12.39) and WHIP (0.81). His strikeout-to-walk ratio and WHIP are good for second and third in the country, respectively.
Mize has turned in a quality start in 10 of his 16 trips to the mound and has gone the distance in three games this season. He took the mound on March 9 vs. Northeastern and turned in the ninth no-hitter in program history while totaling 13 strikeouts without issuing a walk. The 13-strikeout performance against the Huskies was one of six outings with 10 or more strikeouts this season, including a record-matching 15 strikeouts vs. Vanderbilt on May 4. Mize joined former Auburn pitchers Mark Chapman, John Powell, Tim Hudson and Chris Bootcheck in the 15-strikeout club and was the first SEC pitcher to accomplish the feat in a conference game since 2012.
Singer was the SEC Pitcher-of-the-Year and a first-round selection of Kansas City, earning first-team All-America honors from Baseball America and Collegiate Baseball. Baseball America's National Player of the Year led a talented Florida staff with an 11-1 record in 14 starts, while fashioning a 2.27 ERA and holding opponents to a .188 batting average. The Eustis, Fla., native finished with seven or more strikeouts in eight games, had a season-high 11 strikeouts against Vanderbilt and also had 10 strikeouts against Kentucky. His 10 SEC wins led the conference in the regular season and helped him earn First Team All-SEC honors. Other career awards included 2017 All-SEC Second Team, College World Series All-Tournament Team and Academic All-SEC.
Singer's career numbers to date are equally as impressive with a career record of 21-8, ERA of 3.18 and 265 career strikeouts in 264.2 innings pitched. His 265 career strikeouts ranks seventh all-time at Florida.
Spillane posted a strong season at the plate, hitting .389 with 17 doubles and 23 home runs, while slugging a NCAA-leading .903. Spillane was named Big Ten Player of the Year, Collegiate Baseball's National Player of the Year and Baseball America listed the junior on its first-team All-America squad. Spillane was honored as the Big Ten's Player of the Year and selected by Cincinnati in the third round of the MLB Draft.
He is the first player in program history to win a national player of the year award and the first Big Ten player drafted in 2018. Spillane was the first player in Division I to slug over .900 in a season since 2009. The Wheeling, Ill., native's rare combo of speed and power helped him become the first player in Illini history to have 15 homers and 15 steals in a single season.
Recent finalists for the Dick Howser Trophy have included the likes of standouts Clemson OF Seth Beer (2016 winner, first freshman to receive Dick Howser Trophy), Wake Forest 3B Will Craig, Louisville UTIL Brendan McKay, Kent State P Eric Lauer, and Texas A&M 3B Boomer White; and 2015 aces Arkansas OF Andrew Benintendi (winner), UCLA RP David Berg, Vanderbilt SP Carson Fulmer, Vanderbilt SS Dansby Swanson and Miami (Fla.) 3B David Thompson.
The Howser Trophy was created in 1987, shortly after Howser's death. Previous winners of the Howser Trophy are Mike Fiore, Miami, 1987; Robin Ventura, Oklahoma State, 1988; Scott Bryant, Texas, 1989; Alex Fernandez, Miami-Dade Community College South, 1990; Frank Rodriguez, Howard College (Texas), 1991; Brooks Kieschnick, Texas, 1992 and 1993; Jason Varitek, Georgia Tech, 1994; Todd Helton, Tennessee, 1995; Kris Benson, Clemson, 1996; J. D. Drew, Florida State, 1997; Eddy Furniss, LSU, 1998; Jason Jennings, Baylor, 1999; Mark Teixeira, Georgia Tech, 2000; Mark Prior, P, USC, 2001, Khalil Greene, SS, Clemson, 2002; Rickie Weeks, 2B, Southern U., 2003; Jered Weaver, P, Long Beach State, 2004; Alex Gordon, 3B, Nebraska, 2005; Brad Lincoln, P/DH, Houston, 2006; David Price, P, Vanderbilt, 2007; Buster Posey, C, Florida State, 2008; Stephen Strasburg, P, San Diego State, 2009; Anthony Rendon, 3B, Rice, 2010; Taylor Jungmann, P, Texas, 2011; Mike Zunino, C, Florida, 2012; Kris Bryant, 3B, San Diego, 2013; A.J. Reed, Kentucky, 2014; Andrew Benintendi, Arkansas, 2015; Seth Beer, Clemson, 2016; Brendan McKay, Louisville, 2017.
2018 Dick Howser Trophy:
• Thu., May 17: Dick Howser Trophy semifinalists announced
• Thu., June 7: Dick Howser Trophy finalists announced
• Sat., June 16: Dick Howser Trophy presented at College World Series
Related links:
• More on the Dick Howser Trophy