OMAHA, Neb. (NCBWA) – Pitcher Brady Singer, regarded as one of the top pitchers in the storied history of Florida Gators baseball, is the 32nd recipient of the Dick Howser Trophy, presented by The Game Headwear, as college baseball's Player of the Year.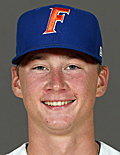 Singer
Singer joins UF's and Seattle Mariners catcher Mike Zunino (2012) as the first two Gators standout to capture the Howser Trophy.
The Howser Trophy committee and National Collegiate Baseball Writers Association announced the award Saturday at a national news conference at TD Ameritrade Park prior to the opening game of the 72nd annual NCAA Division I Baseball College World Series. Singer is the seventh student-athlete from the Southeastern Conference to win the trophy and third in five years after the awards went to A.J. Reed of Kentucky and the Houston Astros in 2014 and Andrew Benintendi of Arkansas and the Boston Red Sox in 2015.
Singer, a 6-5, 220-pound right-handed pitcher from Eustis, Florida, was the 2018 SEC Pitcher of the Year. He also garnered 2018 consensus first team All-American honors and was the No. 18 player chosen in the recent Major League Baseball Draft by the Kansas City Royals, the organization Dick Howser managed to the 1985 World Series crown.
His most recent pitching outing was against fellow 2018 Dick Howser Trophy finalist pitcher Casey Mize of Auburn on June 9. Singer outdueled the AU mound star with 6 2/3 innings pitched, nine strikeouts, two walks, two runs (both earned), and a key 8-2 win by the Gators to open the NCAA Gainesville Super Regional.
Singer also dealt to Super Regional-competing Tigers a 3-1 setback in a head-to-head bout with Mize on April 26 in Gainesville. The UF righty earned that win with seven innings of work, eight strikeouts, two walks, and one earned run.
After helping the Gators win their first NCAA baseball title last season with a 9-5 overall record and CWS All-Tournament honors (21 strikeouts in 14 innings over two appearances), Singer enjoyed an even more stellar campaign as a junior in '18 under head coach Kevin O'Sullivan.
Singer is 12-1 this year with a 2.30 ERA, along with 107 strikeouts and only 21 walks in 101-plus innings. Opponents have hit just .187 against him for the third-lowest average by foes since UF began recording opponents' batting averages in 1974.
His accomplishments in the latter part of the season have indicated his mental toughness and team-oriented goals – two traits vital to Dick Howser Trophy winners.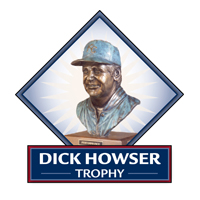 Singer recovered from a hamstring injury to pitch the Gators past Atlantic Sun Conference representative Jacksonville U. and to provide seven quality innings with six strikeouts in a 3-2 win at the NCAA Gainesville Regional, in which the Gators had to play five games to advance to the NCAA Super Regionals. His opening-game win in the supers helped Florida advance past Auburn to earn a chance at repeating as NCAA champion.
Used primarily in relief for a deep Florida pitching staff in 2016, he is also 23-8 on the hill for his career with a 3.15 ERA. The native Floridian has 274 all-time strikeouts for the fourth spot on the UF career list after 65 mound appearances over three seasons.
"Brady Singer embodies all the best qualities for individuals who have received the Dick Howser Trophy," said Howser Trophy committee chair David Feaster. "He is a true team player who overcame many obstacles as a junior to help the Gators move into position to win back-to-back NCAA championships. We are thrilled with his election."
Singer topped a sterling list of 2018 Howser Trophy finalists, including Mize, Bren Spillane, 1B, Illinois; Joey Bart, C, Georgia Tech; and Kody Clemens, 2B, Texas.
A Florida native, Dick Howser was twice an All-America shortstop at Florida State (1957-58), then head coach of the Seminoles in 1979 after a career as a Major League player and coach. After one year in the college ranks, he returned to the majors to manage the New York Yankees and Kansas City Royals and won the World Series with the Royals in 1985. The baseball stadium on the Florida State campus is named for Howser.
NCBWA membership includes writers, broadcasters and publicists. Designed to promote and publicize college baseball, it is the sport's only college media-related organization, founded in 1962. The NCBWA has been the voting mechanism for the Howser Trophy annually since 1998.
The Howser Trophy was created in 1987 shortly after Howser's death. Previous winners of the Howser Trophy are Mike Fiore, Miami, Fla., 1987; Robin Ventura, Oklahoma State, 1988; Scott Bryant, Texas, 1989; Alex Fernandez, Miami-Dade Community College South, 1990; Frank Rodriguez, Howard College (Texas), 1991; Brooks Kieschnick, Texas, 1992 and 1993; Jason Varitek, Georgia Tech, 1994; Todd Helton, Tennessee, 1995; Kris Benson, Clemson, 1996; J. D. Drew, Florida State, 1997; Eddy Furniss, LSU, 1998; Jason Jennings, Baylor, 1999; Mark Teixeira, Georgia Tech, 2000; Mark Prior, P, USC, 2001, Khalil Greene, SS, Clemson, 2002; Rickie Weeks, 2B, Southern U., 2003; Jered Weaver, P, Long Beach State, 2004; Alex Gordon, 3B, Nebraska, 2005; Brad Lincoln, P/DH, Houston, 2006; David Price, P, Vanderbilt, 2007; Buster Posey, C, Florida State, 2008; Stephen Strasburg, P, San Diego State, 2009; Anthony Rendon, 3B, Rice, 2010; Taylor Jungmann, P, Texas, 2011; Mike Zunino, C, Florida, 2012; Kris Bryant, 3B, San Diego, 2013; A.J. Reed, Kentucky, 2014; Andrew Benintendi, Arkansas, 2015; Seth Beer, Clemson, 2016; and Brendan McKay, Louisville, 2017.
2018 Dick Howser Trophy:
• Thu., May 17: Dick Howser Trophy semifinalists announced
• Thu., June 7: Dick Howser Trophy finalists announced
• Sat., June 16: Dick Howser Trophy presented at College World Series
Related links:
• More on the Dick Howser Trophy