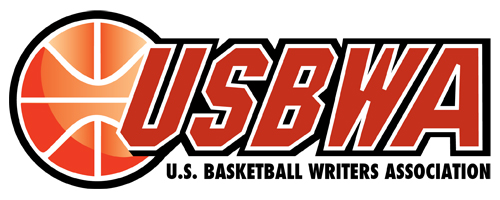 P.O. Box 257, Zionsville, IN 46077-9998 • 814-574-1485
2021-22 USBWA OFFICERS
EXECUTIVE DIRECTOR
Malcolm Moran
IUPUI Sports Capital Journalism Program
Indianapolis, Ind.
PRESIDENT
Shannon Ryan
The Athletic
Chicago, Ill.
FIRST VICE-PRESIDENT
Luke DeCock
Raleigh News & Observer
Raleigh, N.C.
SECOND VICE-PRESIDENT
Brendan Quinn
The Athletic
Ann Arbor, Mich.
THIRD VICE-PRESIDENT
TBA
VICE-PRESIDENT (WOMEN)
Mel Greenberg
Freelance
Philadelphia, Pa.
MEN'S REPRESENTATIVES
Gavin Keefe (I)
New London Day
New London, Conn.
C.J. Holmes (II)
The Athletic
Philadelphia, Pa.
David Hale (III)
ESPN.com
Charlotte, N.C.
Michelle Kaufman (IV)
Miami Herald
Miami, Fla.
Mike Carmin (V)
Lafayette Journal and Courier
Lafayette, Ind.
Stu Durando (VI)
St. Louis Post-Dispatch
St. Louis, Mo.
Bob Holt (VII)
Arkansas Democrat-Gazette
Little Rock, Ark.
Kelly Lyell (VIII)
Fort Collins Coloradoan
Fort Collins, Colo.
James Crepea (IX)
The Oregonian
Eugene, Ore.
WOMEN'S REPRESENTATIVES
Percy Allen
Seattle Times
Seattle, Wash.
Charlotte Carroll
The Athletic
Storrs, Conn.
Cheryl Coward
Hoopfeed
Mountain View, Calif.
Doug Feinberg
Associated Press
New York, N.Y.
Barb Kowal
CoSIDA
Austin, Texas
Meghan McKeown
Big Ten Network
Chicago, Ill.
Thuc Nhi Nguyen
Los Angeles Times
Los Angeles, Calif.
Alexa Philippou
Hartford Courant
Hartford, Conn.
Scott Richey
Champaign News-Gazette
Champaign, Ill.
Augusta Stone
The State
Columbia, S.C.
AT-LARGE REPRESENTATIVES
Chuck Culpepper
Washington Post
Washington, D.C.
Jon Wilner
Bay Area News Group
San Jose, Calif.
NEW MEDIA
Mike Rutherford
SB Nation
Louisville, Ky.
SID REPRESENTATIVE
Craig Pinkerton
Southeastern Conference
Birmingham, Ala.
EDITOR, THE TIPOFF
TBA
WEBMASTER
Ted Gangi
collegepressbox
Dallas, Texas
DIVISION II PLAYER OF THE WEEK COORDINATOR
John Kean
Missouri S&T University
Rolla, Mo.
DIVISION III PLAYER OF THE WEEK COORDINATOR
Jeff Bernstein
New York University
New York, N.Y.