ST. LOUIS (USBWA) – The U.S. Basketball Writers Association has selected Temple guard Shey Peddy as its Women's National Player of the Week for games ending the week of Sunday, Feb. 19. The USBWA's weekly honor has been handed out each Tuesday this season and Peddy is the season's final recipient.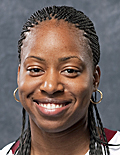 Peddy
As the Atlantic 10 Conference Player of the Week, Peddy was nominated for the weekly award, which was chosen by a representative of the USBWA board of directors from a list of Division I conference players of the week.
Peddy, a 5-7 senior from Roxbury, Mass., averaged 18.5 points, 7.5 steals and 5.0 rebounds in two games as Temple's win streak reached 11 games. She had a career-high 10 steals in Sunday's win at Rhode Island, tying a school record set in 1985. She also scored 22 points in the win over the Rams and leads the Owls and is second in the A-10 in scoring with a 16.6 average. She is the reigning Philadelphia Big 5 Player of the Year.
Since the 1987-88 season, the USBWA has named a National Player of the Year. This is the first season the USBWA has presented a Women's National Player of the Week. At the conclusion of the regular season, the USBWA will name finalists for the award, which is voted on by the entire membership of the USBWA. The winner of the 2012 National Player of the Year will be announced and presented at the USBWA's annual awards breakfast in Denver, site of the 2012 NCAA Women's Final Four.
The U.S. Basketball Writers Association was formed in 1956 at the urging of then-NCAA Executive Director Walter Byers. With some 900 members worldwide, it is one of the most influential organizations in college basketball. It has selected a women's All-America team since the 1996-97 season. For more information on the USBWA and its award programs, contact executive director Joe Mitch at 314-444-4300.
2011-12 USBWA Women's National Players of the Week
• Week of Dec. 11: A'dia Mathies, Kentucky (Southeastern Conference)
• Week of Dec. 18: Brittney Griner, Baylor (Big 12 Conference)
• Week of Dec. 25: Nnemkadi Ogwumike, Stanford (Pac-12 Conference)
• Week of Jan. 1: Sugar Rodgers, Georgetown (Big East Conference)
• Week of Jan. 8: Elena Delle Donne, Delaware (Colonial Athletic Association)
• Week of Jan. 15: Brittany Rayburn, Purdue (Big Ten Conference)
• Week of Jan. 22: Jessica Jenkins, St. Bonaventure (Atlantic 10 Conference)
• Week of Jan. 29: Tiffany Hayes, Connecticut (Big East Conference)
• Week of Feb. 5: Markeshia Grant, South Carolina (Southeastern Conference)
• Week of Feb. 12: Tianna Hawkins, Maryland (Atlantic Coast Conference)
• Week of Feb. 19: Shey Peddy, Temple (Atlantic 10 Conference)