ST. LOUIS (USBWA) – The U.S. Basketball Writers Association has selected Connecticut forward Breanna Stewart as its Ann Meyers Drysdale Women's National Player of the Week for games ending the week of Sunday, Dec. 22. The USBWA's weekly honor will be handed out each Tuesday through Feb. 25 this season.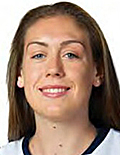 Stewart
As the American Athletic Conference Player of the Week, Stewart was nominated for the weekly award, which was chosen by a representative of the USBWA board of directors from a list of Division I conference players of the week.
Stewart, a 6-4 sophomore from Syracuse, N.Y., who was the Most Outstanding Player of the 2013 NCAA Women's Final Four in April, averaged 26.5 points, 10.5 rebounds and shot 54.1 percent from the field for the top-ranked Huskies in wins over then-No. 2 Duke and then-No. 21 California as the defending NCAA champions stayed unbeaten at 12-0.
Since the 1987-88 season, the USBWA has named a National Player of the Year. At the 2012 Women's NCAA Final Four in Denver, the organization announced going forward that the national and weekly player award has been named for Hall of Famer and former UCLA All-American Ann Meyers Drysdale. At the conclusion of the regular season, the USBWA will name finalists for the award, which is voted on by the entire membership of the USBWA. The winner of the 2014 Ann Meyers Drysdale National Player of the Year will be announced and presented at the USBWA's annual awards presentation in Nashville, site of the 2014 NCAA Women's Final Four.
The U.S. Basketball Writers Association was formed in 1956 at the urging of then-NCAA Executive Director Walter Byers. With some 900 members worldwide, it is one of the most influential organizations in college basketball. It has selected a women's All-America team since the 1996-97 season. For more information on the USBWA and its award programs, contact executive director Joe Mitch at 314-795-6821.
2013-14 Ann Meyers Drysdale National Players of the Week
• Week of Dec. 8: Jennifer O'Neill, Kentucky (Southeastern Conference)
• Week of Dec. 15: Jeanise Randolph, Cincinnati (American Athletic Conference)
• Week of Dec. 22: Breanna Stewart, Connecticut (American Athletic Conference)
• Week of Dec. 29: Blake Dietrick, Princeton (Ivy League)
• Week of Jan. 5: Brianna Kiesel, Pittsburgh (Atlantic Coast Conference)
• Week of Jan. 12: Jasmine Lister, Vanderbilt (Southeastern Conference)
• Week of Jan. 19: Bria Hartley, Connecticut (American Athletic Conference)
• Week of Jan. 26: Jillian Alleyne, Oregon (Pac-12 Conference)
• Week of Feb. 2: Kayla McBride, Notre Dame (Atlantic Coast Conference)
• Week of Feb. 9: Odyssey Sims, Baylor (Big 12 Conference)
• Week of Feb. 16: Diamond DeShields, North Carolina (Atlantic Coast Conference)
• Week of Feb. 23: Tyonna Outland, Bakersfield (Western Athletic Conference)