ST. LOUIS (USBWA) – The U.S. Basketball Writers Association has selected Washington guard Kelsey Plum as its Ann Meyers Drysdale Women's National Player of the Week for games ending the week of Sunday, Jan. 8. The USBWA's weekly honor will be handed out each Tuesday through mid-February this season.
As the Pac-12 Conference Player of the Week, Plum was nominated for the weekly award, which was chosen by Mel Greenberg, the USBWA coordinator for women's basketball, from a list of Division I conference players of the week.
Plum, a 5-9 senior guard from Poway, Calif., and a reigning USBWA All-American, averaged 36.5 points per game in wins over USC and UCLA. In the game against the then-No. 9 Bruins, Plum shot 13-for-26, including five 3-pointers, and went 8-for-8 from the foul line. Against USC, Plum shot 13-for-24 and scored 34 points, while leading the team with five assists.
Since the 1987-88 season, the USBWA has named a women's National Player of the Year. At the Women's NCAA Final Four in Denver, 2012, the organization announced going forward that the national and weekly player award has been named for Hall of Famer and former UCLA All-American Ann Meyers Drysdale. At the conclusion of the regular season, the USBWA will name finalists for the award, which is voted on by the entire membership of the USBWA. The winner of the 2017 Ann Meyers Drysdale National Player of the Year will be announced and presented at the USBWA's annual awards event in Dallas, site of the 2017 NCAA Women's Final Four.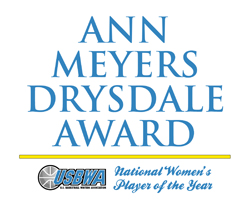 Several other women's awards are also to be announced later this season associated with more famous names in women's basketball history. Also in 2012 in Denver, it was also announced there that former Tennessee coach Pat Summitt, who was the female recipient of the Most Courageous Award for her battle against early onset dementia, Alzheimer type, would have that award named in her honor. Coach Summitt ultimately succumbed in that battle this past June.
The U.S. Basketball Writers Association was formed in 1956 at the urging of then-NCAA Executive Director Walter Byers. With some 900 members worldwide, it is one of the most influential organizations in college basketball. It has selected a women's All-America team since the 1996-97 season. For more information on the USBWA and its award programs, contact executive director Joe Mitch at 314-795-6821.
2016-17 Ann Meyers Drysdale National Players of the Week
• Week ending Dec. 11: Napheesa Collier, UConn (American Athletic Conference)
• Week ending Dec. 18: Alaina Coates, South Carolina (Southeastern Conference)
• Week ending Dec. 25: Kristine Anigwe, California (Pac-12 Conference)
• Week ending Jan. 1: Ty Petty, Middle Tennessee (Conference USA)
• Week ending Jan. 8: Kelsey Plum, Washington (Pac-12 Conference USA)
• Week ending Jan. 15: Brionna Jones, Maryland (Big Ten Conference USA)
• Week ending Jan. 22: Katie Lou Samuelson, UConn (American Athletic Conference)
• Week ending Jan. 29: Camille Zimmerman, Columbia (Ivy League)
• Week ending Feb. 5: Jennie Simms, Old Dominion (Conference USA)
• Week ending Feb. 12: Sabrina Ionescu, Oregon (Pac-12 Conference)
• Week ending Feb. 19: Sophie Cunningham, Missouri (Southeastern Conference)