ST. LOUIS (USBWA) – The U.S. Basketball Writers Association has selected the Kentucky guard Malik Monk as its Oscar Robertson National Player of the Week for games ending the week of Sunday, Dec. 18. The USBWA's weekly honor is presented by Blue Ribbon College Basketball Yearbook.
As the Southeastern Conference Player of the Week, Monk was nominated for the weekly award, which was chosen by a representative of the USBWA board of directors from a list of Division I conference players of the week. This is the eighth season that the USBWA has selected a national player of the week.
Monk, a 6-3 freshman from Lepanto, Ark., scored a school freshman record 47 points in a 103-100 win over No. 7 North Carolina in the CBS Sports Classic in Las Vegas. It is the most points scored in a game by an SEC freshman since LSU's Chris Jackson scored 55 points against Ole Miss on March 4, 1989.
After North Carolina took a 98-95 lead, Monk hit a 3-pointer to tie the game with a little more than a minute to play. The Tar Heels again took a two-point lead before Monk hit his eighth 3-pointer of the game to give the Wildcats a 101-100 lead. Monk finished the game shooting 18-of-28 (.642) from the field and 8-of-12 (.667) from 3-point range. He tied Dan Issel for the sixth-most points ever by a Wildcat in a single game. It is the seventh time this season he has scored 20-plus points.
Monk was also named the Oscar Robertson National Freshman of the Week by Matt Norlander of CBSSports.com.
Since the 1958-59 season, the USBWA has named a National Player of the Year. In 1998, the award was named in honor of the University of Cincinnati Hall of Famer and two-time USBWA Player of the Year Oscar Robertson. It is the nation's oldest award and the only one named after a former player.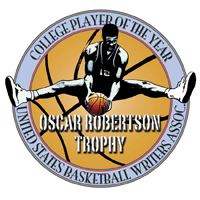 At the conclusion of the regular season, the USBWA will name finalists for the award, which is voted on by the entire membership.
The U.S. Basketball Writers Association was formed in 1956 at the urging of then-NCAA Executive Director Walter Byers. With some 900 members worldwide, it is one of the most influential organizations in college basketball. It has selected an All-America team since the 1956-57 season. For more information on the USBWA and the Oscar Robertson Trophy, contact executive director Joe Mitch at 314-795-6821.
Blue Ribbon College Basketball Yearbook, the most comprehensive college basketball publication in the world, returns for its 36th season. Blue Ribbon – long-known as "The Bible of College Basketball" – gives its readers the most thorough, up-to-date and timely evaluations of every Division I team in the country. For more information about Blue Ribbon Yearbooks, visit blueribbonyearbookonline.com.
2016-17 Oscar Robertson National Players of the Week
• Week ending Dec. 11: Josh Hart, Villanova (Big East Conference)
• Week ending Dec. 18: Malik Monk, Kentucky (Southeastern Conference)
• Week ending Dec. 25: Quentin Snider, Louisville (Atlantic Coast Conference)
• Week ending Jan. 1: Dillon Brooks, Oregon (Pac-12 Conference)
• Week ending Jan. 8: Ryan Taylor, Marshall (Conference USA)
• Week ending Jan. 15: Quincy McKnight, Sacred Heart (Northeast Conference)
• Week ending Jan. 22: Lauri Markkanen, Arizona (Pac-12 Conference)
• Week ending Jan. 29: Tim Cline, Richmond (Atlantic 10 Conference)
• Week ending Feb. 5: Jacob Wiley, Eastern Washington (Big Sky Conference)
• Week ending Feb. 12: Bonzie Coles, Notre Dame (Atlantic Coast Conference)
• Week ending Feb. 19: Mike Daum, South Dakota State (The Summitt League)
• Week ending Feb. 26: Elijah Bryant, BYU (West Coast Conference)