ST. LOUIS (USBWA) – Arizona center Deandre Ayton is the Wayman Tisdale National Freshman of the Week for games ending the week of Dec. 10. Ayton was selected by CBSSports.com's Matt Norlander, in partnership with the U.S. Basketball Writers Association.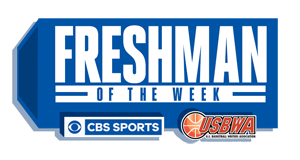 Norlander's popular weekly freshman watch column will continue to feature nation's the top freshmen each week in addition to the national player of the week. Later in the season, the USBWA will release a midseason watch list before naming finalists for the award. This season marks the first time a weekly national freshman of the week will be selected and, each Tuesday through Feb. 27, a standout first-year player will be chosen for the honor.
Norlander writes of the Nassau, Bahamas, product: "(Ayton) is coming into his own. He had a career high of 29 points and 18 rebounds in Arizona's 88-82 home win over Alabama on Saturday. That game was stacked with talent. Rawle Alkins made his Arizona debut, Alabama freshman dynamo Collin Sexton kept his team in it. But Ayton was a force. He showed why he's going to remain in the discussion for the No. 1 pick. He cannot be handle one-on-one. His shooting skill set is such a valuable piece – and let's not forget that Sean Miller is one season removed from riding another 7-footer, Lauri Markkanen, to a No. 2 seed in the NCAA Tournament.
Ayton's a different player than Markkanen, and much more dangerous all around. On the week Ayton averaged 21 points (on 16-of-27 shooting) and 14 rebounds. Arizona defeated seventh-ranked Texas A&M last Tuesday. That was the deciding factor in favor of Ayton this week. It wasn't just career highs in points and boards, but the fact he was really good in two straight games against teams that should make it into the NCAA Tournament."
The USBWA has chosen a national freshman of the year since the 1988-89 season when LSU's Chris Jackson was the recipient. Last season, Duke's Jabari Parker became the fourth winner of the Wayman Tisdale Award. Other notable previous winners of the national freshman of the year award include Anthony Davis, Kevin Durant, Carmelo Anthony, Jason Kidd and Chris Webber.
The late Wayman Tisdale was a three-time USBWA All-American at the University of Oklahoma. Following a stint on the 1984 U.S. Olympic basketball team, he played 12 seasons in the NBA before retiring in 1997 to focus on a blossoming jazz music career. In March 2007, he was diagnosed with cancer and, following a courageous and difficult battle that included the amputation of his right leg in 2008, he passed away in May 2009.
The U.S. Basketball Writers Association was formed in 1956 at the urging of then-NCAA Executive Director Walter Byers. With more than 900 members worldwide, it is one of the most influential organizations in college basketball. It has selected an All-America team since the 1956-57 season. For more information on the USBWA and its award programs, contact executive director Joe Mitch at 314-795-6821.
2017-18 Wayman Tisdale National Freshmen of the Week
• Week ending Dec. 3: Trae Young, Oklahoma (Big 12 Conference)
• Week ending Dec. 10: Deandre Ayton, Arizona (Pac-12 Conference)
• Week ending Dec. 17: David Jenkins Jr., South Dakota State (Summit League)
• Week ending Dec. 24: Trae Young, Oklahoma (Big 12 Conference)
• Week ending Dec. 31: Mohamed Bamba, Texas (Big 12 Conference)
• Week ending Jan. 7: McKinely Wright IV, Colorado (Pac-12 Conference)
• Week ending Jan. 14: Trae Young, Oklahoma (Big 12 Conference)
• Week ending Jan. 21: R.J. Cole, Howard (Mid-Eastern Athletic Conference)
• Week ending Jan. 28: Kevin Knox, Kentucky (Southeastern Conference)
• Week ending Feb. 4: Trae Young, Oklahoma (Big 12 Conference)
• Week ending Feb. 11: Cameron Lard, Iowa State (Big 12 Conference)
• Week ending Feb. 18: Mohamed Bamba, Texas (Big 12 Conference)
• Week ending Feb. 25: Deandre Ayton, Arizona (Pac-12 Conference)