INDIANAPOLIS (USBWA) – Debby Jennings, a former longtime sports information director at Tennessee, has been named the U.S. Basketball Writers Association's winner of the 2022 Mary Jo Haverbeck Award. The award, established in 2015, pays tribute to someone in sports media relations who embodies Haverbeck's pioneering and visionary spirit while working with reporters who cover college basketball. Jennings will be presented the award at an annual ceremony at the Final Four in Minneapolis.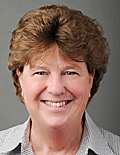 Jennings
To reporters who covered Tennessee women's basketball at the height of its dominance in the Pat Summitt era, Jennings was as well-known and important as anyone within the Lady Vols' program. She spent 35 years at Tennessee, beginning her career with the Lady Vols after her graduation in 1977 and becoming the school's first sports information director for women's sports. She's won numerous awards and oversaw national media attention during Pat Summitt and Tennessee's reign, known as a go-to reference for women's basketball information.
"She's an institution and the standard-bearer for a professionally run sports information department," ESPN.com's Mechelle Voepel once wrote. "Who can even count how many thousands of interviews she has set up, game notes she has written and edited, industry-leading media guides she has produced, awards she has won and young people she has mentored."
Jennings has authored three books, assisted on an HBO documentary on the Lady Vols, and was honored by CoSIDA as the second woman to win the prestigious Arch Ward award in 2008 and the third woman inducted into the COSIDA Hall of Fame in 2002. She was the first sports information director to win the Women's Basketball Coaches Association (WBCA) Mel Greenberg Award for lifelong contributions to women's basketball, and she was recognized by the media in Tennessee with induction into the state's Sports Writers Association Hall of Fame in 2009.
Jennings continues to be an advocate for the advancement of women in athletics.
The U.S. Basketball Writers Association was formed in 1956 at the urging of then-NCAA Executive Director Walter Byers. With some 900 members worldwide, it is one of the most influential organizations in college basketball. It has selected an All-America team since the 1956-57 season. For more information on the USBWA and its award programs, contact executive director Malcolm Moran at 814-574-1485.