INDIANAPOLIS (USBWA) – The U.S. Basketball Writers Association is pleased to name the winners of its annual Rising Star and Jim O'Connell awards.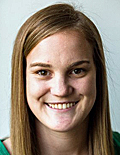 Giambalvo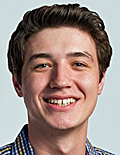 Durando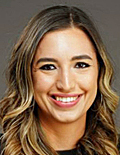 Philippou
Emily Giambalvo is the Jim O'Connell Award winner for beat writing excellence. Giambalvo covers University of Maryland athletics for The Washington Post, where she has worked since 2018. Emily grew up in South Carolina and graduated from the University of Georgia, working for the Red and Black student newspaper and serving as its sports editor.
Emily has distinguished herself on the Maryland beat for the Post, deftly covering the end of the Mark Turgeon era, including a behind-the-scenes look at his last hours with the program, and its ensuing coaching search. She's also covered the Olympics and Maryland football, while finding touching stories such as the last rescued dog from Michael Vick's dog-fighting ring and a longtime Maryland fan who survived cardiac arrest at a game.
Giambalvo, a former gymnast who spent time studying in Russia as a college student, won first-place for best sports story in 2015 from the Georgia College Press Association. She also covered the 2016 Paralympic Games in Rio de Janeiro for the Associated Press.
The Jim O'Connell Award is named in honor of the longtime Associated Press basketball reporter who died in 2018 and is presented to a journalist who has demonstrated consistent outstanding reporting and meeting the USBWA's code of ethics while covering a college basketball beat. Giambalvo is the fourth winner of the annual award.
Bennett Durando is the USBWA men's basketball Rising Star winner, which annually honors a college basketball reporter younger than 30.
Durando has been the Auburn athletics beat writer for the Montgomery Advertiser and USA Today Network since August 2021. In addition to Auburn football turmoil and covering Auburn and Olympic gymnast Suni Lee, he has captured the meteoric rise of Auburn basketball this season. Durando, who was born and raised in St. Louis, covered Missouri sports for the Columbia Missourian and as a freelancer for the Post-Dispatch. He was an APSE Category D top-10 finisher in beat writing, breaking news, long feature and short feature writing. Durando graduated from the Missouri school of journalism with honors in 2020.
Other men's Rising Star nominees included Alex Zietlow from the Rock Hill Herald, Brendan Marks from The Athletic and Emily Giambalvo from The Washington Post.
Alexa Philippou is the USBWA women's basketball Rising Star winner, which annually is presented to a college basketball reporter younger than 30. Philippou recently accepted a role as a women's basketball reporter for ESPN.com. Since 2019, she has covered UConn women's basketball and the WNBA's Connecticut Sun for the Hartford Courant. Philippou, a Baltimore native and 2018 Stanford graduate, also previously wrote for the Dallas Morning News, Seattle Times, and Cincinnati Enquirer. She and her mini bernedoodle Kalli live together in Hartford.
Other Rising Star nominees included Augusta Stone from The State and Cora Hall from the Knoxville News Sentinel.
The U.S. Basketball Writers Association was formed in 1956 at the urging of then-NCAA Executive Director Walter Byers. With some 900 members worldwide, it is one of the most influential organizations in college basketball. It has selected an All-America team since the 1956-57 season. For more information on the USBWA and its award programs, contact executive director Malcolm Moran at 814-574-1485.