INDIANAPOLIS (USBWA) – Northeastern guard Kendall Currence is this year's Pat Summitt Most Courageous Award winner. The senior has demonstrated an intrepid spirit and a remarkable determination, undergoing more than a dozen surgeries after being born with a cleft lip and palate. She also has overcome having three holes in her heart, a heart murmur and a bicuspid aortic valve, according to the Boston Globe.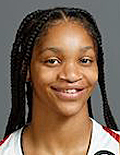 Currence
Currence, a 5-foot-8 guard, thrived despite these challenges. She leads the Huskies and is seventh in the Colonial Athletic Association with 16.0 points per game to go with 3.7 rebounds per game while shooting fourth-best (43.8 percent) in her conference among guards. She was chosen to the All-CAA first team and will be honored at the upcoming Women's Final Four in Minneapolis.

"I feel grateful and lucky to be here playing, especially with what I've gone through," she told The Globe. "A lot of kids with cleft lip and palate can't even talk, and a lot of people with heart problems can't play sports, so I'd say I'm grateful."

Currence is also a member of the Herring Pond Wampanoag Tribe and was raised on her tribe's homeland in Bourne, Mass. She and her family are actively involved in the tribal community – she has danced at powwow across New England and volunteered as an interpreter at Plimouth Plantation.

Her commitment to her community and her team, as well as her perseverance through health issues, embody the spirit of this award.

"I am so proud to coach and know Kendall. She embodies everything that this award represents. She's demonstrated true resilience through adversity all of her life both on and off the court," Northeastern coach Bridgette Mitchell said. "Her mentality, intelligence, confidence, and desire to see change in the world around her is inspiring. She's a woman of character that will continue to change the world."
The Pat Summitt Most Courageous Award has been presented by the USBWA since 2012, when the award's legendary namesake was honored as she battled early-onset dementia. Summitt won 1,098 games and eight national championships in her 42 seasons as a college coach. She passed away in 2016.
The USBWA has presented a Most Courageous Award since the 1977-78 season to recognize a player, coach, team, official or administrator who has demonstrated extraordinary courage reflecting honor on amateur basketball. In 2012, the USBWA expanded the program to designate a recipient from both men's and women's college basketball.
Last season, the men's Most Courageous Award was named in honor of Perry Wallace, the SEC's first Black athlete to play a full four-year career in any sport. Andrew Jones of Texas and Justin Hardy of Washington U. were chosen as this season's recipients.
The U.S. Basketball Writers Association was formed in 1956 at the urging of then-NCAA Executive Director Walter Byers. With some 900 members worldwide, it is one of the most influential organizations in college basketball. It has selected an All-America team since the 1956-57 season. For more information on the USBWA and its award programs, contact executive director Malcolm Moran at 814-574-1485.
Related links:
• All-time Most Courageous Award recipients