ST. LOUIS (USBWA) – The U.S. Basketball Writers Association has selected West Virginia forward Devin Ebanks as its Oscar Robertson National Player of the Week for games ending the week of Sunday, Dec. 27. The USBWA's weekly honor is presented by Blue Ribbon College Basketball Yearbook and will be handed out each Tuesday through Feb. 23 this season.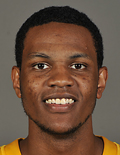 Ebanks
As the Big East Conference Player of the Week, Ebanks was nominated for the weekly award, which was chosen by a representative of the USBWA board of directors from a list of Division I conference players of the week.
Ebanks, a 6-9 sophomore from Long Island City, N.Y., ended the week with a career-high 22 points to go along with 17 rebounds in a 90-84 overtime win at Seton Hall in West Virginia's conference opener on Saturday. Earlier in the week, he scored 14 points and grabbed 13 rebounds in leading the Mountaineers past No. 15 Ole Miss, 76-66.
This is the first season that the USBWA has selected a national player of the week. The weekly Oscar Robertson National Player of the Week is added to the Oscar Robertson Trophy watch list, which will be released at mid-season.
Since the 1958-59 season, the USBWA has named a National Player of the Year. In 1998, the award was named in honor of the University of Cincinnati Hall of Famer and two-time USBWA Player of the Year Oscar Robertson. It is the nation's oldest award and the only one named after a former player.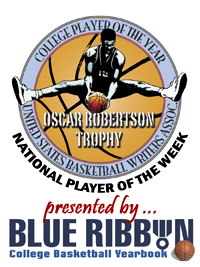 At the conclusion of the regular season, the USBWA will name finalists for the award, which is voted on by the entire membership of the USBWA. The winner of the 2010 Oscar Robertson Trophy will be announced and presented by its namesake, Oscar Robertson, at the USBWA's annual awards breakfast on Fri., April 2 in Indianapolis, site of the 2010 NCAA Men's Final Four.
The U.S. Basketball Writers Association was formed in 1956 at the urging of then-NCAA Executive Director Walter Byers. With some 900 members worldwide, it is one of the most influential organizations in college basketball. It has selected an All-America team since the 1956-57 season. For more information on the USBWA and the Oscar Robertson Trophy, contact executive director Joe Mitch at 314-421-0339.
Blue Ribbon College Basketball Yearbook, the most comprehensive college basketball publication in the world, returns for its 29th season, bigger and better in 2009-10. Blue Ribbon – long-known as "The Bible of College Basketball" – gives its readers the most thorough, up-to-date and timely evaluations of every Division I team in the country. For more information about Blue Ribbon Yearbooks, visit blueribbonyearbookonline.com.
2009-10 Oscar Robertson National Players of the Week
• Week of Dec. 13: Gordon Hayward, Butler
• Week of Dec. 20: Jon Scheyer, Duke
• Week of Dec. 27: Devin Ebanks, West Virginia
• Week of Jan. 3: Jimmer Fredette, BYU
• Week of Jan. 10: Luke Harangody, Notre Dame
• Week of Jan. 17: Damion James, Texas
• Week of Jan. 24: Adrian Oliver, San Jose State
• Week of Jan. 31: Devan Downey, South Carolina
• Week of Feb. 7: Denis Clemente, Kansas State
• Week of Feb. 14: Jerome Randle, California