ST. LOUIS (USBWA) – The U.S. Basketball Writers Association has selected Marquette guard Markus Howard as its Oscar Robertson National Player of the Week for games ending the week of Sunday, Dec. 23. The USBWA's weekly honor is presented by Blue Ribbon College Basketball Yearbook.
As the Big East Conference Player of the Week, Howard was nominated for the weekly award, which was chosen by a representative of the USBWA board of directors from a list of Division I conference players of the week. This is the second time this season Howard has earned the USBWA's National Player of the Week honor. The USBWA has named Oscar Robertson National Players of the Week since the 2009-10 season.
The 5-11 junior guard from Chandler, Ariz., averaged 35.5 points, shot 13-of-19 from 3-point range and 16-of-16 from the foul line in a 2-0 week. Last Friday, he scored 45 points – including 40 points in the second half – in a 103-85 victory over then-No. 14 Buffalo. In the game, he scored 25 straight points for his team in a 5:27 span. Three days earlier, he scored 26 points in a 92-66 win against North Dakota. Howard is the Big East's leading scorer, averaging with 25.0 points per game.
Since the 1958-59 season, the USBWA has named a National Player of the Year. In 1998, the award was named in honor of the University of Cincinnati Hall of Famer and two-time USBWA Player of the Year Oscar Robertson. It is the nation's oldest award and the only one named after a former player.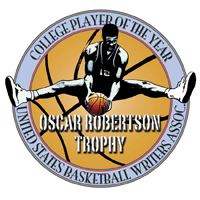 At the conclusion of the regular season, the USBWA will name finalists for the award, which is voted on by the entire membership.
The U.S. Basketball Writers Association was formed in 1956 at the urging of then-NCAA Executive Director Walter Byers. With some 900 members worldwide, it is one of the most influential organizations in college basketball. It has selected an All-America team since the 1956-57 season. For more information on the USBWA and the Oscar Robertson Trophy, contact executive director Joe Mitch at 314-795-6821.
Blue Ribbon College Basketball Yearbook, the most comprehensive college basketball publication in the world, returns for its 38th season. Blue Ribbon – long-known as "The Bible of College Basketball" – gives its readers the most thorough, up-to-date and timely evaluations of every Division I team in the country. For more information about Blue Ribbon Yearbooks, visit blueribbonyearbookonline.com.
2018-19 Oscar Robertson National Players of the Week
• Week ending Dec. 2: Markus Howard, Marquette (Big East Conference)
• Week ending Dec. 9: Admiral Schofield, Tennessee (Southeastern Conference)
• Week ending Dec. 16: Juwan Morgan, Indiana (Big Ten Conference)
• Week ending Dec. 23: Markus Howard, Marquette (Big East Conference)
• Week ending Dec. 30: Justin Wright-Foreman, Hofstra (Colonial Athletic Association)
• Week ending Jan. 6: Shamorie Ponds, St. John's (Big East Conference)
• Week ending Jan. 13: Bruno Fernando, Maryland (Big Ten Conference)
• Week ending Jan. 20: Ja Morant, Murray State (Ohio Valley Conference)
• Week ending Jan. 27: Grant Williams, Tennessee (Southeastern Conference)
• Week ending Feb. 3: Chris Clemons, Campbell (Big South Conference)
• Week ending Feb. 10: Robert Franks, Washington State (Pac-12 Conference)
• Week ending Feb. 17: PJ Washington, Kentucky (Southeastern Conference)
• Week ending Feb. 24: Mike Daum, South Dakota State (Summit League)
• Week ending March 3: Fletcher Magee, Wofford (Southern Conference)