INDIANAPOLIS (USBWA) – For the season's twelfth honorees for games ending Sunday, Feb. 20, the U.S. Basketball Writers Association Ann Meyers Drysdale Women's National Player of the Week goes to South Carolina forward Aliyah Boston, the organization's Tamika Catchings women's freshman player honor goes to DePaul forward Aneesah Morrow for a record-tying fourth time, and the USBWA women's team citation goes to North Carolina.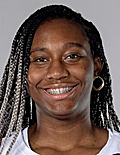 Boston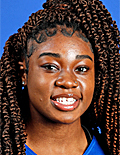 Morrow
Boston, a 6-5 junior forward from St. Thomas, U.S. Virgin Islands, who is a past USBWA All-American and freshman of the year honoree, tied LSU's Sylvia Fowles' 15-year-old conference record against Tennessee with her 19th straight double-double as the top-ranked Gamecocks beat the Lady Vols, 67-53, and gained the No. 1 seed in next week's SEC tournament last Sunday. In a 75-38 rout of Auburn earlier in the week, she collected 10 points and 12 rebounds in just 20 minutes and then against South Carolina's 11th ranked opponent she tied the SEC mark with 16 points and 12 rebounds. She is averaging 16.8 points and 11.9 rebounds per game for the 25-1 Gamecocks.
Morrow, a 6-1 forward from Chicago, Ill., averaged 22 points and 16 rebounds last week, extending her double-double streak to 21, a total reached by only three other players in NCAA history. She also broke the single-season record for rebounds at DePaul set by All-American Diana Vines in 1986-87 (397). Morrow has 401. Her fourth USBWA honor of the season ties a weekly women's freshman record set last year by UConn's Paige Bueckers and Iowa's Caitlin Clark and she also extended her weekly Big East record freshman honor total to 12. Three weeks ago she became the first in conference history to win duo weekly honors three times. She is averaging 21.0 points and her 13.8 rebounds on the season leads the nation.
After making Princeton a nationally-recognized force beyond becoming an Ivy League power at her previous stop, Courtney Banghart has rebuilt North Carolina into a contender in the Atlantic Coast Conference in her three seasons in Chapel Hill. Paced by sophomore Deja Kelly, this week's ACC player honoree, the Tar Heels defeated No. 3 Louisville, their first ever ACC win over the Cardinals and first Top Five win since 2019, and followed with their first win over Florida State since 2015.
Each week awards go to the Ann Meyers Drysdale Women's national player, the organization's Tamika Catchings freshman player, and the USBWA's women's national team of the week. The pool of candidates is drawn from the weekly conference citations as well as at-large additions involving an expanded governing panel focusing on women's basketball, headed by vice-president Mel Greenberg.
Since the 1987-88 season, the USBWA has named a women's National Player of the Year. For the 2012-13 season, the national and weekly player award became named for Hall of Famer and former UCLA All-American Ann Meyers Drysdale while this is the first season the national and weekly freshman award is being given in the name of former Tennessee all-American Tamika Catchings.
At the conclusion of the regular season, the USBWA will name finalists for both individual awards, which is voted on by the entire membership of the USBWA.
The winners of the 2022 Ann Meyers Drysdale National Player of the Year and Tamika Catchings National Freshman of the Year will be announced and presented at the USBWA's annual awards event on site at the 2022 NCAA Women's Final Four in Minneapolis.
The U.S. Basketball Writers Association was formed in 1956 at the urging of then-NCAA Executive Director Walter Byers. With some 900 members worldwide, it is one of the most influential organizations in college basketball. It has selected a women's All-America team since the 1996-97 season. For more information on the USBWA and its award programs, contact executive director Malcolm Moran at 814-574-1485.
2021-22 USBWA Women's Weekly Honors
• Week ending Dec. 5: Teisha Hyman, Syracuse (National); Shayeann Day-Wilson, Duke (Freshman); Duke (Team)
• Week ending Dec. 12: Maddy Siegrist, Villanova (National); Aneesah Morrow, DePaul (Freshman); Georgia Tech (Team)
• Week ending Dec. 19: Haley Jones, Stanford (National); Laila Phelia, Michigan (Freshman); Michigan (Team)
• Week ending Dec. 26: Destanni Henderson, South Carolina (National); Rori Harmon, Texas (Freshman); South Carolina (Team)
• Week ending Jan. 2: Ayoka Lee, Kansas State (National); Kelbie Washington, Oklahoma (Freshman); Missouri (Team)
• Week ending Jan. 9: Jaylyn Sherrod, Colorado (National); Alexis Markowski, Nebraska (Freshman); Colorado (Team)
• Week ending Jan. 16: Caitlin Clark, Iowa (National); Aaliyah Collins, Chicago State (Freshman); Oklahoma and Oregon (Team)
• Week ending Jan. 23: Ayoka Lee, Kansas State (National); Alberte Rimdal, Florida (Freshman); Ole Miss (Team)
• Week ending Jan. 30: Naz Hillmon, Michigan (National); Aneesah Morrow, DePaul (Freshman); Drexel (Team)
• Week ending Feb. 6: Jasmine Dickey, Delaware (National); Azzi Fudd, UConn (Freshman); Michigan (Team)
• Week ending Feb. 13: Maddy Siegrist, Villanova (National); Aneesah Morrow, DePaul (Freshman); Villanova (Team)
• Week ending Feb. 20: Aliyah Boston, South Carolina (National); Aneesah Morrow, DePaul (Freshman); North Carolina (Team)
• Week ending Feb. 27: Caitlin Clark, Iowa (National); Aneesah Morrow, DePaul (Freshman); Stanford (Team)
• Week ending March 6: Dre'Una Edwards, Kentucky (National); Kaitlyn Chen, Princeton (Freshman); Kentucky (Team)
• All-time USBWA Women's National Weekly Honors (Since 2011-12)