ST. LOUIS (USBWA) – LSU's Ben Simmons, perhaps the most talked-about freshman in college basketball this season for his dazzling play on the court, has been selected by the U.S. Basketball Writers Association to receive the Integris Wayman Tisdale Award as the national freshman of the year.

A 6-10 forward from Melbourne, Australia, Simmons led all Division I freshmen in rebounds this season with an 11.8 average and was third among all freshmen in scoring with a 19.8 mark. He ranked fifth nationally among all players with 22 double-doubles and shot 56.0 percent from the field.
Simmons will be presented with the Tisdale Award at the College Basketball Awards gala and dinner on April 11 at the National Cowboy & Western Heritage Museum in Oklahoma City.
Other awards to be presented that night are the Oscar Robertson Trophy for national player of the year; the Henry Iba Award for coach of the year to Chris Mack of Xavier; and the Wayman Tisdale Humanitarian Award presented by Love's Travel Stops to former Missouri coach Norm Stewart.
Simmons was also named to the USBWA's five-man Freshman All-America Team. He is joined on the team by the other Tisdale Award finalists: Jaylen Brown of California, Henry Ellenson of Marquette, Brandon Ingram of Duke and Jamal Murray of Kentucky.
2016 USBWA FRESHMAN ALL-AMERICA TEAM
Pos.
Player, School
Ht.
Wt.
Yr.
Hometown
F
Jaylen Brown, California
6-7
225
Fr.
Marietta, Ga.
F
Henry Ellenson, Marquette
6-11
245
Fr.
Rice Lake, Wis.
G/F
Brandon Ingram, Duke
6-9
190
Fr.
Kinston, N.C.
G
Jamal Murray, Kentucky
6-4
207
Fr.
Kitchener, Ont.
G
Ben Simmons, LSU
6-10
240
Fr.
Melbourne, Australia
The USBWA has chosen a national freshman of the year award since the 1988-89 season. It was named in honor of the late Wayman Tisdale in 2011. Tisdale was a three-time USBWA All-American at Oklahoma and the first freshman ever to receive first-team All-America honors from the USBWA. Following a stint on the 1984 U.S. Olympic basketball team, he played 12 seasons in the NBA before retiring in 1997 to focus on a blossoming jazz music career. In March 2007, he was diagnosed with cancer and, following a courageous and difficult battle that included the amputation of his right leg in 2008, he passed away in May 2009.
Notable winners of the USBWA's national freshman of the year award include Kevin Durant, Carmelo Anthony, Jason Kidd and Chris Webber. Duke's Jahlil Okafor won the award last season.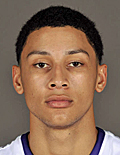 Simmons
The Integris Wayman Tisdale Freshman of the Year Award is produced by Access Sports, an Oklahoma City-based 501(c)(3) not-for-profit foundation responsible for creating the Wayman Tisdale Freshman of the Year Award. Access Sports produces all events associated with the award, including the annual awards dinner. Proceeds from the activities affiliated with the award are used to support various worthy charitable causes, including providing opportunities for disadvantaged youth to participate in basketball leagues, clinics, and training throughout the state. In addition, Access Sports supports the Wayman L. Tisdale Foundation which helps fund prosthetics for those who cannot afford the cost on their own and may not be covered by insurance.
Tickets and sponsorship information for the College Basketball Awards Gala are available at collegebasketballawards.com or by contacting Scott Hill (405-640-0406, scott.hill@access-sports.net).
The U.S. Basketball Writers Association was formed in 1956 at the urging of then-NCAA Executive Director Walter Byers. With some 900 members worldwide, it is one of the most influential organizations in college basketball. For more information on the USBWA and its award programs, contact executive director Joe Mitch at 314-795-6821.
ALL-TIME USBWA NATIONAL FRESHMEN OF THE YEAR
1989 Chris Jackson, LSU
1990 Kenny Anderson, Georgia Tech
1991 Rodney Rogers, Wake Forest
1992 Chris Webber, Michigan
1993 Jason Kidd, California
1994 Joe Smith, Maryland
1995 None selected
1996 None selected
1997 None selected
1998 Larry Hughes, Saint Louis
1999 Quentin Richardson, DePaul
2000 Jason Gardner, Arizona
2001 Eddie Griffin, Seton Hall
2002 T.J. Ford, Texas
2003 Carmelo Anthony, Syracuse
2004 Luol Deng, Duke
2005 Marvin Williams, North Carolina
2006 Tyler Hansbrough, North Carolina
2007 Kevin Durant, Texas
2008 Michael Beasley, Kansas State
2009 Tyreke Evans, Memphis
2010 John Wall, Kentucky
2011 Jared Sullinger, Ohio State
2012 Anthony Davis, Kentucky
2013 Marcus Smart, Oklahoma State
2014 Jabari Parker, Duke
2015 Jahlil Okafor, Duke
2016 Ben Simmons, LSU
Related links:
• Integris Wayman Tisdale Award | More from Integris