INDIANAPOLIS (USBWA) – The U.S. Basketball Writers Association has selected UCLA guard/forward Jaime Jaquez Jr. as its Oscar Robertson National Player of the Week for games ending the week of Sunday, March 6.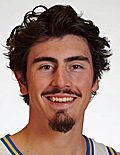 Jaquez Jr.
As the Pac-12 Conference Player of the Week, Jaquez Jr. was nominated for the weekly award and chosen by a representative of the USBWA board of directors from a list of Division I conference players of the week. Once again, the USBWA has selected a Division I men's National Player of the Week each Tuesday throughout the season. Jaquez Jr. is the season's final honored player. The USBWA has named Oscar Robertson National Players of the Week since the 2009-10 season.
The 6-7 junior from Camarillo, Calif., averaged 28.5 points, 7.5 rebounds and 2.5 assists in the Bruins' two victories last week. He scored a career-high 30 points and finished with nine rebounds in UCLA's 77-66 victory at Washington on Feb. 28. Five days later, he totaled 27 points, six rebounds and four assists to lift the Bruins past USC, 75-68, to close out the regular season.
The 57 combined points scored in the two games last week by Jaquez Jr. is the highest two-game total for any UCLA player this season. In the those two games Jaquez Jr. shot 63.6 percent from the field and was 14-for-18 at the free throw line (77.8 percent).
UCLA returns to action at the Pac-12 Tournament on Thursday, facing either No. 7 Washington State or No. 10 California in the quarterfinals Las Vegas. The Bruins are seeded No. 2 in the conference tournament.
Since the 1958-59 season, the USBWA has named a National Player of the Year. In 1998, the award was named in honor of the University of Cincinnati Hall of Famer and two-time USBWA Player of the Year Oscar Robertson. It is the nation's oldest award and the only one named after a former player.
At the conclusion of the regular season, the USBWA will name finalists for the award, which is voted on by the entire membership.
The U.S. Basketball Writers Association was formed in 1956 at the urging of then-NCAA Executive Director Walter Byers. With some 900 members worldwide, it is one of the most influential organizations in college basketball. It has selected an All-America team since the 1956-57 season. For more information on the USBWA and the Oscar Robertson Trophy, contact executive director Malcolm Moran at 814-574-1485.
2021-22 Oscar Robertson National Players of the Week
• Week ending Dec. 12: Bennedict Mathurin, Arizona (Pac-12 Conference)
• Week ending Dec. 19: Alondes Williams, Wake Forest (Atlantic Coast Conference)
• Week ending Dec. 26: Oscar Tshiebwe, Kentucky (Southeastern Conference)
• Week ending Jan. 2: Walker Kessler, Auburn (Southeastern Conference)
• Week ending Jan. 9: Johnny Davis, Wisconsin (Big Ten Conference)
• Week ending Jan. 16: Armando Bacot, North Carolina (Atlantic Coast Conference)
• Week ending Jan. 23: Isiaih Mosley, Missouri State (Missouri Valley Conference)
• Week ending Jan. 30: Bryce Hamilton, UNLV (Mountain West Conference)
• Week ending Feb. 6: Hunter Maldonado, Wyoming (Mountain West Conference)
• Week ending Feb. 13: KJ Williams, Murray State (Ohio Valley Conference)
• Week ending Feb. 20: Julian Champagnie, St. John's (Big East Conference)
• Week ending Feb. 27: KJ Williams, Murray State (Ohio Valley Conference)
• Week ending March 6: Jaime Jaquez Jr., UCLA (Pac-12 Conference)
• All-time USBWA National Players of the Week (Since 2009-10)