ST. LOUIS (USBWA) – Duke forward Zion Williamson is the Wayman Tisdale National Freshman of the Week for games ending the week of Jan. 27. Williamson was selected by CBSSports.com's Matt Norlander, in partnership with the U.S. Basketball Writers Association.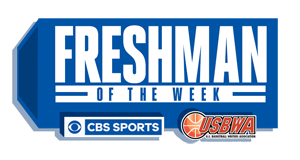 Norlander's popular weekly freshman watch column will continue to feature nation's the top freshmen each week in addition to the national player of the week. Later in the season, the USBWA will release a midseason watch list before naming finalists for the award. This season marks the first time a weekly national freshman of the week will be selected and, each Tuesday through Feb. 26, a standout first-year player will be chosen for the honor.
Williamson, a 6-7 forward from Spartanburg, S.C., earned the award for a second consecutive week and for the third time this season after averaging 24.3 points, 7.7 rebounds, 3.7 assists, 2.7 blocks, 1.7 steals and only 1.3 turnovers in wins over Pitt, Georgia Tech and Notre Dame.
"What do you want us to do? It's Williamson again, and there's no one with a real case against him," Norlander wrote in this week's column. "Two of those three wins came on the road. Williamson was on the floor for an average of 33.6 minutes in those three games and shot a ridiculous 81.1 percent (30-for-37), which includes 2-of-5 3-point shooting.
"We need to shake ourselves from being numbed by the numbers. Williamson is so efficient, he's making the aberrational seem routine. He's shooting 75.1 percent from 2-point range this season, which is by far the best among all players who've taken at least 150 attempts. Gonzaga's Brandon Clarke is closest in that realm, at 70.4 percent on 196 attempts. Williamson's making three-fourths of his shots from inside the 3-point line – and he's taken 213 of them.
"On defense, Williamson still seems like the best on that end of the floor for Duke," Norlander continued in his weekly analysis. "He's one of the only players in college basketball who can truly and effectively guard all five positions."
The successful week pushed Williamson's scoring average up to 22.0 points per game, second in the ACC, and he now leads the league in field goal percentage (.681), hitting 171 out of 251 shots to date.
The late Wayman Tisdale was a three-time USBWA All-American at the University of Oklahoma. Following a stint on the 1984 U.S. Olympic basketball team, he played 12 seasons in the NBA before retiring in 1997 to focus on a blossoming jazz music career. In March 2007, he was diagnosed with cancer and, following a courageous and difficult battle that included the amputation of his right leg in 2008, he passed away in May 2009.
The U.S. Basketball Writers Association was formed in 1956 at the urging of then-NCAA Executive Director Walter Byers. With more than 900 members worldwide, it is one of the most influential organizations in college basketball. It has selected an All-America team since the 1956-57 season. For more information on the USBWA and its award programs, contact executive director Joe Mitch at 314-795-6821.
2018-19 Wayman Tisdale National Freshmen of the Week
• Week ending Dec. 2: Zion Williamson, Duke (Atlantic Coast Conference)
• Week ending Dec. 9: RJ Barrett, Duke (Atlantic Coast Conference)
• Week ending Dec. 16: Wynston Tabbs, Boston College (Atlantic Coast Conference)
• Week ending Dec. 23: Mac McClung, Georgetown (Big East Conference)
• Week ending Dec. 30: Tyler Herro, Kentucky (Southeastern Conference)
• Week ending Jan. 6: Antoine Davis, Detroit (Horizon League)
• Week ending Jan. 13: Jaylen Gardner, East Carolina (American Athletic Conference)
• Week ending Jan. 20: Zion Williamson, Duke (Atlantic Coast Conference)
• Week ending Jan. 27: Zion Williamson, Duke (Atlantic Coast Conference)
• Week ending Feb. 3: Lamine Diane, Cal State Northridge (Big West Conference)
• Week ending Feb. 10: Devon Dotson, Kansas (Big 12 Conference)1
• Week ending Feb. 17: Jalen Pickett, Siena (Metro Atlantic Athletic Conference)
• Week ending Feb. 24: RJ Barrett, Duke (Atlantic Coast Conference)