ST. LOUIS (USBWA) – Duke guard RJ Barrett is the Wayman Tisdale National Freshman of the Week for games ending Feb. 24. Barrett was selected by CBSSports.com's Matt Norlander, in partnership with the U.S. Basketball Writers Association.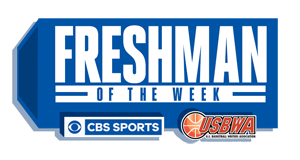 Norlander's popular weekly freshman watch column will continue to feature nation's the top freshmen each week in addition to the national player of the week. Later in the season, the USBWA will release a midseason watch list before naming finalists for the award. This season marks the first time a weekly national freshman of the week was selected and each Tuesday through today a standout first-year player was chosen for the honor.
Barrett shined last week in the absence of freshman teammate Zion Williamson. Barrett earned his second Tisdale honor this season by averaging 31.5 points, 9.0 rebounds and 5.5 assists, playing all 40 minutes in games against North Carolina and Syracuse. He was named the Atlantic Coast Conference Freshman of the Week for the fourth time this season.
"His distribution and shot selection proved crucial to keep Syracuse out of reach," Norlander wrote in this week's Freshman Rankings column. "He had seven assists to go along with a 30-point showing. He was everything Duke needed him to be and more."
Barrett has now scored at least 30 points in six games this season. One more – Duke's next game is tonight at Virginia Tech – would match the Duke freshman record set last season by Marvin Bagley III. He's already hit the 20-point barrier 20 times, which is the most by a freshman in ACC (and Duke) history.
Against teams in the Top 10, Barrett's numbers are even better. Among players who have played at least four games against Top-10 opponents, he is averaging 27.1 points per game against the top competition, eight points better than Kentucky's Keldon Johnson's 19.5 ppg that is second on that list. Williamson, who is a three-time weekly Tisdale winner this season, is third averaging 18.0 ppg against the Top 10.
"Barrett and Williamson have been the best 1-2 duo in college hoops this season," Norlander said. "With Williamson out, we're seeing that the Blue Devils have the two most talented players in college basketball."
Overall, Barrett is averaging 23.3 points per game, 7.5 rebounds per game and 4.1 assists per game this season.
The U.S. Basketball Writers Association was formed in 1956 at the urging of then-NCAA Executive Director Walter Byers. With more than 900 members worldwide, it is one of the most influential organizations in college basketball. It has selected an All-America team since the 1956-57 season. For more information on the USBWA and its award programs, contact executive director Joe Mitch at 314-795-6821.
2018-19 Wayman Tisdale National Freshmen of the Week
• Week ending Dec. 2: Zion Williamson, Duke (Atlantic Coast Conference)
• Week ending Dec. 9: RJ Barrett, Duke (Atlantic Coast Conference)
• Week ending Dec. 16: Wynston Tabbs, Boston College (Atlantic Coast Conference)
• Week ending Dec. 23: Mac McClung, Georgetown (Big East Conference)
• Week ending Dec. 30: Tyler Herro, Kentucky (Southeastern Conference)
• Week ending Jan. 6: Antoine Davis, Detroit (Horizon League)
• Week ending Jan. 13: Jaylen Gardner, East Carolina (American Athletic Conference)
• Week ending Jan. 20: Zion Williamson, Duke (Atlantic Coast Conference)
• Week ending Jan. 27: Zion Williamson, Duke (Atlantic Coast Conference)
• Week ending Feb. 3: Lamine Diane, Cal State Northridge (Big West Conference)
• Week ending Feb. 10: Devon Dotson, Kansas (Big 12 Conference)1
• Week ending Feb. 17: Jalen Pickett, Siena (Metro Atlantic Athletic Conference)
• Week ending Feb. 24: RJ Barrett, Duke (Atlantic Coast Conference)