ST. LOUIS (USBWA) – Kansas guard Devon Dotson is the Wayman Tisdale National Freshman of the Week for games through Feb. 11. Dotson was selected by CBSSports.com's Matt Norlander, in partnership with the U.S. Basketball Writers Association.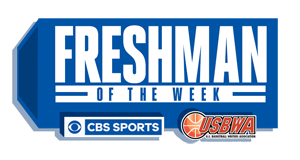 Norlander's popular weekly freshman watch column will continue to feature nation's the top freshmen each week in addition to the national player of the week. Later in the season, the USBWA will release a midseason watch list before naming finalists for the award. This season marks the first time a weekly national freshman of the week will be selected and, each Tuesday through Feb. 26, a standout first-year player will be chosen for the honor.
Dotson, a 6-2 guard from Charlotte, N.C., had a clutch performance Monday night at TCU, posting a career- and game-high 25 points and 10 rebounds in leading the Jayhawks to an 82-77 overtime win that broke a four-game road losing streak. In three games since last week's freshman rankings, Dotson averaged 18.7 points, 6.7 rebounds, 5.7 assists and 2.3 steals. He shot a combined 18-of-35 in games against Kansas State, Oklahoma State and TCU.
"He is being tasked with running KU's offense and doing so without an experienced veteran in the backcourt who can guide him in terms of having real point guard experience," Norlander writes in this week's column. "Facing TCU was really tough and impressive stuff from Dotson in a spot when Kansas needed him. He was 6-for-6 from the line in the final 40 seconds of overtime to seal the win. He did this after taking a tough fall and remaining on the ground for a moment as well."
It was the first double-double of Dotson's career, as he grabbed TCU's final free throw miss to get his 10th rebound with seconds left, and also hit four three-pointers, also a career-best.
The U.S. Basketball Writers Association was formed in 1956 at the urging of then-NCAA Executive Director Walter Byers. With more than 900 members worldwide, it is one of the most influential organizations in college basketball. It has selected an All-America team since the 1956-57 season. For more information on the USBWA and its award programs, contact executive director Joe Mitch at 314-795-6821.
2018-19 Wayman Tisdale National Freshmen of the Week
• Week ending Dec. 2: Zion Williamson, Duke (Atlantic Coast Conference)
• Week ending Dec. 9: RJ Barrett, Duke (Atlantic Coast Conference)
• Week ending Dec. 16: Wynston Tabbs, Boston College (Atlantic Coast Conference)
• Week ending Dec. 23: Mac McClung, Georgetown (Big East Conference)
• Week ending Dec. 30: Tyler Herro, Kentucky (Southeastern Conference)
• Week ending Jan. 6: Antoine Davis, Detroit (Horizon League)
• Week ending Jan. 13: Jaylen Gardner, East Carolina (American Athletic Conference)
• Week ending Jan. 20: Zion Williamson, Duke (Atlantic Coast Conference)
• Week ending Jan. 27: Zion Williamson, Duke (Atlantic Coast Conference)
• Week ending Feb. 3: Lamine Diane, Cal State Northridge (Big West Conference)
• Week ending Feb. 10: Devon Dotson, Kansas (Big 12 Conference)1
• Week ending Feb. 17: Jalen Pickett, Siena (Metro Atlantic Athletic Conference)
• Week ending Feb. 24: RJ Barrett, Duke (Atlantic Coast Conference)