ST. LOUIS (USBWA) – Siena guard Jalen Pickett is the Wayman Tisdale National Freshman of the Week for games ending Feb. 17. Pickett was selected by CBSSports.com's Matt Norlander, in partnership with the U.S. Basketball Writers Association.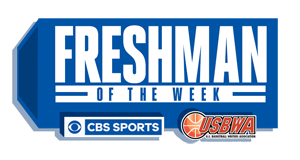 Norlander's popular weekly freshman watch column will continue to feature nation's the top freshmen each week in addition to the national player of the week. Later in the season, the USBWA will release a midseason watch list before naming finalists for the award. This season marks the first time a weekly national freshman of the week will be selected and, each Tuesday through Feb. 26, a standout first-year player will be chosen for the honor.
The 6-4 guard from Rochester, N.Y., poured in 46 points for Siena in a Sunday afternoon 107-100 triple-overtime loss to Quinnipiac, offering up what Norlander called one of the best scoring displays by a freshman in his recent memory. Pickett was 14-of-26 from the field, 14-of-17 from the line and added 13 assists, four rebounds and four steals. He accounted for approximately 70 percent of Siena's scoring factoring in the assists in the rare 100-point outing.
"We figured Duke's RJ Barrett nabbed the Freshman of the Week with his triple-double on Saturday against N.C. State. And then Sunday afternoon came along, and this game in Albany, N.Y., went historic," Norlander wrote in this week's column. "Pickett's 46-point performance Sunday vs. Quinnipiac marked only the third time in the past 19 seasons that a Division I men's player had at least 45 points and 10 assists in a game.
"According to Stats, Inc., LIU-Brooklyn's Antawn Dobie is the only other player to do it, and he did it twice back in the early 2000s. Pickett's run this past week had to bump him into the Watch."
Pickett is third nationally with 6.4 assists per game. On the week, he averaged 28.0 points, 8.5 assists, 4.5 rebounds, 4.0 steals and 2.0 blocks, and moved into Norlander's Frosh Watch for the first time.
Also of note from Sunday's game was Quinnipiac's Cameron Young, who scored 55 points in the win. Pickett and Young's scoring combination (101 points) was quite the show, but fell short of history. The record for most points by opposing players in the Division I game is 115 – On Feb. 21, 1970, Pete Maravich scored 64 points for LSU while Dan Issel had 51 for Kentucky in the Wildcats' 121-105 win.
The U.S. Basketball Writers Association was formed in 1956 at the urging of then-NCAA Executive Director Walter Byers. With more than 900 members worldwide, it is one of the most influential organizations in college basketball. It has selected an All-America team since the 1956-57 season. For more information on the USBWA and its award programs, contact executive director Joe Mitch at 314-795-6821.
2018-19 Wayman Tisdale National Freshmen of the Week
• Week ending Dec. 2: Zion Williamson, Duke (Atlantic Coast Conference)
• Week ending Dec. 9: RJ Barrett, Duke (Atlantic Coast Conference)
• Week ending Dec. 16: Wynston Tabbs, Boston College (Atlantic Coast Conference)
• Week ending Dec. 23: Mac McClung, Georgetown (Big East Conference)
• Week ending Dec. 30: Tyler Herro, Kentucky (Southeastern Conference)
• Week ending Jan. 6: Antoine Davis, Detroit (Horizon League)
• Week ending Jan. 13: Jaylen Gardner, East Carolina (American Athletic Conference)
• Week ending Jan. 20: Zion Williamson, Duke (Atlantic Coast Conference)
• Week ending Jan. 27: Zion Williamson, Duke (Atlantic Coast Conference)
• Week ending Feb. 3: Lamine Diane, Cal State Northridge (Big West Conference)
• Week ending Feb. 10: Devon Dotson, Kansas (Big 12 Conference)1
• Week ending Feb. 17: Jalen Pickett, Siena (Metro Atlantic Athletic Conference)
• Week ending Feb. 24: RJ Barrett, Duke (Atlantic Coast Conference)