DALLAS (NCBWA) – Barry Allen, Assistant Director for Media Relations at the University of Alabama, is the winner of the 33rd annual Wilbur Snypp Award, presented annually by the National Collegiate Baseball Writers Association for outstanding contributions to college baseball.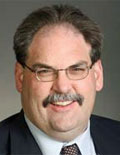 Barry Allen
Allen begins his 24th year in the University of Alabama Athletics Media Relations Office and his 19th year as a full-time Assistant Director of Media Relations. Allen is responsible for the overall publicity plan for one of the SEC's most successful baseball programs. He oversees the day-to-day media operations for the nationally-ranked Crimson Tide baseball program and is responsible for producing the Alabama Baseball Media Guide, game notes, updating statistics and updating the school's website. Allen also coordinates all interviews requests for head baseball coach Jim Wells, the Crimson Tide's assistant coaches and the student-athletes.
"Barry Allen is the heart and soul of college baseball," said NCBWA executive director Bo Carter. "There is no harder worker in the business, and his knowledge and love of the game can be seen at every level."
He has worked closely with the UA baseball program since the 1987 season, where he has worked more than 1,000 games. Allen has been associated with three College World Series teams (1996, 1997 and 1999), two SEC Championships (1996 and 2006) and six SEC Tournament Championships (1995, 1996, 1997, 1999, 2002 and 2003) during his baseball tenure. He has also worked 16 SEC Tournaments and 12 NCAA Regionals and served as the NCAA Regional Media Coordinator for the 1996 NCAA South II Regional, the 1997 NCAA South Regional, the 1999 NCAA Tuscaloosa Regional and Super Regional, the 2002 NCAA Tuscaloosa Regional and 2006 NCAA Tuscaloosa Regional and Super Regional.
"Barry is most deserving of this award, said NCBWA Associate Executive Director Russell Anderson. "He does an outstanding job of promoting not only Alabama Baseball, but the entire sport of college baseball."
In 2006, Allen teamed with Greg Seitz, the Media Relations Director at Jacksonville (Ala.) State University, to form the inaugural Alabama Baseball Media Day, sponsored by the Alabama Sportswriters Association. Allen and Seitz coordinated with all 17 Division I and Division II schools in the state of Alabama for a statewide baseball media day held at Regions Park in Hoover, Ala., site of the annual SEC Baseball Tournament. The head coach and two players from all 18 schools attended the one-day event, which also featured lunch and a keynote speaker for the highly successful event.
Allen has been associated with the National Collegiate Baseball Writers Association (NCBWA) since the 1998-99 school year, where he has served as Second Vice President (1999), First Vice President (2000) and President (2001). He currently serves on the NCBWA Board of Directors and works closely with the organization's preseason and post-season All-America teams as well as the Dick Howser Trophy, presented to the collegiate baseball player of the year.
"This is a great honor. I have a deep passion for college baseball and have developed some real friendships over the past 20 years in covering this great sport," Allen said. "The opportunity to work with many great coaches and student-athletes and to get to know each of them and their families has been very rewarding. It has also be an honor to be associated with the NCBWA and the great work this organization does to promote out national pastime. We have a great leadership in the NCBWA and a strong membership, too. I'd like thank everyone involved for allowing me to play a small role in this organization and to once again say how grateful I am to be recognized in this way."
Allen attended the University of Alabama, where he earned his bachelor's degree in Telecommunication and Film in 1989. As a student, he worked in the school's Media Relations Office, where he worked with the UA baseball team and track and field teams. He also worked a public address announcer for the Alabama women's basketball and gymnastics and served as the official scorekeeper and public address announcer for the state high school basketball tournament, played annually at Memorial/Coleman Coliseum in Tuscaloosa. He also worked part-time at WNPT Radio in Tuscaloosa, where he hosted a high school football pregame and post-game scoreboard show and worked as play-by-play announcer for various American Legion baseball teams.
A native of Anniston, Ala., Allen attended Saks High School, where he served as head football manager and head baseball manager during his career. He was also the assistant sports editor for the school newspaper and yearbook.
Allen is also involved with several charitable organizations, including Children's Hospital, United Cerebral Palsy and the American Cancer Society.
Allen is married to the former Carla McLendon and the couple has two daughters, Elle (April 18, 2001) and Annie (April 9, 2003). Allen is an avid baseball fan and sports memorabilia collector. His travels have taken him to more than 300 professional and collegiate baseball stadiums over the last two decades. Allen also collects baseball and football Hall of Fame autographs as well as Heisman Trophy winners.
The Alabama veteran follows a long line of illustrious persons in gaining the award, given in memory of longtime Ohio State Sports Information Director and NCBWA founder, the late Wilbur (Bill) Snypp, since 1975. Snypp was a noted contributor to the writers' organization, which was initiated in 1962 (and celebrating its 46th year in 2007), as well as an officer in the group. The NCBWA/Wilbur Snypp Award annually honors a professional for contributions to the sport of collegiate baseball. Voting is done by a panel of previous winners, who include past NCAA World Series directors, College Sports Information Directors of America Hall of Fame members, decorated media members and others.
ALL-TIME WILBUR SNYPP AWARD WINNERS
1975 Wilbur Snypp, Ohio State
1976 Bill Esposito, St. John's
1977 Phil Langan, Cornell
1978 John Geis, Southern Conference
1979 Hank Schomber, Georgia Southern
1980 Bob Culp, Western Michigan
1981 Lou Pavlovich Sr., Collegiate Baseball
1982 Tom Price, South Carolina
1983 Bob Bradley, Clemson
1984 Robert Williams, Omaha World-Herald
1985 Jerry Miles, NCAA
1986 Larry Keefe, Seton Hall
1987 Tom Rowen, San Jose Mercury-News
1988 Fred Gerardi, KESY Radio, Omaha
1989 Jim Wright, NCAA
1990 Steve Weller, SIU-Edwardsville
1991 Bill Little, Texas
1992 Kirk Bohls, Austin American-Statesman
1993 Bo Carter, Southwest Conference
1994 Lou Pavlovich Jr., Collegiate Baseball
1995 Steve Pivovar, Omaha World-Herald
1996 Gary Johnson, NCAA
1997 Dave Wohlhueter, Cornell
1998 Allen Simpson, Baseball America
1999 Alan Cannon, Texas A&M
2000 Jim Callis, Baseball America
2001 Dick Case, USA Baseball
2002 Russ Anderson, Conference USA
2003 John Manuel, Baseball America
2004 Dana Heiss Grodin, USA Today Sports Weekly
2005 Dennis Poppe, NCAA
2006 Mike Montoro, Southern Miss
2007 Barry Allen, Alabama
2008 Mike Patrick, ESPN
2009 Al Chase, Honolulu Star-Bulletin
2010 Lou Spry, NCAA
2011 Jeremy Mills, ESPN/D1Baseball.com
2012 Eric Olson, Omaha World Herald
2013 J.D. Hamilton, NCAA
2014 John Sullivan, Rice
2015 David Feaster, Dick Howser Trophy
2016 Ralph Zobell, BYU
2017 Aaron Fitt, D1Baseball.com