GAINESVILLE, Fla. (NCBWA) – John Sullivan, who has been an Assistant Communications Director with Rice baseball since 2004 and worked with the sport his entire professional career, is the 40th recipient of the Wilbur Snypp Award, presented annually by the National Collegiate Baseball Writers Association for outstanding contributions to college baseball.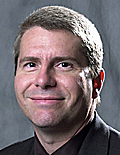 Sullivan
"The Snypp Award was an unexpected surprise," Sullivan said. "I am very thankful and honored. College baseball is this amazing combination of coaches sharing their knowledge and passion for the game, student-athletes playing with a distinctive energy and attitude, and the game itself – which can be enjoyed at any level for different reasons. I now know it's true that if you find a job you love, you'll never work a day in your life."
"Rice coach Wayne Graham is a legend, no question," he added. "He is in four different halls of fame, and if people don't know that, then he needs a better SID. How often does someone get a chance to be around someone like that? It's been great experience to get professionally, and a great experience that I've enjoyed the last 10 years."
"The work and service that the NCBWA does on behalf of college baseball is exemplary," Sullivan noted. "The organization has helped college baseball continue to grow and allows the student-athletes and coaches to have their story told and preserved."
A Houston native, Sullivan is in his 14th year at Rice and serves as the primary media contact for the Owls' baseball, soccer and swim teams. He assists the SID staff with game-day operations for the other sports teams, helps with daily updates of the Owls' athletics web site, is involved with publishing of various game-day programs and he has served as the public address announcer at a number of Rice sporting events.
Sullivan has been a dedicated member of NCBWA for over 25 years and has assisted in stats' compilation, nomination process and updating of NCBWA pre- and postseason All-America and All-District teams. He is one of the most highly-respected baseball media contacts nationally and noted for his assistance to fellow SIDs whenever possible.
"John Sullivan epitomizes the spirit and devotion of the NCBWA," NCBWA executive director Bo Carter said. "He is known as one of the most hard-working and effective baseball publicists nationally and has devoted countless hours to the promotion and coverage of college baseball. He is a very deserving candidate for this honor."
Sullivan joined Rice in September, 2001, after working the previous 11 years as an assistant SID at the University of Houston. A 1988 graduate of Houston, Sullivan also served as an intern in the sports information office at the University of Texas.
Sullivan joins an illustrious group of College Sports Information Directors of America Hall of Famers, noted national journalists and others in receiving the award. The plaque memorializes longtime Ohio State sports information director and NCBWA founder, the late Wilbur (Bill) Snypp. Snypp was a noted contributor to the writers' organization, which was initiated in 1962, as well as an officer in the group. The NCBWA/Wilbur Snypp Award yearly honors a professional for contributions to the sport of college baseball. Voting is conducted by a panel of previous winners, who include past NCAA College World Series directors, College Sports Information Directors of America Hall of Fame members, decorated media members and others.
ALL-TIME WILBUR SNYPP AWARD WINNERS
1975 Wilbur Snypp, Ohio State
1976 Bill Esposito, St. John's
1977 Phil Langan, Cornell
1978 John Geis, Southern Conference
1979 Hank Schomber, Georgia Southern
1980 Bob Culp, Western Michigan
1981 Lou Pavlovich Sr., Collegiate Baseball
1982 Tom Price, South Carolina
1983 Bob Bradley, Clemson
1984 Robert Williams, Omaha World-Herald
1985 Jerry Miles, NCAA
1986 Larry Keefe, Seton Hall
1987 Tom Rowen, San Jose Mercury-News
1988 Fred Gerardi, KESY Radio, Omaha
1989 Jim Wright, NCAA
1990 Steve Weller, SIU-Edwardsville
1991 Bill Little, Texas
1992 Kirk Bohls, Austin American-Statesman
1993 Bo Carter, Southwest Conference
1994 Lou Pavlovich Jr., Collegiate Baseball
1995 Steve Pivovar, Omaha World-Herald
1996 Gary Johnson, NCAA
1997 Dave Wohlhueter, Cornell
1998 Allen Simpson, Baseball America
1999 Alan Cannon, Texas A&M
2000 Jim Callis, Baseball America
2001 Dick Case, USA Baseball
2002 Russ Anderson, Conference USA
2003 John Manuel, Baseball America
2004 Dana Heiss Grodin, USA Today Sports Weekly
2005 Dennis Poppe, NCAA
2006 Mike Montoro, Southern Miss
2007 Barry Allen, Alabama
2008 Mike Patrick, ESPN
2009 Al Chase, Honolulu Star-Bulletin
2010 Lou Spry, NCAA
2011 Jeremy Mills, ESPN/D1Baseball.com
2012 Eric Olson, Omaha World Herald
2013 J.D. Hamilton, NCAA
2014 John Sullivan, Rice
2015 David Feaster, Dick Howser Trophy
2016 Ralph Zobell, BYU
2017 Aaron Fitt, D1Baseball.com