GAINESVILLE, Fla. (NCBWA) – J.D. Hamilton, who has been the Director of Media Relations and Communications for the NCAA College World Series since 2004, is the 39th recipient of the Wilbur Snypp Award, presented annually by the National Collegiate Baseball Writers Association for outstanding contributions to college baseball.
"I am very honored and humbled by this award," Hamilton said. "I am just a kid from Wabash, Indiana, who dreamed of working in sports growing up as a kid."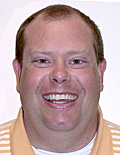 Hamilton
"I have been very fortunate to have had Joe Gentry, Langston Rodgers and Jim Vruggink as mentors early in my career. They taught me how to respect the profession, and to value the individuals that I would come in contact with along the way in my career. I am very lucky to have worked with some very talented individuals throughout my career, especially my current co-workers at the NCAA, many of whom I have worked with at the College World Series, including Randy Buhr, Kim Giles, Damani Leech, Jenn Rodgers, Chad Tolliver, Jeff Williams and David Worlock. They push me to be the best person I can be, and I try to treat everyone with great respect day-in and day-out."
"I have been very fortunate to have been affiliated with the Division I Baseball Championship and the CWS since 2004. During this time, college baseball all across the country has grown immensely, and so has the interest from all forms of media. My job is continually to listen to and serve the members of the media, and the talented sports information directors, so they can do their job. To be honored with this prestigious award along with so many other outstanding individuals is very humbling. Thank you for this great honor."
Hamilton has been involved with college baseball for over 20 years and is a great contributor to the betterment of the NCBWA Awards and the Dick Howser Trophy. As the Assistant Director of Media Coordination and Statistics at the NCAA for over a decade, he plays a pivotal role as the Media Coordinator for the CWS in Omaha each June. Not only does Hamilton handle the influx of credential requests and oversee the statisticians who score each of the tournament games, he now oversees the press box operation at TD Ameritrade Park Omaha since the event moved from historic Rosenblatt Stadium. He began helping at the CWS in 2004 and this past season marked his eighth as the event's media coordinator. In addition to his duties in Omaha, Hamilton works the Football Championship Subdivision final and helps at the men's NCAA basketball Final Four.
"J.D. Hamilton has done so much for college baseball on the national and university levels for many years," NCBWA executive director Bo Carter said. "His behind-the-scenes efforts to serve the news media and provide an optimum atmosphere during the NCAA World Series have been recognized. He is very deserving of this honor."
A 1994 graduate of the University of Indianapolis, Hamilton has served as a member of the sports information staffs at the University of Indianapolis (student assistant all four years), the University of Mississippi, Purdue University, Quincy University, the Horizon League and IUPUI. Prior to working at the NCAA, he spent two years as an assistant athletics director at Cathedral High School in Indianapolis. A native of Wabash, Ind., he received his bachelor's degree in sports information from the University of Indianapolis. Hamilton and his wife, Cindy, reside in Indianapolis and are foster parents.
Hamilton joins an illustrious group of College Sports Information Directors of America Hall of Famers, noted national journalists and others in receiving the award. The plaque memorializes longtime Ohio State sports information director and NCBWA founder, the late Wilbur (Bill) Snypp. Snypp was a noted contributor to the writers' organization, which was initiated in 1962, as well as an officer in the group. The NCBWA/Wilbur Snypp Award yearly honors a professional for contributions to the sport of college baseball. Voting is conducted by a panel of previous winners, who include past NCAA College World Series directors, College Sports Information Directors of America Hall of Fame members, decorated media members and others.
ALL-TIME WILBUR SNYPP AWARD WINNERS
1975 Wilbur Snypp, Ohio State
1976 Bill Esposito, St. John's
1977 Phil Langan, Cornell
1978 John Geis, Southern Conference
1979 Hank Schomber, Georgia Southern
1980 Bob Culp, Western Michigan
1981 Lou Pavlovich Sr., Collegiate Baseball
1982 Tom Price, South Carolina
1983 Bob Bradley, Clemson
1984 Robert Williams, Omaha World-Herald
1985 Jerry Miles, NCAA
1986 Larry Keefe, Seton Hall
1987 Tom Rowen, San Jose Mercury-News
1988 Fred Gerardi, KESY Radio, Omaha
1989 Jim Wright, NCAA
1990 Steve Weller, SIU-Edwardsville
1991 Bill Little, Texas
1992 Kirk Bohls, Austin American-Statesman
1993 Bo Carter, Southwest Conference
1994 Lou Pavlovich Jr., Collegiate Baseball
1995 Steve Pivovar, Omaha World-Herald
1996 Gary Johnson, NCAA
1997 Dave Wohlhueter, Cornell
1998 Allen Simpson, Baseball America
1999 Alan Cannon, Texas A&M
2000 Jim Callis, Baseball America
2001 Dick Case, USA Baseball
2002 Russ Anderson, Conference USA
2003 John Manuel, Baseball America
2004 Dana Heiss Grodin, USA Today Sports Weekly
2005 Dennis Poppe, NCAA
2006 Mike Montoro, Southern Miss
2007 Barry Allen, Alabama
2008 Mike Patrick, ESPN
2009 Al Chase, Honolulu Star-Bulletin
2010 Lou Spry, NCAA
2011 Jeremy Mills, ESPN/D1Baseball.com
2012 Eric Olson, Omaha World Herald
2013 J.D. Hamilton, NCAA
2014 John Sullivan, Rice
2015 David Feaster, Dick Howser Trophy
2016 Ralph Zobell, BYU
2017 Aaron Fitt, D1Baseball.com