EUGENE, Ore. (NCBWA) – Ralph Zobell, a 41-season veteran of college baseball media relations and national leader in this field, is the 42nd recipient of the prestigious 2016 Wilbur Snypp Award presented annually by the National Collegiate Baseball Writers Association for outstanding contributions to college baseball.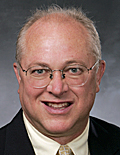 Zobell
Zobell has served as the baseball sports information director at BYU since 1977 and started when the office consisted of two full time communications professionals. He began his career as an assistant sports information director, later associate SID and then sports information director for the Cougars from 1990-98. He currently serves as BYU athletics web page and game program coordinator while coordinating baseball communications for the Cougars for the 40th consecutive year.
The personable veteran, who also attended Wyoming before gaining his undergraduate and graduate (Masters) degrees from Brigham Young University, has worked in the day-to-day coverage of all 21 Cougars sports programs since joining the department in '77.
He was president of the NCBWA in 1990 after serving in the vice-presidential rotation and as a Western Region director for several years. Zobell also was part of the planning committee for BYU's combination baseball/softball Miller Park Stadiums complex, which opened in 2001.
For several seasons he provided top services for media covering BYU baseball without the benefit of a permanent press area. The ingenious Zobell used such items as folding tables, his children's toy chest and plastic bags to protect equipment from rain and snow while seated in front of aluminum bleachers.
He has worked with many of the top student-athletes in BYU baseball annals such as college baseball's 1981 Freshman of the Year (and later Major League Baseball standout) Cory Snyder and numerous Academic All-America and All-American standouts, including Snyder, Wally Joyner and Scott Nielsen.
He also was publicist for one of BYU's all-time greatest teams in 1983 when the Cougars were ranked No. 1 nationally prior to the NCAA Regionals.
Zobell is an accomplished writer with several published historical articles in such journals as the Utah Law Review and chronicled BYU history as well as the Cougars' absence in both the 1958 and 1961 NCAA World Series because of Sunday play. He has worked 11 NCAA baseball Regionals and has attended nine NCAA Division I World Series in Omaha, Neb., while gathering ample historical data for college baseball.
"This is totally unexpected," Zobell said, "and I am thrilled and speechless. So many great names in college baseball have won this award, and it is an honor to become part of this group. Throughout the years, it is been to promote college baseball any way I can, and I have been fortunate to have worked with some wonderful mentors and many tremendous baseball student-athletes."
"Ralph Zobell has been a shining example about the positive points of college baseball for five decades," said NCBWA executive director Bo Carter. "He is the consummate college athletics media relations professional, has been a fine contributor to the NCBWA and has affected the lives of hundreds of college baseball student-athletes, coaches and administrators during his illustrious career at BYU."
Zobell joins a sterling group of past Wilbur Snypp Award winners, national journalists and college administrators as the 2016 winner. The plaque memorializes longtime Ohio State sports information director and NCBWA founder, the late Wilbur (Bill) Snypp. Snypp was a noted contributor to the writers' organization, which was initiated in 1962, as well as an officer in the group. The NCBWA/Wilbur Snypp Award yearly honors a professional for contributions to the sport of college baseball. Voting is conducted by a panel of previous winners, who include past NCAA College World Series directors, College Sports Information Directors of America Hall of Fame members, decorated media members, and others.
ALL-TIME WILBUR SNYPP AWARD WINNERS
1975 Wilbur Snypp, Ohio State
1976 Bill Esposito, St. John's
1977 Phil Langan, Cornell
1978 John Geis, Southern Conference
1979 Hank Schomber, Georgia Southern
1980 Bob Culp, Western Michigan
1981 Lou Pavlovich Sr., Collegiate Baseball
1982 Tom Price, South Carolina
1983 Bob Bradley, Clemson
1984 Robert Williams, Omaha World-Herald
1985 Jerry Miles, NCAA
1986 Larry Keefe, Seton Hall
1987 Tom Rowen, San Jose Mercury-News
1988 Fred Gerardi, KESY Radio, Omaha
1989 Jim Wright, NCAA
1990 Steve Weller, SIU-Edwardsville
1991 Bill Little, Texas
1992 Kirk Bohls, Austin American-Statesman
1993 Bo Carter, Southwest Conference
1994 Lou Pavlovich Jr., Collegiate Baseball
1995 Steve Pivovar, Omaha World-Herald
1996 Gary Johnson, NCAA
1997 Dave Wohlhueter, Cornell
1998 Allen Simpson, Baseball America
1999 Alan Cannon, Texas A&M
2000 Jim Callis, Baseball America
2001 Dick Case, USA Baseball
2002 Russ Anderson, Conference USA
2003 John Manuel, Baseball America
2004 Dana Heiss Grodin, USA Today Sports Weekly
2005 Dennis Poppe, NCAA
2006 Mike Montoro, Southern Miss
2007 Barry Allen, Alabama
2008 Mike Patrick, ESPN
2009 Al Chase, Honolulu Star-Bulletin
2010 Lou Spry, NCAA
2011 Jeremy Mills, ESPN/D1Baseball.com
2012 Eric Olson, Omaha World Herald
2013 J.D. Hamilton, NCAA
2014 John Sullivan, Rice
2015 David Feaster, Dick Howser Trophy
2016 Ralph Zobell, BYU
2017 Aaron Fitt, D1Baseball.com