Tom Shatel
President's Column:
Shaheen welcoming writers with new open-door policy
By TOM SHATEL / Omaha World-Herald
tomshatel@cox.net
I'm not entirely sure how the Chinese New Year works or even when it starts.
For USBWA purposes, which is what we do here, let's think of 2007 as a Chinese New Year, minus the dog, snake or monkey, not to mention the Gator and the Bruin.
Let's call this the "Year of the Open Door."
This is a new year, in more ways than one. A new day for USBWA's relationship with the NCAA and the time of year we affectionately call "March Madness."
When it comes to our jobs and how we do them, particularly in March, our relationship with the NCAA traditionally has been good. Functional. But there was definitely a wall there. It felt like a one-way relationship. And you know which way that went. We could lobby and voice complaints. But was anyone listening?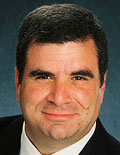 Greg Shaheen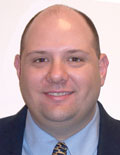 David Worlock
Now, under the leadership of Greg Shaheen (Vice President of D-I Men's Basketball and Championship Strategies) and David Worlock (D-I Basketball Media Coordinator), the USBWA/NCAA relationship is going to new, unprecedented levels. The door, or doors, are now open.
1. In early February, over 20 USBWA members – current officers and board members and assorted past presidents – will travel to Indianapolis to participate in a NCAA Mock Bracket event, in which we will spend a day in the official Basketball Committee "War Room" and put together a mock NCAA tournament bracket using all of the committee's actual formulas, RPI and tools. Yes, then we get to write about it. This was the NCAA's idea.
2. The NCAA has invited 15 USBWA members to attend its annual "spring meeting" with the committee and CBS. The meeting is held each year at the next year's Final Four site (this year, San Antonio) and is used as a way to discuss and evaluate the previous NCAA tournament and Final Four. We will meet with Shaheen, Worlock and members of the committee (and CBS, too, I hope) for most of one day and discuss how the media operations and work room.
Typically, we try to do this every year at our annual board breakfast, with two or three committee members, for about 30 minutes. This will give us more of a voice from more USBWA members, in greater detail. This is an extension of what several of us did last June in St. Louis. At that meeting, I asked Shaheen if there was any way we could do this every year, and meet with the committee on an annual basis. His shrugged and said, "Why not?" He then proceeded to invite us to this spring meeting.
3. Speaking of our Final Four board breakfast, we are moving that from Friday to Saturday morning. Another suggestion from Shaheen, so we could all attend the Oscar Robertson awards breakfast on Friday. Shaheen said the committee would accommodate us on Saturday morning.
4. An online media work room and operations evaluation form will be sent via email by the NCAA to USBWA members after the Final Four. Rather than hear from a few of us at the board meeting, the NCAA will hear from more of a consensus group. That will help both organizations.
5. Shaheen and Worlock have offered to promote USBWA events at the Final Four.
Get the picture? It's pretty clear. The door is open. And yet, some will be leery of walking through. What's waiting for us on the other side? A trap? Why so nice? Are they setting us up to take away our seats?
Why now?
I asked Shaheen to give his take on that question, via email. Here was his response:
"My take is pretty simple. For years before being part of the staff, I was an avid fan of the event and the coverage thereof. I was an avid fan of the event and the coverage thereof. In consuming all of that information and perspective, my first selection weekend (in 2001) was even more fascinating. It wasn't as it had been described – there was no counting of teams per conference, there wasn't the careful setting of match-ups (through all rounds) that would bring up storied games (coach vs. player, mentor vs. protιgι, etc.) It wasn't like that at all.
"As the committee would discuss coverage after-the-fact, it became clear that there was limited engagement of the media in the discussion, in the process, to have a sense of what goes on in the process. C.M. Newton and other committee members had evolved the course of overall discussion very well in the past several years, but it seemed more progress could be made if we could avoid the conspiracy and focus on how to make it better. Having accurate ongoing dialogue can only help, it seems to me.
"Sure, there were (and always will be) policy and schedule issues to discuss re: to media and the championship, but this was more than that – how could one effectively characterize what is going on unless you've lived it? So, walking through the selection process, or giving all the information on how we build our a wireless system, or laying out how we are working on the future Final Four buildings, etc.
"When Dave Worlock joined our staff, and brought a raw love for the game and the event, we explored our interest in having dialogue with the media because, quite honestly, it is a good story to tell and the more one understands what the committee and staff are doing and trying to do, the more accurate the take on how we do it. And it solidifies Dave's role in working with you and your colleagues.
"So, it was simple, it was a matter of sitting down and listening. We can only do the best we can, but above all, talking things through can't hurt. Healthy skepticism is just fine; we get that. But, by working to share more about what we're working on and what we're thinking, I'd hope it lends credibility and accuracy to the perspective of those who cover the sport and the championship. And we may disagree from time to time re: policy or decisions that we're making, but at least we can agree to disagree, which is progress.
"The committee has made very clear its objective to preserve the integrity of the event while simultaneously improving the experience for everyone involved. In the past few years, we've started talking to fans (through surveys, polls, etc.), teams (all 65 complete a survey and we personally visit the Final Four teams on their campuses), coaches (we're working better with the NABC than we ever have in our history), hosts (each of our sites complete a complete review of our procedures and policies), etc. You and your colleagues are key in the mix of participants in this championship as well and making this relationship and dialogue a priority is very important.
"So, this is just part of who we are now and where we're going.
"I'm just a miniscule part of the big wave, that is made up of an extraordinary committee, staff members and stakeholders that have their eyes on making this Division I Men's Basketball Championship the best it can be.
"It really is that simple."
Look, when it comes to the NCAA tournament, the No. 1 issue on all of our plates will always be seating. As Shaheen told us last year, the seating should remain status quo through 2011 in Houston. Will it always be that way? Who knows?
That's where the open door and the above events come in. With an open line of communication, at least get a voice in how things work and how we are treated. That's what our organization is all about. That's why we have a USBWA, to protect our members, fight for them and how we do our jobs. We have voiced our opinions and displeasures in the past. We will no doubt do so again.
Now, we'll have an audience.