Andy Katz
President's Column:
A new presidency; new issues facing USBWA
By ANDY KATZ / ESPN
andy.d.katz@espn3.com
Tom Shatel did an outstanding job.
Getting the USBWA into the mock bracket selection process through the cooperation with David Worlock and Greg Shaheen of the NCAA was one of the best events of the year.
The eye-opening experience has been cited countless times. It was a brilliant move by the committee to shine the light on the process.
It also served as a perfect primer for those of us who have to chart which teams are worthy or are close or locks or not even on the board for the NCAA Tournament.
Shatel had a role and should be applauded as the outgoing president.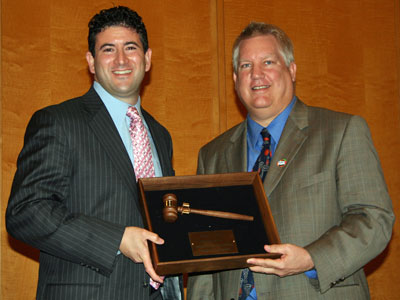 Outgoing president Tom Shatel hands things over to successor Andy Katz. (Photo: William Mathis, MathisJones Communications)
Now it's my turn.
I hope to somehow equal at least that one event.
My charge is to ensure that we get that same access to the committee in February. We'd like to take another set of 20, if possible, to the meeting in Indy if the NCAA agrees to go through the same process. And the more we can diversify the group, the better, although cost can be an issue for some.
I'm also looking at some sort of writer's rights when it comes to seating. This is an issue that SIDs, who are also members of our organization in full force, need to work with us in concert. We know that athletic directors are beholden to selling as many seats as possible. But we must have the access on a game-by-game basis. That means seating with a sightline, ample power and hopefully wireless access for those filing on deadline.
At the very least, there needs to be some sort of dialogue with the local media, the ones that are there on a daily basis, before any changes are made. I implore SIDs to work with us on this issue to ensure that the media can still properly cover the game that so many of us have a passion to cover.
We also need to revisit the seating issue at the Final Four. Internet sties like ESPN.com, CBS Sportsline.com, Foxsports.com and Yahoo!, need to be treated like any other major newspaper. The seating chart has been based on an old set of rules, and the time has come for an update of this process. This doesn't mean that major metros should lose seats, but there needs to be a reorganization of the seating.
I don't see any reason why we can't look at who is covering what games on Saturday night to ensure that everyone has an appropriate seat to watch and record the game. Monday night doesn't seem to be an issue, since a number of writers and radio go home after the semis.
I have heard from smaller papers, too, that want access to the Final Four, as well. We should address this point and maybe there should be an olive branch extended, especially to those papers that are close to the site. If they can't afford the lodging, then at least they can have access by getting to the site of the event.
We also have an issue with the player of the year award that has to be resolved. If we want to stay in the business of having an award, then we must either be willing to outsource the breakfast, get a major title sponsor or realize that we might have to be much more low key about our presentation. The most important awards we give is the Most Courageous and Katha Quinn Awards, and neither should be affected by any changes to the Oscar Robertson Award.
Please forward any issues that need to be addressed during the offseason. And if there are complaints that need to be heard, and a voice that is needed, then I'm here to serve you this year and make the calls that are needed to make. Enjoy the offseason!