Pat Forde
Bringing an uncomplicated agenda, open to suggestions
By PAT FORDE / Yahoo! Sports
USBWA President
pfeaglebeak@aol.com
I'm honored to be your new president of the USBWA. Hopefully my term does not end in Nixonian fashion, jumping on a helicopter in resignation to avoid impeachment. Mostly because I don't know where I'd find a helicopter.
I do have big shoes (or perhaps tall heels) to fill. Dana O'Neil was a dedicated, competent, energetic USBWA president who got things done – none greater than turning the annual Final Four awards breakfast into an awards luncheon. The spike in attendance validated the genius that went into giving sports writers more hours of sleep on the day of the national title game. Next year in Houston, we expect to see even more of you.
My agenda, if I have one, is uncomplicated: to serve the needs of our membership in whatever manner possible. If you have valid complaints, genuine concerns, bright ideas or thoughtful suggestions, I'm happy to hear them. Best email address for me is pfeaglebeak@aol.com. Fire away. I do see a couple of items to address:
• Timing of our coach and player awards. As many of your know, the release of our 2015 Hank Iba Coach of the Year award was less than ideal – Virginia's Tony Bennett was honored two days after the Cavaliers were upset in the NCAA Tournament round of 32. This led to considerable backlash from one particular fan base that believed its coach was more deserving, and a fair amount of external media criticism of our organization. We have begun discussions about changing the release date of our award winners so that the announcements more closely coincide with the end of the voting period. Delaying the release two weeks does not seem to help anyone.
• Creation of a coaching award in honor of the late Dean Smith. This was suggested in Indianapolis by USBWA member and past president John Feinstein, and it was met with widespread enthusiasm. We are at work on a criteria for the award, which would emphasize impact beyond the court, since Dean was as beloved in that area as for his coaching genius. The surprise is that no other organization thought of this first.
• Continued efforts to engage and energize the younger generation of basketball writers. We've made some progress in that area, but there is more work to do. The profession is changing rapidly and it would be a shame if young media members – starting in college – didn't feel an identification with our association, or find a use for it. There are a ton of talented people in the early stages of their careers who could benefit from a welcoming, inclusive USBWA that can facilitate their career progress. We can help them, and they certainly can help us.
• Continuing dialog with the NCAA to make working conditions at the NCAA Tournament the best they can be. Most of the folks in Indy will at least listen to us. Let me know what messages you want sent their way.
My final pertinent thought is to encourage all of you to embrace covering college basketball with a healthy mix of enthusiasm and cynicism. It's a great game, but it's far from perfect. Efforts to clean it up on and off the court have had mixed results. We should appreciate and publicize what's right in the game, but also cover what's wrong in a full, fair and accurate manner.
Here's to an enjoyable summer as we recharge and get ready for next season. As of this writing, it's a mere 333 days until Selection Sunday 2016.
•
Forde elected USBWA president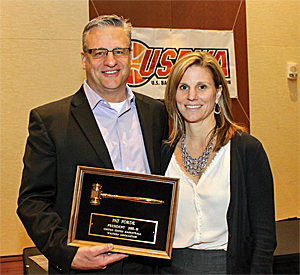 Pat Forde of Yahoo! Sports takes over from ESPN.com's Dana O'Neil as USBWA president. (Photo: Lida DeGroote)
Pat Forde of Yahoo! Sports was elected president of the U. S. Basketball Writers Association at the USBWA's annual business meeting during this year's NCAA Men's Final Four in Indianapolis.
Forde succeeds Dana O'Neil, ESPN.com, as president of the USBWA.
Elected to the board for three-year terms were Matt Norlander, CBSSports.com, as District I representative for Maine, Rhode Island, New Hampshire, Massachusetts and Connecticut, and Seth Davis, Sports Illustrated/CBS, and Jeff Goodman, ESPN, as at-large representatives.
Other officers elected were Ed Graney, Las Vegas Review-Journal, first vice president; Vahe Gregorian, Kansas City Star, second vice president; and David Teel, Newport News Daily Press, third vice president.
Returning to the board as district reps, with their year on the board in parentheses, are Nicole Auerbach, USA Today (second); Laura Keeley, Raleigh News & Observer (second); Kevin Brockway, Gainesville Sun (third); Tom Noie, South Bend Tribune (second); John Bohnenkamp, Burlington Hawk Eye (third); Randy Rosetta, New Orleans Times-Picayune (third); Robert Gagliardi, Wyoming Tribune Eagle (third); and Bruce Pascoe, Arizona Daily Star (third).
Other board members include liaisons Mel Greenberg, women's basketball; Brian Morrison, ACC, sports information directors; and Chris DiSano, College Chalktalk, new media.
Joe Mitch serves as executive director. John Akers is Tipoff editor and Ted Gangi is the USBWA webmaster.