Tom Shatel
President's Column:
Presidency caps off a great 24 years with USBWA
By TOM SHATEL / Omaha World-Herald
tomshatel@cox.net
Some writers have a nose for news. I have a nose for bacon.
The year was 1983. The city was Albuquerque, N.M. It was the Monday morning of the 1983 NCAA championship game – that little game won by Jim Valvano and North Carolina State. I was in my first year of covering college sports at the Kansas City Star.
So I'm wandering around the media hotel, looking for something to do. I come across an open door into a ball room. There's that aroma. I'd know it anywhere.
Bacon.
There, inside the door, was a most tantalizing breakfast buffet, toward the back of the room. I walked in to "nose" around, looking like a stray dog searching for scraps. I saw a bunch of people sitting at tables eating. I asked them what this was all about.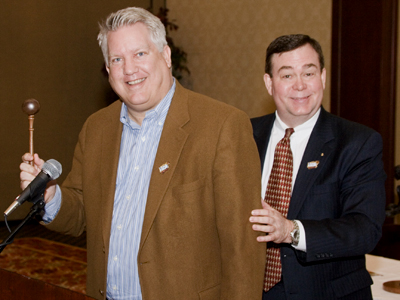 Tom Shatel and Tony Barnhart at last year's USBWA breakfast in Indianapolis.
"This is the USBWA breakfast," a guy said. "Are you a member?"
"No," I replied. "But if I join, can I eat?"
The rest, as they say, is history.
That was the day I joined USBWA. It has been a blast.
The USBWA is where I wanted to be. The membership was young, full of great writers and lots of folks not afraid to voice their opinions to the NCAA. These people loved their jobs and the game of basketball. Most importantly, they respected the game. And they only ask that they get that same respect in return.
Mostly, I loved that Monday breakfast. The USBWA is like a fraternity, a very tight knit frat, with Joe Mitch as our house dad. Once you join, you have friends for life. That breakfast is like a reunion every year of friends who are like family. I've sat there through the years, listened to and admired people such as Larry Donald, Malcolm Moran, John Feinstein, "Hoops" Weiss, Mike DeCourcy, Steve Wieberg, Jim O'Connell, on and on. There's a lot of passion for the game in this group, in that breakfast ball room.
I look forward to that breakfast every year. I would always look forward to the day I could stand up and lead as president. That day came last year.
It has been an honor and a privilege.
We've had a good year. A busy year. A historic year. Off the court, it has been relatively quiet. Not a lot of issues. A writer in California emailed me a photo of a small town writer standing and cheering during a time out of a college basketball game that he was covering. The writer wanted to know if we had a written policy or code of conduct in place for this (we do not, but we will). Lenn Robbins of the New York Post had a complaint about Syracuse moving the media behind the base line. That's a topic that I'm afraid we will hear more and more of in the near future.
The main crux of our work has been to build a new bridge, a better relationship, with the NCAA. Not just with the Final Four. In everything.
That was a priority of mine. Through my years in Kansas City (1980-90), I got to know the folks at the NCAA very well. I liked Dave Cawood, Jim Marchiony, Bill Hancock. These are top-notch people and media coordinators. They've treated us well over the years, lent an ear at times.
And yet, I felt the NCAA and USBWA didn't really talk enough. So I sent a feeler out to Greg Shaheen, who has a long title with the NCAA. Here's what he does. He makes sure the Final Four is a success. That includes being in charge of what we do at the Final Four.
I wanted the USBWA officers, board and several past presidents to meet with Shaheen and David Worlock, the NCAA's Final Four media coordinator. I wanted face-toface discussions on everything, including and especially future media seating at the Final Four. Is it an issue? It's always an issue. The minute we stop asking is the minute we're in trouble.
Here's the thing: I'm not a yell and scream guy. I'm a sit-down-and-talk-about-it guy. I think you make things happen by building a relationship, a trust. Maybe that's my "too-trusting" Midwest roots. Call me naive. Call me Ishmael. That's how I am. And that was my approach.
Fortunately for me, I had Shaheen and Worlock to work with. They could not be more helpful and more willing to talk and listen, to build a relationship. Thanks to Greg and David, the NCAA-USBWA relationship has transformed to an unprecedented level. Look what we've done:
1. Had a meeting in St. Louis with Greg, David and several past presidents. There, we got assurances that seating would remain the same through the 2011 Final Four in Houston. We were told the scoop on wireless. And we were invited to attend a "Mock Bracket" camp to experience selecting the NCAA tournament.
2. We had that Mock Bracket in Indy. It was off-the-charts eye-opening, educational and flat-out cool.
3. We have been invited to send 15 USBWA reps to the NCAA's spring meeting with the Basketball Committee in May in San Antonio. And will continue to get invited every year to this event as long as we show up.
4. Shaheen and Worlock offered to promote our events at the Final Four.
5. Remember when it was hard to get anyone from the NCAA to come talk to us at our Final Four board meeting? Not any more. In fact, Shaheen suggested we move the meeting/breakfast to Saturday so that everyone can attend the Oscar Robertson breakfast on Friday. Yes, the NCAA will show up on Saturday. Their idea.
This is great stuff. I can already tell some of the walls of cynicism have dropped. That's the Shaheen effect. The NCAA has a new face, and it's the friendly face of Shaheen, complete with a dry and sharp sense of humor.
Speaking of relationships, we are trying to build one, also, with the new College Basketball Hall of Fame in Kansas City, which is run by Jim Haney and the NABC. The NABC wants the USBWA president to vote on the college hall class every year. In return, we want Haney to attend our Monday breakfast and fill us in on a great idea that is long overdue. Also, I would like to approach the NABC, when the time is right, about putting our Hall of Fame in the College Basketball Hall of Fame. Give us a wall, a plaque, anything.
I also want to create a code of conduct, something on paper, such as "The USBWA reminds you that press row and the press room are working areas. Cheering of any kind will not be tolerated and you will be subject to removal." We can't announce that over a PA, like a football press box, but we can have that posted in every work area.
This is a rare, unique time for our organization. It's a time when we get lost in the "media" shuffle of bloggers and radio talk-show snipers, people who don't ever talk to coaches or players. It's a time when athletic directors are turning our courtside seats into Jack Nicholson seats to donors for a big check. We are still fighting for that respect.
And yet, I feel we have it, more than ever, with the NCAA. Will we always get what we want? No. Never. But we'll get some things. Best of all, we'll get heard. That's the least we can ask for.
Now, it's up to us to be heard. I leave this office on April 2, pass the gavel to Andy Katz. I leave you with this request: join in the fight and the conversation. Get on board, or on the board. Get in on that trip to San Antonio. The spirit of this organization is that we always have something to say if someone will listen. Well, the NCAA is listening. Let's not miss this opportunity.
Hope to see you at the breakfast on April 2 at the Hyatt Regency. The bacon's on me. Literally.