Dick Jerardi
President's Column:
Oscar! Oscar! for that name on the USBWA trophy
By DICK JERARDI / Philadelphia Daily News
jerardd@phillynews.com
One of the perks of this business is that you sometimes get to hang with interesting (and famous) people outside the confines of work. At the annual Thursday night Final Four dinner for USBWA board members and past presidents in San Antonio, I was seated next to Joe Mitch, who was seated next to Oscar Robertson.
One thing I knew about Oscar, beyond his basketball career, is that he has opinions. We talked a little hoops, but he really opened up when we got to politics. He does not like the current administration in Washington D.C., not even a little bit. We talked about everything from Iraq to Obama, with a little basketball mixed in. Just as he did on a court, Oscar looked in all directions.
When we decided to honor our Player of the Year with the Oscar Robertson Trophy, it seemed a natural fit. It has even been better than we hoped. Oscar has embraced it. And we are proud he let us honor him.
People can argue about the greatest player of all time. It often depends upon your age and how you view the game. One thing is certain. Trying to name a player more accomplished than Oscar in high school, college, Olympics and the NBA is impossible.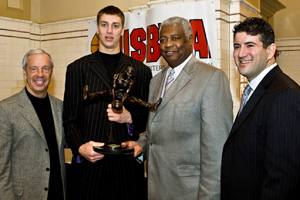 Oscar Robertson Trophy winner Tyler Hansbrough of North Carolina with "The Big O," UNC coach Roy Williams and USBWA President Andy Katz of espn.com.
(Photo: David Smith)
We've all seen "Hoosiers," the story of Milan High. Sadly, we never saw the story of Crispus Attucks, the Indianapolis high school that won the Indiana state championship in each of the two years after Milan. The star player on those Crispus Attucks teams was Oscar Robertson.
Oscar "averaged" 33.8 points in his three seasons at the University of Cincinnati. His last two teams played in the Final Four. Along with Jerry West, Oscar was one of the stars on the legendary United S tates 1960 Olympic team.
In his first appearance at Madison Square Garden, as a college sophomore against Seton Hall, Oscar scored 56 points. Seton Hall scored 54. Oscar was 22-for-32 from the field, 12-for-12 from the foul line. The Bearcats won 118-54. Those who were there that night never forgot what it looked like and how it felt. They were there for the revolution and the evolution. They just did not know it. Playing for the Cincinnati Royals, Oscar averaged a triple double for the 1961-62 season (30.8 points, 12.5 rebounds. 11.4 assists). Far more points were scored in the wide-open NBA of that era, but the numbers are still mind-boggling. A triple-double in a game is news these days. A triple double for a season is not imaginable. But Oscar did it.
Oscar did much more than score points or win games. He stood for something when sitting near the front of buses was prohibited in some parts of our country for citizens with dark skin. Slavery and the Jim Crow laws that came in its aftermath are our great national shame.
It took anonymous people like Rosa Parks to get peoples' attention in the 1950s. It took famous people such as Oscar Robertson to give it a voice.
It is easy to become comfortable, once you have attained some status in life. Oscar always spoke out, even when the times suggested he should keep quiet. If he upset a few people with what he said or how said it, it never stopped him from saying it.
In 1997, Oscar donated a kidney to his daughter Tia. She was suffering from kidney failure because of lupus.
In 2007, the University of Cincinnati awarded Oscar an Honorary Doctorate in Humane Letters.
He has a street named after him in Indianapolis.
When somebody says "The Big O," there is no need for explanation.
There is no cheering in the press box, but when you get to have dinner and conversation on the Riverwalk with a man who is a living history of the game and is now so closely associated with our organization, some inner clapping feels just about right.