Kirk Wessler
Latest challenge: Gain back seats, correct real problems
By KIRK WESSLER / Peoria Journal-Star
USBWA President
kwessler@pjstar.com
The Final Four gave us a great championship game to climax a weekend full of drama. And I'm not talking about the electric press conference with a defiant Mark Emmert on the grill.
The NCAA implemented its new seating arrangements during the tournament. Some places – Austin and Dayton are good examples – the new configurations seemed to work out with few or no problems. Some sites, such as Arlington and Auburn Hills, reported aggravation with obstructed sight lines or slow elevators. Others, notably Philadelphia and D.C., were borderline train wrecks, with (take your pick) senseless seat assignments, bad access from auxiliary boxes and more.
Then came Final Four outrage, as writers discovered where they had been assigned to work. Reporters in the new corner seats battled lax security and fans who stood in their way. Writers in the new end-zone row found their views obstructed by students waving signs and band instruments. Those writers and reporters who "overflowed" upstairs to the football press box were just plain pissed off.
I know some of you are peeved at USBWA officers for letting this happen. Fine, be peeved. We are, too. Nobody is happy with what happened. Yes, we negotiated with the NCAA and had some input regarding what was implemented. But that was only after the NCAA informed us our floor seats would be substantially reduced, no matter what, and presented an initial plan for only two dozen print reporters in traditional courtside seating. Thanks to the leadership of John Akers, we saved nearly three times that many courtside working positions.
The temptation remains strong to torch the NCAA for what it did, for its appalling lack of due diligence and communication last summer and for its leadership's sad disregard for the tournament's history, the sport we all love and the critical role print reporters – traditional or online – continue to play in telling the stories of the games, the players and the coaches.
But that won't get us where we need to be.
The challenge now is to find ways to gain back seats and work on solutions to the problems that surfaced with the new configurations. The NCAA's Mark Lewis and Dan Gavitt have told us they have no intent to further reduce seating and that they're open to proposals for improvement. We will hold them to their words.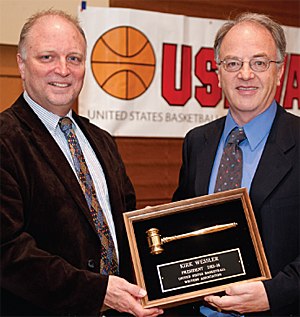 John Akers passes the gavel to new USBWA president Kirk Wessler.
We are joining forces with the Associated Press Sports Editors to form a standing committee that will address these issues with the NCAA. It's likely we will reach out to CoSIDA for additional support. Our No. 1 goal is to improve the tournament seating, but we're not stopping there.
We plan to address access issues, both ongoing and new ones, at the tournament as well as individual institutions. And we'll start working on questions regarding credentials for online entities. We want to provide guidelines that will help make the decision-making process more consistent, to help assure legitimate outlets with professional and ethical reporters are not denied the opportunity to cover the great sport of college basketball.
It's a big agenda, but an important one. We'll need your help to achieve successful outcomes. Please communicate with the officers. Our contact info is in this newsletter and in the directory. We welcome suggestions.
And one more thing: If you have a co-worker, or a colleague at another media outlet, who's not a member of USBWA ... push them to join us. There's strength in numbers, and we can use all the help we can get.