Steve Carp
President's Column:
Here to increase membership, watch over beat writers
By STEVE CARP / Las Vegas Review-Journal
scarp@reviewjournal.com
It is an honor and a privilege to serve as your president and the reality is still setting in.
But the true reality is that we as an organization are facing some serious challenges in the months ahead. I say "months," not "years," because our profession is going through rapid, dramatic changes.
Newspapers are folding. Many are downsizing. "Furlough" and "buyout" are now part of our lexicon. We cautiously peek at our e-mails from management, wondering what the next austerity measure brings.
Longtime members of our fraternity are suddenly exjournalists. Or they've been moved off the college-basketball beat. At the recent Final Four, a lot of newspapers were not represented. A lot of writers who had covered the event for decades were not in attendance. Others who were fortunate to go left early because of costs.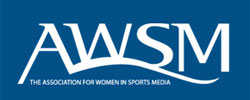 Webmaster's note: With assistance from David Worlock and Rick Nixon of the NCAA and conference basketball SID's around the nation, we have compiled an extensive target list for new members. In addition, AWSM (The Association for Women in Sports Media) has partnered with the USBWA to help us diversify and expand our reach into the women's game. Coming off the great efforts headed by Dick Jerardi last season, we hope that we will be able to build on that momentum and attract new and diverse members in 2009-10. Please encourage your colleagues to apply for membership and/or renew now online. Also, for the first time, applicants may apply for membership and pay dues for the USBWA and FWAA simultaneously. – Ted Gangi
It is in this environment that our organization has to function. Journalism is an ever-changing craft as it continues to evolve into something more instantaneous, leaving newspapers to figure out how to re-invent themselves.
Where many of us see despair for our profession, I see opportunity. Opportunity for us to grow our ranks with younger faces, fresher ideas and blend in more diverse facets of the business.
A few months ago in Tipoff, I advocated pursuing college journalists to join our organization. I pointed out that not only was this a way for us to grow our ranks, it was a chance for us to get younger as an organization and usher in a new era of basketball journalists.
Come fall, when classes begin at campuses across the country, my hope is that we can convince these young student-journalists to join us and be part of the college-basketball experience. The membership fee is just $15, and while that might seem like a lot for a college student, I'm sure those who want to be part of USBWA will find a way to join.
And while it's important for us to become younger, I don't want to forget our experienced hands, those who were once part of USBWA but for some reason either forgot to renew or simply moved on. We want you back. We want to make you feel part of this organization again. We value your expertise and your participation.
Under Dick Jerardi's expert stewardship as USBWA president the past year, we were able to bring in over 100 new members. That puts us near 800.
We can be bigger, stronger. If each of us could convince just one person to join us, whether it's a colleague at your own newspaper such as a columnist or basketball feature writer, or the rival beat writer or the kid covering for the college paper, think of the growth we can experience. One. It's such a small number. But when multiplied, it can represent hundreds.
My other hope for the coming year – besides continuing Dick's work – is to be an advocate for the college basketball beat writer who deals with the game on a daily basis and create a set of minimum standards for a positive working environment.
It should include a suitable place to work from with legitimate proximity to the court. A source for power with working Wi-Fi capabilities. Receiving statistical information in a timely fashion both during and after games and a fair policy for postgame access to players and coaches.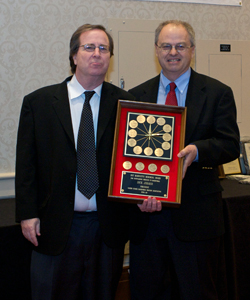 Outgoing president Dick Jerardi is presented with the Ray Marquette Memorial Award by Executive Director Joe Mitch. (Photo: Aaron Eckels)
With 31 leagues come 31 different policies. And within those leagues come issues and problems unique to certain schools. Some universities have control over their own buildings. Others rent out facilities. Still others share the operation of their gym with another entity. I understand that. My hope is that by developing some minimum standards we can head off problems before they occur.
The Wi-Fi is going to go out from time to time. It happened courtside at the Final Four semifinals. The printer spitting out the final stats might go haywire.
Those things happen. I'm talking about making sure visiting writers know they can get to their coach outside the locker room without someone in a yellow jacket telling them they can't go there when the policy clearly states they can. Or making more than a couple players available after games when the locker room is closed.
Having covered a college basketball beat for many years, I know the frustration that comes with the unexpected happening. If we can reduce the number of surprises by being proactive, perhaps we can reduce the amount of stress and disappointment.
I look forward to working with all of you this coming year. If you ever have an issue or a concern or a suggestion on how to make the USBWA a better place to be part of, call me or drop me an e-mail. Or, if you're visiting Las Vegas, I'd love to meet up with you in person.
This is your organization. Together we can make it something we can all be proud to be part of. In the meantime, everyone hang in there and let's hope we can all ride out this economic storm that is rocking our industry.
•
Carp named USBWA president for 2009-10
Steve Carp of the Las Vegas Review-Journal was elected president of the USBWA for 2009-10 at the annual business meeting held in conjunction with this year's Final Four in Detroit.
Carp succeeds Dick Jerardi of the Philadelphia Daily News.
Other USBWA officers elected were Bryan Burwell, St. Louis Post-Dispatch, first vice president; Lenox Rawlings, Winston-Salem Journal, second vice president; and John Akers, Basketball Times, third vice president.
Elected to the USBWA Board of Directors for 2009-10 were Kevin McNamara, Providence Journal; David Jones, Harrisburg Patriot News; Robbi Pickeral, Raleigh News & Observer; John Clay, Lexington Herald-Leader; Kirk Wessler, Peoria Journal Star; Dave Sittler, Tulsa World; Wally Hall, Arkansas Democrat-Gazette; John Henderson, Denver Post; Hank Wesch, San Diego Union- Tribune; Dana O'Neil, espn.com; Luke Winn, SI.com; and Scott Chipman, Big Ten Conference.
Jerardi was presented with the Ray Marquette Memorial Award. The award is given to the outgoing president of the USBWA in memory of Ray Marquette, who was a sports writer for the Indianapolis Star and USBWA executive director when he died in a plane crash in 1977.
Related link:
• USBWA officers