DALLAS (NCBWA) – Kevin Kugler, whose voice has been synonymous with the NCAA Division I Baseball World Series since 2004, is the 47th annual NCBWA Russell D. Anderson/Wilbur Snypp Award recipient for national contributions to college baseball.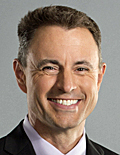 Kugler
"Kevin Kugler has been identified with the College World Series and college baseball for most of his broadcasting career," NCBWA executive director Bo Carter said, "And he has been a great promoter of the game as well as providing exciting coverage of so many games going back to his college days at Nebraska. Congratulations to Kevin for this excellent honor, and it is a pleasure to have his acquaintance. His baseball voice is familiar to thousands of college baseball fans."
The award, first given in 1975 to National Collegiate Baseball Writers Association founder Wilbur (Bill) Snypp of Ohio State, also memorializes the cherished Russell D. Anderson – treasurer and associate executive director for the NCBWA for three decades from 1996-2021 before passing away April 5, 2021. Anderson was awarded the top honor given by the NCBWA in 2002 for his sterling efforts.
"I have been so fortunate to have worked college baseball and the World Series with such people as John Bishop for many years," Kugler explained. "As a native Nebraskan kid growing up in Lincoln, you go to as many World Series games as possible as a fan and dream of doing the broadcasts some day.
"I also am deeply honored to receive this award from the folks who cover college baseball on a daily basis and know the amount of hard work and preparation that goes into every game. This is truly memorable, and I am appreciative."
Kugler joins a number of distinguished national baseball broadcasters such as Mike Patrick and Kyle Peterson of ESPN, the late Tom Price, Bill Little, Fred Gerardi and Jim Ellis, among others.
The Nebraska native has been busy year round with NCAA football and basketball telecasts as well as the Westwood One Radio Game of the Week in the National Football League.
He began daily coverage in broadcasts and sports talk for the NCAA World Series in 2000 and has been part of dozens of historic contests since the series moved to Omaha, Neb., in 1950 – actually before his birth. During his days with SportsTalk Radio 1620 in Omaha, he was onsite virtually every day with live remote coverage and guests from all walks of college baseball life.
Kugler also has been on the radio calls for the NCAA Men's Basketball Final Four® since 2008 and handles football and basketball telecasts for FOX Sports and the Big Ten Network.
The eight-time winner of the Nebraska Sportscaster of the Year traces his broadcast roots to being a student announcer for Nebraska Huskers baseball games and features, and he was the television play-by-play voice for the first NCAA Regional game ever played in Lincoln, Nebraska, when the Huskers hosted Rice in 1999.
ALL-TIME RUSSELL D. ANDERSON/WILBUR SNYPP AWARD WINNERS
1975 Wilbur Snypp, Ohio State
1976 Bill Esposito, St. John's
1977 Phil Langan, Cornell
1978 John Geis, Southern Conference
1979 Hank Schomber, Georgia Southern
1980 Bob Culp, Western Michigan
1981 Lou Pavlovich Sr., Collegiate Baseball
1982 Tom Price, South Carolina
1983 Bob Bradley, Clemson
1984 Robert Williams, Omaha World-Herald
1985 Jerry Miles, NCAA
1986 Larry Keefe, Seton Hall
1987 Tom Rowen, San Jose Mercury-News
1988 Fred Gerardi, KESY Radio, Omaha
1989 Jim Wright, NCAA
1990 Steve Weller, SIU-Edwardsville
1991 Bill Little, Texas
1992 Kirk Bohls, Austin American-Statesman
1993 Bo Carter, Southwest Conference
1994 Lou Pavlovich Jr., Collegiate Baseball
1995 Steve Pivovar, Omaha World-Herald
1996 Gary Johnson, NCAA
1997 Dave Wohlhueter, Cornell
1998 Allen Simpson, Baseball America
1999 Alan Cannon, Texas A&M
2000 Jim Callis, Baseball America
2001 Dick Case, USA Baseball
2002 Russ Anderson, Conference USA
2003 John Manuel, Baseball America
2004 Dana Heiss Grodin, USA Today Sports Weekly
2005 Dennis Poppe, NCAA
2006 Mike Montoro, Southern Miss
2007 Barry Allen, Alabama
2008 Mike Patrick, ESPN
2009 Al Chase, Honolulu Star-Bulletin
2010 Lou Spry, NCAA
2011 Jeremy Mills, ESPN/D1Baseball.com
2012 Eric Olson, Omaha World Herald
2013 J.D. Hamilton, NCAA
2014 John Sullivan, Rice
2015 David Feaster, Dick Howser Trophy
2016 Ralph Zobell, BYU
2017 Aaron Fitt, D1Baseball.com
2018 Kyle Peterson, ESPN
2019 Jim Ellis, Mississippi State
2020 Malcolm Gray, East Carolina
2021 Kevin Kugler, Broadcaster