Paquette receives Katha Quinn Award
By Dick Jerardi
When Mike Tranghese became the Big East commissioner in 1990, his first hire was John Paquette. They had so much in common, it was a natural. They understood the role of the media. They wanted to make it as easy as possible for us to do our jobs. And they knew Katha Quinn.
It was 1989 when Katha, the beloved St. John's sports-information director, died of cancer. Paquette could not attend the funeral because he was out west attending to the media needs during Seton Hall's run to the national-title game.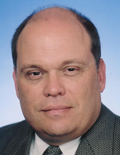 Paquette
It was 2001 when the USBWA honored Tranghese with our Katha Quinn Award. The winner is defined as somebody who, like Katha herself, "has either excelled at servicing the media or provides an inspiration to those in the sports journalism profession."
Tranghese and Paquette now have one more thing in common. They are Katha Quinn Award winners. In Tranghese's final year as commissioner, we honor the man he brought with him when he got the job.
"I actually had met Katha before I got to Seton Hall," Paquette said, "but I really got to know her better when I was at Seton Hall and she was at St. John's.
"A lot of people maybe saw the rough exterior with Katha, if you didn't know her. But I knew her. Once I got to Seton Hall, she could not have been more accommodating and helpful to me."
Seton Hall and St. John's were rather serious rivals back then. It was never an issue between John and Katha. They did their jobs and helped each other.
"She loved the school, she loved her coach and she loved working at St. John's," Paquette said. "And she was also very effective with the media."
Anybody who knows John knows he is understated, but willing to help in every way. Ask him a question, you will get an answer. Nothing is too difficult.
I asked him if he could get the commissioner on the phone so he could talk about the newest Katha Quinn Award winner. In very short order, Tranghese called me.
"I think the whole world has changed, but John still is old school," Tranghese said. "He relies tremendously on relationships and on service. That's what I think this job is all about. He has enormous respect from people across the country that have to deal with him and our conference. I think (the award) is an acknowledgement from the people he's had to serve that he's done a great job. I know it means a great deal to him. It's as excited as I've seen John in a long time."
Anybody who knows John knows he really does not do excitement. He just does his job.
"In 19 years, it's the one area I've never had to worry about," Tranghese said of the department Paquette runs at the Big East. "John's got an incredible relationship with the media. He understands what the job is. And on a personal basis, I've won the award, and John and I and Katha were pretty good friends. And I know that if she were looking at this, she'd have a big smile on her face, because I know how much she liked and respected John."
During the 1989 Big East Tournament, friends asked if they should see Katha in the hospital. When they were told no, Paquette said they knew "the end was near."
Katha died on March 17, 1989, two days after St. John's began its 1989 NIT title run. She was 34.
"They dedicated it to her," Paquette remembered. "You know what? I don't know how many SIDs get stuff dedicated to them by teams. She had a presence. It was a professional and personal presence."
John Paquettte has a presence, too. He is dependable, approachable and professional. The USBWA is thrilled that he's the winner of the 2009 Katha Quinn Award.