Dave Rose, Tiffara Steward win Most Courageous honors
The U.S. Basketball Writers Association named both men's and women's winners of the Most Courageous Award for the first time this season, with the men's honor going to Brigham Young coach Dave Rose and the women's to Farmingdale State point guard Tiffara Steward.
Rose nearly lost his life last June to pancreatic cancer – a form of cancer that few beat – but was back on the recruiting circuit the following month and is back coaching a BYU team that had won all but one of its games through mid-January.
The 4-foot-6 Steward is believed to be the smallest player in college-basketball history. She was born three months premature, weighing just 2 1/2 pounds and measuring eight inches, and she underwent three surgeries by the time she was 3 years old. S he has been a starter and team captain the past two seasons at Farmingdale State, a Division III school on Long Island, N.Y., though she is blind in her right eye, has over a 50-percent hearing loss, has one leg that is shorter than the other and battles severe scoliosis.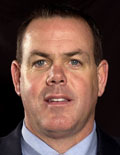 Rose
After becoming severely ill while on a flight to Las Vegas for a family reunion, according to a story by Andy Katz on espn.com, Rose was diagnosed with a pancreatic neuroendocrine tumor, one of the deadliest forms of cancer.
When the plane landed, Rose was removed from by emergency medical personnel.
Rose was vomiting blood by the time he reached a Spring Valley area hospital. The tumor and lower part of his pancreas were removed during emergency surgery.
Rose met with his team a few days after being released from his six-day stay in the hospital, much skinnier and his hair turned gray.
His players fasted for one day, praying for their coach.
By July 22, Rose was even allowed to recruit in Las Vegas.
Rose was declared cancer-free last September, making him of the few to beat the deadly disease. He must continue to receive scans every six months for the next two years and, if he clears those, every year after that.
"I'm honored to be chosen," Rose said. "I feel extremely fortunate to overcome the situation I had this past summer. I'm so grateful to the staff at Spring Valley Hospital in Las Vegas and the Huntsman Medical Center in Salt Lake City for their care.

"There's so much uncertainty when cancer strikes. But, I had great family support and our players and coaches were unbelievable throughout this entire ordeal. This group of players will always be special to me."
Through mid-January, Rose's Cougars were 16-1 and had risen to No. 19 in the AP poll.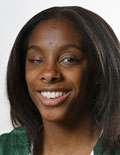 Steward
Steward's teammates didn't know she suffered from any disabilities until after she joined the team.
One of her corneas had never developed, leaving her blind in one eye.
Her left leg is shorter than her right.
Some vertebrae didn't develop.
She is missing a rib.
Steward also figured she was too short to play college basketball, according to a report by ABC News. She planned to study business at Syracuse. Then she got a call from the coaches at Farmingdale.
"The decision was kind of easy," she told ABC. "I get to go to school and basketball? And it was cheaper, too. I was like, 'Yeah, jackpot!'"
Steward also is the recipient of The V Foundation Comeback Award and the Women's Sports Foundation's Wilma Rudolph Courage Award.
"A disability shouldn't be able to stop you from doing what you like or you love or you just want to do," she said. "Either you can try it and hopefully succeed in it. I mean, if you don't, then try again."
The winners will be honored at the men's and women's Final Fours in April.