Joe Mitch is honored with long overdue Katha Quinn Award
Joe Mitch, the USBWA's executive director since 1983, is the 2007 recipient of the Katha Quinn Award, given to those who have serviced the media or provided a service to those in the sports journalism profession.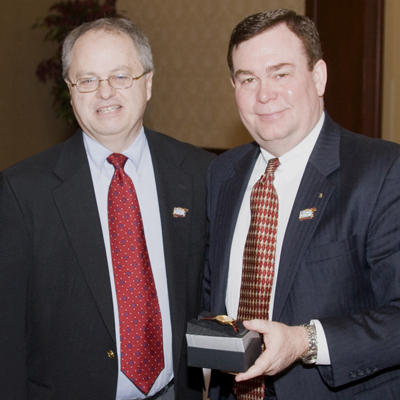 USBWA Executive Director Joe Mitch with past president Tony Barnhart.
Mitch, an associate commissioner of the Missouri Valley Conference, qualifies on both counts.
Under Mitch's watch, the USBWA has:
• Grown from 200 members to over 800.
• Started a Hall of Fame for the organization in 1988.
• Began a sportswriting seminar that became a fixture of the men's Final Four and will expand to this year's Women's Final Four.
• Oversaw an increase in membership benefits such as an improved directory, a website, Hertz and Marriott cards and complimentary subscriptions of Basketball Times.
• Doubled the attendance of its Monday business meeting and breakfast.
• Added the USBWA Player of Year and Coach of Year events at the men's Final Four.
• Developed a new and improved relationship with the NCAA, including the recent mock bracket and last summer's meeting between the two organizations, that Mitch said "I've never experienced in my 27 years with the USBWA."
Mitch began his association with the USBWA as editor of the Tipoff in 1980 and was named executive director when Steve Guback retired in 1983.