Katha Quinn Award honors ACC's Morrison
By LENOX RAWLINGS
In the weeks preceding the ACC tournament, Brian Morrison can get the strangest calls.
He's the gatekeeper, the associate commissioner for basketball media relations who approves or denies credentials requests.
Several years ago, Morrison listened to a reporter from the student newspaper at Montreal's McGill University explain how he would be traveling nearby and wanted to cover the tournament. Morrison deduced that the young journalist planned to drop in during a spring break trip to Florida and turned him down.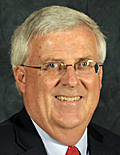 Morrison
The writer pleaded passionately, citing the appeal of American sports to his audience. That didn't work, so he resorted to the final argument: "Mr. Morrison, in the name of furthering Canadian-American relations, would you please reconsider?"
Morrison said no, diplomatically.
Today, he laughs. Typical of his nature, Morrison suspects that, given another shot, he just might admit the reporter for the potential serendipity.
His willingness to consider – or reconsider – every facet of an issue and his easily accessible friendliness are merely two reasons why the USBWA named Morrison the 2013-14 recipient of the Katha Quinn Award for service to members, named for the St. John's sports information director who died from liver cancer at 35, in 1989.
The selection surprised Morrison. "I'm not into public stuff," he said. "I'd rather be behind the scenes. But it is an honor. It really is an honor."
Morrison served as an ACC intern for the legendary Marvin "Skeeter" Francis in 1980-81, returned as Francis' first full-time assistant in 1985 and became the director when Francis retired in 1990. The ACC has gone through four expansions during his tenure, growing from eight schools in four contiguous states to 15 schools spread from the Great Lakes to Miami Beach.
Dick Weiss, who belongs to the USBWA and football writers' halls of fame, said that Morrison's excitement about sharing information makes him special.
"He has an extraordinary knowledge of the league's history and tradition and an extensive knowledge of the current coaches and players," Weiss said. "Brian always thinks one step ahead and has the type of perspective that is desperately needed but rarely found in the college game today. He is old school and has forged a strong personal relationship with the younger writers in the new media. He has a great relationship with every coach and has been fair and objective when dealing with the national media throughout a messy realignment."
Morrison, 60, was born at Wright-Patterson Air Force Base in Dayton, Ohio, but lived there only six weeks. His father, Marvis, was a fighter pilot who flew missions over Europe and North Africa during World War II and rose to the rank of colonel. The family moved frequently – barefooted school years in Hawaii top the list – and wound up in Alexandria, Va., after Morrison's father took a Pentagon position.
Morrison graduated from Mount Vernon High and Catawba College in Salisbury, N.C., where he met his wife, Sue Stebbins, the daughter of a Navy veteran who survived the attack on Pearl Harbor. As an undergraduate, Morrison coached the seven-member women's basketball team to the 1974 state AIAW championship over Duke and N.C. State, winning four games in 48 hours, and served as assistant to men's coach Sam Moir during two straight trips to the NAIA national tournament in Kansas City. He worked briefly in the music business, earned a master's degree in sports administration from Western Illinois and returned to Catawba as associate athletics director and sports information director. Morrison was soon promoted to interim athletics director, a three-year run that ended when he became SID at the University of California, San Diego.
A year later, ACC Commissioner Bob James called. "Come home, son," James said.
Morrison eventually inherited many of Francis' duties. The most unconventional: directing the league's August bus tour of every campus, which sometimes involved getting unruly football reporters to follow a precise itinerary.
Caulton Tudor is a longtime newspaper columnist from Raleigh, a USBWA Hall-of-Famer who now writes for WRAL.com. He was a perennial passenger.
"I remember the first time BriMo was fully in charge of the famous ACC football tour bus," Tudor said. "My good friend, the late Bill Brill, predicted an 'early round elimination' that would send BriMo limping home to Greensboro and put Skeeter back in the captain's chair. BriMo breezed through with nary a hitch."
Tudor insists that Morrison performed the impossible by successfully following Francis.
"Brian has that rare knack for maintaining relationships and friendships with the broadest range of media types in written, spoken and televised history," Tudor said. "He's never failed to be totally professional and fair with some of the league's toughest critics. That takes commitment to task – and particularly so when some larger egos on both sides of the divide are apt to get bruised."
This time of year, Morrison can't avoid bruising the egos of a few unsuccessful credentials applicants. Have you heard the one about the Georgia radio station that requested six photo passes?