Broadcasting's loss: Cohen is USBWA's Rising Star
The USBWA's next Rising Star emerged from the long shadows of ESPN.
Michael Cohen, a 24-year-old sports enterprise reporter for the Commercial Appeal in Memphis, grew up fewer than 10 miles from the ESPN campus in Bristol, Conn, and about 45 miles from Storrs, home of the UConn Huskies. Naturally, he was determined to become a sports broadcaster.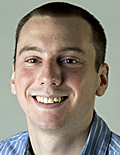 Cohen
While still in high school, Cohen called play-by-play for games involving his own and other high schools on a local radio station. He hosted a sports talk show. He then enrolled at Syracuse University's renowned sports broadcasting program.
That's where he discovered that his heart was really in print journalism.
Cohen was "so hell-bent on broadcasting" that he had not written for the student newspaper at Lewis S. Mills High School in his hometown of Burlington, Conn. An instrumental AP English teacher, Nina Fournier, had drilled her students on the finer points of writing, but Cohen had ignored her encouragement to pursue a writing career.
But when Rece Davis, also a Burlington resident, was among a few from ESPN who advised Cohen that writing was an essential skill to becoming a good broadcaster, Cohen began to listen.In his first week as a Syracuse freshman, Cohen wrote a trial story for the Daily Orange that was published. He was given his first beat, covering the now-defunct swimming and diving team.
"I just fell in love with it," said Cohen, who switched majors following his freshman year.
Davis and Fournier are just two of the guardian angels who have guided Cohen along his journalistic journey.
As a junior, Cohen was the sports editor of the Daily Orange when the Bernie Fine scandal broke. That's also when he met Syracuse alum Pete Thamel, who had not yet moved from the New York Times to Sports Illustrated.
"Obviously, I had never dealt with anything like the (scandal) before, and I was totally overwhelmed and just treading water," Cohen said. "Then I got an email from Pete, whom I'd never spoken to before, and he basically said if I needed any help with this to feel free to give him a call.
"Ever since then, he has been the most crucial mentor I could ever imagine."
Thamel introduced Cohen to others, wrote recommendations for him and continues to help him with stories.
"I owe him for just about everything in this business," said Cohen. "He is as kind and as friendly a person as I can imagine, considering that he reached out to someone who was essentially a total stranger and a 21-year-old kid."
Cohen also counts Dana O'Neil of espn.com and fellow Syracuse alum Greg Bishop of SI as mentors. They have seen the same things in Cohen that made Thamel so willing to help with his career.
"Michael has exhibited a confluence of story sense, investigative chops and flat writing ability that make him one of the best young writers in the country," Thamel said. "His work exhibits a relentless desire to make the extra phone call, dig a layer deeper and tell the story behind the story."
Cohen, who also covered Syracuse football for nearly a year at the Post-Standard, was still a student when one of those stories placed in the USBWA's best-writing contest.
"That was a surreal moment for me that made me want to work even harder, because I could see that I was close," he said. "There were definitely people on that list who can write circles around me, but I was making progress. That showed me that I was headed in the right direction and that my decision to leave broadcast behind was a good one."