Keeley proud to be first woman named Rising Star
It is significant enough that the Raleigh News & Observer's Laura Keeley is the first woman to be named the USBWA's Rising Star.
Perhaps just as meaningful, Keeley emerged from a pool of eight strong candidates for the award, given annually to a member who is under the age of 30 who shows great promise as a college basketball writer.
And that half of those candidates were women.
"I'm proud that there are so many young women sports writers out there," Keeley said, "and that there are more and more good ones."
While the past winners who determined this year's winner made it clear that Keeley, 26, was named the winner on merit, they were delighted to ensure that the fraternity of Rising Star award winners is never just a young boys' club.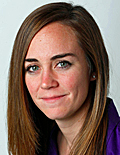 Keeley
"I think the first female recipient of the award would stand as a testament to the rising wave of gender diversity among college basketball writers and the industry at large," said past winner Eamonn Brennan of espn.com. "The USBWA Rising Star Award looks to the future of the business, and so it should reflect and promote the bigger tent our business is gradually, and haltingly, moving toward.
"This means a lot to me, and I know it means a lot to the USBWA as well."
Keeley's career as a sportswriter began as a student at Duke. Her writing career began in the fifth grade, when an assignment to write an editorial for a "colonial newspaper" drew unexpected praise from teachers.
"Maybe I'm good at this," thought the fifth grader.
But there would be other factors to consider. During a visit to Northwestern's Medill School of Journalism, a flier intending to promote the prestigious program had the opposite affect on Keeley.
"On the back, it had the average starting salary for Medill grads, and I think it was in the low 30s – and that might even be generous," Keeley recalled. "And I remember thinking, 'Can I survive on that little money?' I wasn't ready to put it all into journalism at that point."
Keeley went instead to Duke, which does not have a traditional journalism program. After a semester of chemistry and calculus, she returned to her journalistic roots by signing up to write for the student newspaper to cover Duke sports for The Chronicle.
She interned as a business writer for two summers with Bloomberg News, but she was pulled back to sports writing to become a prep writer for the Tampa Bay Times.
Keeley was covering the Blue Devils again one year later when the News & Observer hired her in August 2012.
Keeley said she has never felt conflicted while covering her alma mater – even as she covered the Blue Devils in last season's national championship game – perhaps because she was never very far removed from her days as a student who objectively covered the Blue Devils for The Chronicle.
She is well aware, however, that she's covering a high-profile program.
"Covering Duke basketball, I assume that most people probably either saw the highlights or watched the game on TV," Keeley said. "I try to be observant, because if I'm not bringing anything beyond what you can see on TV, I'm not really doing my job."
Brennan noted a Duke-Syracuse game story in which Keeley noted that Mike Krzyzewski used the word "amazing" 10 times during his six minutes and 17 seconds on the dais. She also pointed out that "in the first eight minutes of the second half, the Orange missed 15 shots – and grabbed 12 offensive rebounds."
That was a statistic that told readers everything they needed to know about Duke's struggles – and voters why Keeley should be this year's Rising Star.