Joe Mitch
Dinner to honor Dayton's Donoher a rousing success
By JOE MITCH
USBWA Executive Director
mitch@usbwa.com
At a time when misconduct by a few coaches has left a giant stain on college basketball,it's refreshing to see acoach honored for his integrity, class and honesty.
Such was the case in December when the U.S. Basketball Writers Association presented former Dayton coach Don Donoher with the Dean Smith Award, given annually by the USBWA to coaches who embody the spirit and principles of the late North Carolina coach.
Over 400 people attended a dinner in Dayton, Ohio, to honor Donoher, who is recognized nationally as one of college basketball's classiest coaches.
"There is no one more deserving of this award than Coach Donoher," said USBWA third vice president and CBS Sports analyst Seth Davis, who served as emcee for the dinner. "Humble, gracious, intelligent, class. He served the game of basketball and that's what we are honoring."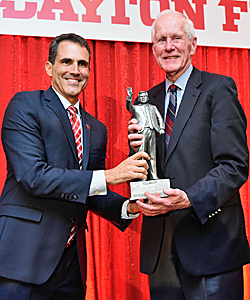 Don Donoher receives the
USBWA's Dean Smith Award
The USBWA wanted the award it created three years ago to be unique. The writers wanted to recognize coaches for more than just their success. They wanted to honor coaches who show character, treat people with respectand made an impact on their community and players.
"Coach Smith would be very proud to have Coach Donoher's name on this award," said USBWA past president John Feinstein, who suggested creating the award honoring Smith. "'Mick' was a great basketball coach, but he's always been a better person."
Feinstein was unable to attend the dinner because of an illness, but Donoher spoke in glowing terms about John and their relationship through the years. "He saw us play in Madison Square Garden when he was 12," Donoher said. "Sonia (Donoher's wife) sat next to him and said she thinks she has him rooting for Dayton when we're not playing a New York team."
Donoher is a humble man who deflects praise and puts others ahead of himself. About receiving the Dean Smith Award, Donoher told the Dayton Daily News: "Really, it's an award for the university, not me." Not once in his 25 years as Dayton's head coach did Donoher's picture or image appear on the cover of the Flyers' basketball media guide.
The love Donoher's players have for him was never more evident than at the dinner when a player from each of the three decades that Donoher coached came back to speak. More than 30 of Donoher's former players were among the crowd, including current head coach and former player, Anthony Grant.
"I think all of us that had a chance to play for coach know where his heart is," Grant told WHIO-TV in Dayton. "We know who he is as a man, who he was as a coach and what he stands for. All that stays with you for the rest of your life. He made a difference in my life and the lives of everyone around him."
Donoher retired in 1989 as Dayton's winningest coach, with 437 career victories. He led the Flyers to nine NCAA Tournament appearances, an NIT championship in 1968 and a runner-up finish in the 1967 NCAA Final Four. Ironically, the coach whose North Carolina team Dayton defeated in the national semifinal game was Dean Smith.
Today, Donoher, who turns 86 in January, remains active in the Dayton community. He has served as a volunteer for the American Red Cross and was chairperson for its 100th anniversary fundraising drive. In 2016, he was inducted into the Dayton Region Wall of Fame for having a positive impact in the community.
Previous winners of the Dean Smith Award were former Georgetown coach John Thompson Sr. in 2015 and Michigan State coach Tom Izzo last year.
Net proceeds from the dinner benefit Dayton's Champions and Scholars Fund and the Dean E. Smith Opening Doors Fund, which provides scholarships for undergraduates from lower-income families to attend college and for professionals in education and social work to pursue advanced degrees.
•
Lodge Notes: Hall of Famer Tudor passes away
The USBWA lost too many members during the past two months.
Caulton Tudor, a 1999 inductee to the Hall of Fame, passed away on Nov. 1. He was 70. Tudor was a sports columnist for the Raleigh Times and News & Observer for 44 years.
Jeff Washburn, who spent about 20 of his nearly 40 years at the Lafayette, Ind., Courier & Journal as a Purdue beat writer, died of cancer on Nov. 29. He was 63.
Rodney McKissic died unexpectedly on Nov. 28. He was 50. McKissic covered college basketball for the Tacoma News Tribune, Cincinnati Post and Buffalo News from 1992-2011.
Paul Morrison, who recently turned 100, died on Nov. 30. Known as Mr. Drake, he was the school's sports information director from 1939-86 and was its official historian for the past 30 years.
In other news, Dick Jerardi and Mike Kern left the Philadelphia Daily News. Jerardi, a former USBWA president, was named to the USBWA Hall of Fame in 2014 and covered colleges for the Daily News for more than 33 years. Kern began covering college sports for the Daily News in 1980.
Andy Katz, who has covered college basketball for nearly three decades, was hired by NCAA.com to provide written, digital and social-media coverage.
Dave Dorr, a veteran sports writer of 35 years and former Sporting News college basketball writer, was inducted into the St. Louis Media Hall of Fame.