Most Courageous Marz recovers from stroke
By MEL GREENBERG
poll416@gmail.com
In the late summer of 2014 – while the story out of the Midwest was becoming nationally covered of Lauren Hill's desire to make it to the basketball court for her first collegiate game with the knowledge that her time was growing short because of diagnosed pediatric brain cancer – another love-of-the-game saga involving a freshman had just begun at Saint Joseph's.
While moving into her dorm, 17-year-old Avery Marz felt dizzy and was soon diagnosed with a stroke.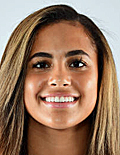 Avery Marz
Though her life was not in immediate danger, Marz was still informed by several medical people that she should forget any desire to continue her collegiate career.
But that was not an option for the native of Sinking Spring (Pa.), which is located within two hours ofthe City of Brotherly Love near Reading.
After two years of rehabilitation, Marz returned in November for the Hawks' season opener, scored soon after coming off the bench, and by December, began making several starts.
"They told me I'd never walk again, they told meall these things," Marz told Doug Feinberg, an United States Basketball Writers Association member and the Associated Press' national women's hoops writer, last month. "Here I am walking out on a court, playing in a Division I game. That was pretty amazing."
Marz, a communication major, also hoped to return to the court with her original class in their senior season.
She didn't think the recovery would take as long as it would, but in achieving her goal, she told the Associated Press, "But for all the work, for it to be my senior year with my senior teammates that I came in, that was huge. I really wanted to do it when they were still here."
That love of the game resolve hasearned Marz acclaim as the recipient of the 2018 USBWA Pat Summitt Most Courageous honoree, joining an impressive group that included Hill in 2015.
Marz will receive the award on March 30 at the USBWA news conference in Columbus, Ohio, in Nationwide Arena several hours ahead of the national semifinals.
The name of Pat Summitt, the legendary Tennessee women's coach, was placed on the USBWA women's most courageous award in 2012 when she received the award in the wake of her battle against early-onset Alzheimer's being revealed the previous summer. Summitt, the first women's coach to surpass 1,000 victories, ultimately succumbed to the disease in June of 2016.
Saint Joseph's coach Cindy Griffin, who has been alongside watching Marz's efforts to return, praised her work ethic, saying, "What an honor it is to know and coach a player who has shown great courage and resilience.
"This award is named after one of the best coaches in the world, Pat Summitt, who was the ultimate competitor, who fought a challenging illness and inspired many of us along the way," Griffin continued. "Avery Marz exemplifies Pat Summitt's courage and competitive spirit as she overcame what many said she could not, which is to return and compete at the Division I women's basketball level after suffering a stroke. Avery is an inspiration to us and is well-deserving of this prestigious honor."
Soon after Feinberg's story on Marz went national, many USBWA members quickly began suggesting her as a viable candidate for the Summitt award.
"Avery playing again is remarkable," said Dr. Tom Trojian, head of Drexel sports medicine, during a recent game between the Dragons and the Hawks. "You normally don't see many people come back from a stroke like she suffered to play again."
Trojian was previously the longtime team physician of the powerful Connecticut program.
Marz has a tattoo on her left shoulder with the date of the stroke inscribed. She had it placed near her back "because it's behind me. It's something I really wanted to get to remember every day. What happened to me is a big part of me. It's going to be part of me for the rest of my life."