Louisville's Kenny Klein wins Katha Quinn Award
By PAT FORDE / Yahoo! Sports
pfeaglebeak@aol.com
He's the last one out. Every game.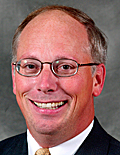 Klein
When the Louisville Cardinals play home games, the final person to leave the media work room is Kenny Klein. He's the Senior Associate Athletic Director of Media Relations at the school, and has been the Louisville basketball media contact for 29 years. He is the very deserving 2012 winner of the USBWA's Katha Quinn Award, given annually to someone in college basketball who has performed a special service to the media who cover the sport.
Kenny could go home hours earlier if he wanted to. His peers around the country do, leaving for dinner or a night out or a good night's sleep. They may leave an assistant around to answer any reporters' questions that come up – or not. They may leave nobody but the janitors. Just about every reporter has a story or two about being locked in a building after a game while the sports information department is long gone.
That doesn't happen on Kenny's conscientious watch. He's like the Marines – no one is left behind. (Though there may be a few dead soldiers left behind. Rare is the postgame when Kenny doesn't offer a beer to the writers as they work.)
The willingness to stay – game after game, year after year – speaks to Kenny's professionalism and dedication to the job. In deliberations for this award the USBWA board heard from writers across the country, at media outlets large and small, who vouched for Kenny's work. One, who had been at an obscure publication but covered a game at Louisville, said Kenny treated him like he was from The New York Times.
Most everyone has gotten The New York Times treatment from Kenny over the years, whether it was in the cramped press room at Freedom Hall or his opulent current digs at the KFC Yum! Center.
Fairness is a trademark of the Kenny Klein experience. When I worked for The (Louisville) Courier-Journal in the 1990s, I was involved in a long and at times very contentious investigation of the Louisville basketball program. Kenny and I had a few disagreements during the process, but it never prevented him from treating me in a thoroughly professional manner. Unlike some media-relations directors, there were no attempts at retribution by withholding access, pulling credentials or punitive seat assignments. That may have disappointed some Louisville fans at the time, but it earned Kenny the respect of everyone at the Courier-Journal.
In one respect, Kenny has lived a lucky professional life – he's worked with exactly two head coaches. The first was Denny Crum, a Hall of Famer and winner of two national titles, whose laid-back relationship with the media probably helped make Kenny's job easier. The second is Rick Pitino, who is also very accessible but in higher demand. Both men have been smart in one way: they trusted Kenny and he rarely, if ever, steered them wrong.
While Kenny's first priority is serving the university, he's also served the media ably. Many reporters can tell stories of asking to get Pitino on the phone in a hurry to react to news – and Kenny has made it happen. Good luck trying that with Mike Krzyzewski.
Beyond his work at Louisville, Kenny has been a driving force in the media-relations effort at the last 27 Final Fours – from statistics to the seating chart to overall game logistics, he has a hand in it. You might also see his bespectacled face working media relations at the Kentucky Derby, or when the Ryder Cup or PGA Championships have been played in Louisville.
He's a father, husband, Parrothead and a remarkably bad dancer. (We won't even get into the broken kneecap suffered on the dance floor of a Memphis hotel the night before Louisville played in the Liberty Bowl one year.) He's a friend to dozens of former Louisville players who will give him warm greetings when they return from around the globe to watch their former team play. He's a vital cog in an athletic department that has grown exponentially during his time there.
And, yes, he's been good to the media as well. For that, we salute him as the 2012 Katha Quinn winner.