Hampton's Six, ACC's Finch earn women's honors
By MEL GREENBERG
There's nothing unusual about Hampton competing for a Big South women's basketball championship and an automatic bid to the NCAA Tournament.
What's different is that Lady Pirates coach David Six has kept his team in the hunt without missing a game while recovering from a stroke that he suffered last summer.
There's nothing new about Atlantic Coast Conference senior associate commissioner/women's basketball Nora Lynn Finch chatting with media members as she goes about her duties.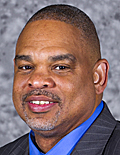 David Six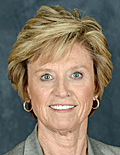 Nora Lynn Finch
What's different is that this will be the last time she will be going through March Madness prior to her retirement in June.
Both of them will also be on the dais at the annual USBWA women's awards news conference in Tampa Bay in Amalie Arena several hours ahead of the national semifinals to receive special honors.
Six will receive the Pat Summitt Most Courageous Award named for the late legendary Hall of Fame women's coach who battle dementia at the close of her noteworthy career at Tennessee.
Finch is this year's Mary Jo Haverbeck Award winner, named for the late pioneering Penn State women's sports information director that goes to an individual helpful to USBWA members covering their beat. It is equivalent to the Katha Quinn Award on the men's side.
Six, a 55-year-old native of New York, suffered his attack on June 27 while driving his wife Angela to Johns Hopkins Hospital in Baltimore for treatment for a muscle disease.
"It was a near death experience," Six told AP national women's basketball writer Doug Feinberg, a USBWA member, when the team played at Columbia in New York after New Year's Day.
Despite medical opinions that it could be a year before returning to coach, Six threw himself into an extensive rehab program determined to be in the gym at the start of preseason practice.
In November, he earned his 200th victory before Thanksgiving. Though Hampton struggled to a 4-7 record on the sort of rigid non-conference schedule that Six usually creates, the squad was just a game out of first with only two Big South setbacks in mid-February.
"He bounced back quickly," Hampton freshman Laren VanArsdale told Feinberg. "A lot of people don't come back from strokes, but he came back stronger than ever."
Saint Joseph's grad player Avery Marz, herself a stroke victim who returned to action and won the Summitt Award last year, will help present Six as well as a representative from the Pat Summitt Leadership Group.
Meanwhile, Finch had not yet announced her retirement when informed of her USBWA honor.
"Wow," she said. "That's terrific. I always considered that award to be special."
Finch, who served the first eight years as chair of the NCAA women's basketball tournament committee from 1981-88, has since been announced as a member of this June's Women's Basketball Hall of Fame induction class in Knoxville, Tenn., as a contributor.
She was the top basketball assistant to the late Hall of Famer Kay Yow at North Carolina State before becoming the Wolfpack's senior women's administrator and then moving to the ACC.
"Nora Lynn's contributions to college athletics, and specifically women's basketball, are beyond significant," said ACC Commissioner John Swofford. "For over four decades, her enthusiasm, energy and integrity have benefited everyone she's worked with, and the respect and awards she's earned are well deserved. I congratulate her on adding the USBWA prestigious Mary Jo Haverbeck award to her career accomplishments."
Added USBWA member and broadcast analyst Debbie Antonelli, who played for the Wolfpack: "Nora Lynn has always been media savvy. Coach Finch is an administrator who served in many capacities in women's basketball. She crisscrossed roles as a player, coach, referee, administrator and visionary in our game for decades. Her leadership and caretaking roles in the game served countless men and women. Basketball has evolved because of her leadership and unconditional spirit to move the game forward."