Hooray for Hollywood's Rising Star winner
Fittingly, the USBWA discovered a Rising Star in Hollywood.
Yet glitz and glamour have little to do with the latest winner of the award given to the organization's top basketball writer under the age of 30: Sam Vecenie.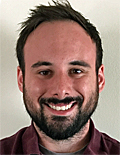 Sam Vecenie
Vecenie, 28, is a roll-up-the-sleeves kind of guy as a senior writer at The Athletic specializing in the NBA draft. He must be an expert in the worlds of both the NBA and college basketball – and on the top prep players as well. Then he must determine where those prospects would fit best on NBA teams and be able to convey that knowledge in an entertaining manner.
The all-encompassing nature of this relatively new genre of sports writing is what excites him.
"There are so many contextual factors that go into every player and every situation," Vecenie said. "That's what's interesting to me. That's what gets my mind going."
Few, if any, navigate the worlds of preps, colleges and pro better than Vecenie.
"With Sam, I could talk to him about the Peach Jam, the NBA trade deadline or Selection Sunday, and he would be well-equipped to discuss any of it," said Gary Parrish of CBS Sports, Vecenie's former colleague.
Vecenie's fascination with player development, which began as a kid building rosters on video games, translated as an adult to a curiousity about how it worked in real life.
He switched majors three times at Ohio State, accumulating enough coursework that he could easily have graduated in three years. Vecenie instead added film studies as a second major, along with strategic communications, and then enrolled in a graduate program in entertainment and industry management at the prestigious Carnegie Mellon in his hometown Pittsburgh.
That led to life in Hollywood, where he served internships at Starz and MGM and worked fulltime at Nielsen.
Yet even as a grad student, Vecenie was gravitating back to basketball. He studied modern basketball strategy in order to better understand what he was watching and wrote for blogs and SB Nation, particularly on the draft.
Once Vecenie took the dive, he went nearly all in.
"I had a pinky toe in the entertainment industry," Vecenie said, "and nine toes in the deep end of writing about basketball."
Matt Moore of FanSide was among those who took notice.
"He was able to put the conversation around draft picks and prospect analysis and put it into relatable terms for the reader," Moore said. "That's really big. That's something that I think is missing in a lot of prospect analysis."
Moore moved to CBS Sports and thought of Vecenie when there was an opening to replace Jeff Borzello, who left for ESPN, with the emphasis shifting to the NBA draft rather than recruiting. Vecenie spent nearly two years at CBS before losing that job to a layoff. After a year of freelancing, Vecenie found a new home with the creation of The Athletic in July of 2017.
The Athletic's subscription-based model fit well with Vecenie's views about the need for shake-up in the media industry. His Game Theory regularly ranks among iTunes' top podcasts.
Vecenie said he might begin a typical day by watching an NBA and a college game on Synergy, then catching a couple more live games that evening. Saturdays, he might watch as many as 10 games by having two on at a time. He also reaches out to sources and updates his large, well-organized scouting document. During summers, he travels to all-star games, grassroots events and NBA summer leagues and watches NBA tryouts held in L.A.
"I have no idea," Moore said, "how Sam keeps all that information he has in his head."
Vecenie said it helps to be both curious and analytical, with an entrepreneurial spirit and a good memory to boot.
His career has been aided, he said, by great friends and mentors, such as Moore, Parrish, writers Matt Norlander and Jeff Goodman and editors Sergio Gonzalez and Marcus Nelson.
Vecenzie also will be getting married in late August to his fiance, Laura.
Life is good.
"It's the best," Vecenie said. "I get to work from home. I get to hang out with my dog and two cats. I get to live in Hollywood.
"It's an unbelievable life. I'm incredibly lucky."