Vance showed a lighter way to serve the media
By JEFF BOLLIG
There is nothing inherent in the dynamic between the media and communications officials that says conflict must be present.
Certainly, there can be differences from time to time, but according to this year's USBWA Katha Quinn Award honoree Doug Vance, focusing on the big picture minimizes the potential for an adverse relationship.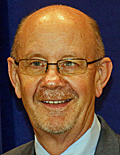 Doug Vance
"I never considered being negative toward the media to be in my job description," Vance said. "If I was going to be successful and my employer was going to be successful, I needed the media to share the message. We talk to our fans, our constituents to a large degree, through the media. My job was to foster positive and professional relationships with members of the media."
Vance, who is the executive director of CoSIDA, was selected for the award given annually in recognition of the recipient's work in serving the media. Quinn was honored at the USBWA meeting at the 1988 Final Four for her work at the 1987 Pan American Games while she underwent treatment for liver cancer. She passed away in March 1989, at the age of 35.
Without a doubt, Vance's upbringing and diverse background has molded his philosophy and style. His father Kyle was a Pulitzer Prize winning reporter for the Associated Press and Louisville Courier Journal, and three uncles and a cousin were also in the newspaper business. Vance's brother David, whom he calls one of his mentors and biggest supporters, was an SID at Eastern Kentucky and public relations director – and later general manager – for the Kentucky Colonels of the ABA.
Vance's stellar career has included stops as a newspaper reporter, school public relations official at Austin Peay, SID at Murray State and Kansas, executive director of the Kansas Parks and Recreation Association and his current role at CoSIDA.
"This award means so much to me because it comes from a group of professionals I admire in the media, and its named after a professional who was a peer and a member of the group I now have the honor to represent," Vance said. "It's very humbling to be recognized."
Said Kansas City Star reporter Blair Kerkhoff: "Doug was as good at his job as anybody in the athletic department was at theirs, coaches included. He served Kansas well by not only working with coaches and administration but with the media in helping develop stories, providing ideas and simply keeping open lines of communication. When reporters worked with Doug they believed he had their interest at heart."
As good as Vance is with the media, he has been equally effective as an administrator during his career in both university and association settings. He has also been asked to volunteer in support of NCAA, conference, Olympic, bowl game and government events. He has mentored hundreds of student assistants and interns, many who became SIDs, public relations professionals, radio and television personnel, athletic administrators – even a few medical personnel and lawyers. His support of coaches and student-athletes has resulted in deep admiration and life-long friendships.
"Doug was immensely important to me," North Carolina head basketball coach Roy Williams said. "(Kansas) was my first head coaching responsibility. Doug planned everything, walked me through everything, was a security blanket for me. Not only that, he was extremely competent as an SID and a true friend. I'm in favor of any award that Doug gets. He guided me through uncharted waters as a first-time head coach at a historic program. I just love him and his family to death and I'm so happy he's getting this award."
It was the mix of talents as a sports information director and an association management professional that earned him the position with CoSIDA, according to Shelly Poe, assistant athletic director at Auburn and CoSIDA president when Vance was hired in October 2013.
"Doug's been a wonderful leader for CoSIDA," Poe said. "He had the perfect background to lead us and has been a great advocate for the profession. He's a true professional. He's steady, a good listener and he's put together a good staff to serve the membership. I'm happy for him that he has won this award. It shows how widely he is respected."
On top of his talent and work ethic, Vance's quick wit and sense of humor has won him friends and supporters. While at Austin Peay, the Governors basketball team featured a flashy scoring machine in the early 1970s by the name of James "Fly" Williams. It was Vance who coined the battle cry, "Fly's Open, Go Peay." It is still well known by college fans nationwide.
"The job of a communicator can be stressful because you serve many masters," Vance said. "So, I think it is important to keep an even keel and inject some humor and light-heartedness from time to time. You need to keep perspective."