Hoops a lifeline for Most Courageous Dowd
By SETH DAVIS / The Athletic
USBWA Third Vice President
sethdavishoops@gmail.com
Sam Dowd is used to hearing snickers. At 5-foot-7, 167 pounds, he hardly cuts an imposing figure on the basketball court. Yet, once the snickering is done and the game begins, Dowd is usually the one who gets the last laugh.
"I've never been discouraged by my height," he says. "It's funny because guys automatically think, 'I'm gonna post up this little guy,' but they find it difficult. I love to compete with the big boys, and I've never backed down from a fight."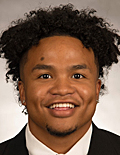 Sam Dowd
That fighting spirit has enabled Dowd to overcome adversity that dwarfs anything he has seen on a basketball court. When Dowd was around 12 years old and growing up in Tacoma, Wash., his family life disintegrated as his parents fell prey to addictions. By the time he was 13, he was turned out of his own house and was living on the streets while trying to attend school and play some AAU basketball.
His basketball relationships literally saved his life. He slept wherever he could – on coaches' couches, with friends' families or occasionally outside the school when there was nowhere else to go – and was eventually taken in by a teammate whose family lived in Spokane. They enrolled Dowd at Gonzaga Preparatory School, where he befriended an older student named Matt Miller. Miller's parents, Ron and Jill, agreed to bring Dowd into their home and later adopted him. Despite those humble beginnings and his diminutive size, Dowd flourished on the court, playing two years at North Idaho Junior College and earning then a scholarship to Idaho State, where is currently a junior and the team's backup point guard.
For his big-hearted resilience, his oversized spirit, and his larger-than-life determination, Dowd is the U.S. Basketball Writers Association's choice for the 2018 Most Courageous Award.
"It's amazing he has the enthusiasm for life that he has, but I think the challenges that he faced growing up have molded him into something that's pretty special," Idaho State coach Bill Evans says. "He might be small, but he's got great intangibles. Some guys don't play the game for the right reasons, but Sam really does play for the program and his teammates."
Though Dowd has occasional contact with his biological parents, he refers to the Millers as Mom and Dad and credits them with giving him a future as well as a home. He is majoring in communications at Idaho State with a minor in management. Dowd has been the subject of several stories in the local media, and though he is wary at times of recounting all that has happened to him, he is also gratified for the chance to inspire others.
"I wake up every day and think, 'Wow, I'm playing basketball at a Division I school,'" Dowd says. "I want people to know that you can overcome any kind of situation in life. I know a lot of people have had it way worse than me. That's why I'm so grateful I have basketball. It's more than a sport for me. It gave me a lifeline."