Haverbeck Award goes to WBCA's Donehew
By MEL GREENBERG
poll416@gmail.com
The USBWA's Mary Jo Haverbeck Award is going to a person who wears several hats but is known primarily as the executive director of the Women's Basketball Coaches Association – Danielle M. Donehew.
Donehew, a native of Atlanta and former women's star at Georgia Tech, is also the current president of the Women's Basketball Hall of Fame in Knoxville, Tenn. Prior to her hire on July 2, 2014, she served as the associate commissioner over women's basketball with the American Athletic Conference, having taken the job when it was formed after the breakup of the old Big East, which she also served from 2009-13.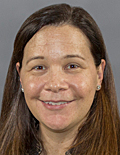 Danielle Donehew
She also worked several seasons with the WNBA's Atlanta Dream and was a director of operations on the staff of the late Tennessee Hall of Fame legendary women's basketball coach Pat Summitt.
She is also an official of the Pat Summitt Foundation. In working all these jobs, which involves interaction with the media, Donehew has been instrumental in making sure media needs are helped and served. She has also made it a part of her job to urge continued cooperation between WBCA members of the coaching community and the beat writers who cover their teams.
When major announcements have had to be made, Donehew has been helpful to get the word released in the hands of appropriate media members so we are prepared to roll with our stories once the embargo is lifted.
"Thank you to our friends at the United States Basketball Writers Association for recognizing me with the Mary Jo Haverbeck Award," Donehew said upon receiving the news of her selection.
"I am proud of the strong relationship between the USBWA and WBCA. Our community of coaches appreciates the important role the media has played and continues to play in chronicling the game of women's basketball in real time throughout its history.
"We are thankful for everything you do to promote our sport."
Says John Altavilla of the Hartford Courant, who was a beat writer for the Connecticut women when Donehew was with the American: "There was always one thing you could count on when Danielle was working for the AAC and that was she would always make herself available if a question needed to be asked - and she would do her best, even if it was touchy or controversial, to give you an honest answer.
"Those of us who have covered women's basketball for a long period of time really depend on those like Danielle to help us tell the stories that should help to grow the game. I am really happy for her and consider her deserving of any award she may receive for as long as her career carries on."
Jack Watford, the WBCA communications director, notes: "I have worked for a lot of people and have never seen anyone like Danielle who is ready to engage and to talk to anyone, anytime, anyplace."
The Mary Jo Haverbeck Award, which is the equivalent of the men's Katha Quinn Award, is named for the pioneering Penn State women's sports information, herself a USBWA member, who passed away in January of 2014 after a short illness.
Having worked 25 years for the university until 1999, she was the first official to publicize Penn State women's sports teams and served as a mentor for students interested in pursuing a career in athletic communications or the media.