Another Auerbach finding basketball success
When your last name is Auerbach, you should be involved in basketball.
Nicole Auerbach is not only still involved, she is this year's winner of the U.S. Basketball Writers Association's Rising Star award.
Though Auerbach switched jobs over the summer, she earned the honor through her body of work at USA Today and because she will continue to write about college basketball for The Athletic's college basketball wing, the Fieldhouse. While she was the primary college basketball writer for USA Today, her emphasis at The Athletic is on college football for the All-American.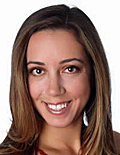 Nicole Auerbach
"I love college basketball and the relationships with coaches in March, but it's tough sometimes …" Auerbach said. "I used to get so frustrated trying to pierce through the football wall.
"I wanted to do football, but I didn't want to abandon my roots. So I ended up joining it and doing both football and basketball. I think I was able to get the best of both worlds."
Auerbach really hadn't considered any of these worlds – basketball, football or journalism – when she entered the University of Michigan as a New Jersey kid who avidly followed pro sports. She was strongest in math and science and played sports in high school rather than write about them. Her dad, a New York Jets season ticket holder, owned his own business and Auerbach figured she would follow that route.
Fittingly, an upset of epic proportions led her to such an unexpected career choice.
The first college football game Auerbach ever attended was Appalachian State's stunning 34-32 upset over the fifth-ranked Wolverines in 2007. In her first few days on campus before that, Auerbach had met in her dormitory hallway a sophomore, Alessandra Boufford, who aspired to become a surgeon. Boufford, who later fulfilled her dream, asked Auerbach what her dream job would be. Auerbach said she would love to write for Sports Illustrated. Boufford put Auerbach in touch with an editor at the Michigan Daily, and Auerbach was invited to join a planning meeting for the Daily's first issue on the following Sunday.
"I walk into this meeting, wondering what it was going to be like," Auerbach said. "I watched them completely scrap this special section they had in place, because they hadn't published yet. They completely scrapped it and tried to figure out what went on (in the Michigan loss), piecing together this special section."
Auerbach was hooked. She got her start on the clubfrisbee beat and went on to cover all the major sports at Michigan, including the beginning of the John Beilein era in basketball. She became a sports writer at a school that doesn't offer a journalism major.
"We're very proud of learning by the seat of our pants," said Auerbach, who majored in public policy. "We had to teach ourselves how to report and write and get better. It's wild, now that I have so many friends who went to Northwestern and Syracuse and all these J schools, to think about that. We just learned from those above us."
She met influential contacts along the way. Andy Staples and Stewart Mandel encouraged her to pitch a story for Sports Illustrated. She wrote a cover story on Michigan quarterback Denard Robinson for USA Today on a day's notice. She landed internships at the Boston Globe and USA Today.
Before that, there was an unpaid internship as a 17-year-old at the Trentonian, occasionally covering the New York Yankees and having to fight her way into the Double-A Trenton Thunder locker room. She thanks Trentonian editor Matthew Osborne for taking a chance on her.
There were many other influences. Her editors at USA Today included Tom O'Toole, Joe Fleming and Dan Uthman, whom she followed to the All-American. Among writers, she lists USA Today columnist Nancy Armour, Michael Rosenberg of Sports Illustrated, Pat Forde of Yahoo Sports and, in particular, Dana O'Neil.
"One of the best parts of stumbling into this college basketball world has been that I've gotten to know Dana," Auerbach said. "She's the gold standard, so it's great to be around her and learn from her. Now I'm thrilled that we're on the same staff."
Her internship at USA Today led to a job as the paper's digital editor of college basketball. A year later, at the age of 23, she began writing about college basketball full time for USA Today.
"I feel very fortunate that the door that was opened to me was for college basketball," Auerbach said. "I love the coaches. They're so accessible. They're so candid and interesting. There's nothing better than having a first-round upset at your (NCAA Tournament) site and going tinto the Stephen F. Austin locker room and looking for the best story after they beat West Virginia.
"I didn't want to lose that."
Auerbach was also intrigued by the new journalistic model that The Athletic offered and the opportunity to take deep dives into stories.
"I just really liked the vision. It's worth a shot."
As for her last name, Auerbach, who named her dog Red, but is typically coy about whether she is related to the Boston Celtics legend. Now, her secret is revealed.
"For a long time, my grandma was telling people we were related, but then my dad and uncle looked into it, and no, we're not," she said. "But I have fun just nodding and going with it."
Nevertheless, she has done her last name proud.