After 33 years, Waters still owns Syracuse beat
By DONNA DITOTA
Mike Waters was 25 when he migrated from Tennessee to New York. Newly hired to cover Syracuse, he showed up at Jim Boeheim's office for a still-vivid introductory encounter with a man he knew next to nothing about.
That was 33 Januarys and various journalism awards ago – including his latest, the USBWA's Jim O'Connell Award for Excellence in Beat Reporting. Waters met his wife, Robin, and helped raise their children Christopher and Anna Kate in the Syracuse suburbs. In the process, he became synonymous with Orange basketball coverage.
He has reported about Syracuse basketball through all those years. That doesn't mean he has settled into a numbing routine or that there is no drama in the familiar.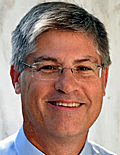 Mike Waters
"I never cover the same team from one year to the next," he said. "The team always changes. The players change. Some players graduate, new players arrive. And even players who are back from one year to the next, the freshmen are a year older. The junior has turned into a starter as a senior. The teams are always changing and so are the players and that keeps me interested."
Syracuse and the Big East back then represented the pinnacle of college basketball coverage. Fans who filled the Carrier Dome with record-setting frequency devoured every word that Waters wrote. It was a step up on a journalism ladder that started in Nashville, where revered coaches Rick Byrd (Belmont) and Don Meyer (Lipscomb) provided a basketball-coverage proving ground. In that homey embrace of NAIA hoops, Waters played pickup games with Byrd, his coaching staff, the occasional professor and a long-haired musician named Vince Gill. ("Oh, Vince was good. Vince was very good.")
He also covered Trevecca Nazarene.
"I can name you at least three or four of the starters on the Trevecca team that went to the national tournament in '88," Waters said. "Sandy McClain. Charles Brooks. Avery Patton was their unbelievable point guard, a little kid out of Nashville. They were amazing."
This kind of unprompted memory grab has come to characterize Waters. He has a "Rain Man" grasp of ancient statistics and historical trivia that borders on savant. He can summon an obscure player's name, an odd 1980's game incident with the ease of reciting the alphabet. And a word of warning: Never challenge him to a "name the state capitol" contest.
"I'm in total amazement at what he does remember," said Dennis Nett, a Syracuse.com photographer and longtime colleague on the beat.
Waters likes to joke that those are the only things he remembers. He can recall Derrick Coleman's 1990 rebounding average, but Robin's request for a Diet Coke while picking up a takeout order fails to register.
Waters traces his memory for basketball trivia to "an unhealthy amount of time with media guides." When The Post-Standard moved its its offices a few years ago, supervisors warned reporters that there would be no room for their filing cabinets of stuff.
A prick of panic was subdued by Waters' simple solution: He would bring the media guides home. The collection, mind you, reaches to the early 1970s, when media guides were "itty-bitty pamphlets."
He flips through those guides "more often that you might think." He understands that all of this information resides online, but his familiarity with the guides seems a speedier and more comfortable process.
Beat writing becomes Waters, and not just for the games, the stats, the personalities, the intrigue of each new season. He uncovers tales of forgotten players lost to the dusty remnants of time and the lack of social media. He appreciates the players who rise from limited boxscore personas to become politicians or business owners.
There are the stories of the process, too. Real-time annoyances become hilarious go-to recollections. There was the time an airline lost every piece of luggage in The Post-Standard's reporting/photography traveling contingent to West Virginia, forcing the trio to shop at Target. Waters, a strict shirt-and-tie guy, wore a longsleeved T-shirt to cover the game and "was breaking out in hives" because he built his reputation on dressing as a professional to do a professional's job.
The canceled flight that required a drive from Boston to Raleigh to cover an ACC game. The "Tiny House" Chevy suburban that transported the crew from the First Four in Dayton and beyond. The furious typing in moving vehicles when stories broke at inconvenient times.
The conversations on those trips segue from basketball banter to every imaginable topic. Waters revels in them.
You know Mike Waters, and not just because he served as USBWA president. He recalled your name and engaged you in conversation each time you saw him. That ability to connect, to remember, to write from his place of basketball passion makes him a deserving recipient of all the awards he has collected over the course of a career well-lived.
Even in Syracuse. Even with a sometimes-cranky Boeheim as the head coach of the team Waters covers.
"As Jim Boeheim often says – when the weather is bad out, it's basketball season," Waters said. "I've got my blinders on, my head down and I just focus on basketball."