How the USBWA's Rising Star found her voice
By JEFF PEARLMAN
On Oct. 1, 2014, I read an article in the Orange County Register by an unknown writer with a strange name.
Then, because I follow everyone on Twitter, I followed her on Twitter.
Within 24 hours, Mirin Fader DMed me this: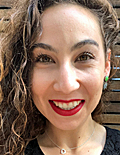 Mirin Fader
I KNOW YOU'RE PROBABLY REALLY BUSY BUT IT WOULD BE AWESOME IF YOU MGHT BE FREE TO MEET UP ONE OF THESE DAYS. I'M PASSIONATE ABOUT WRITING BOOKS AND IT WOULD BE GREAT IF I COULD ASK YOU QUESTIONS ABOUT YOUR BOOK-WRITING PROCESS AND THE ORGANIZATION THAT COMES WITH IT. I GRADUATED COLLEGE A LITTLE OVER A YEAR AND A HALF AGO, WOULD JUST APPRECIATE ANY ADVICE!
Two days later, I found myself shaking hands with a short, curly-haired kid holding a Bic and a notepad. She called me "Mr. Pearlman" – which was irritating, then, as we sat – and asked whether she could take notes.
"You're taking notes?" I said.
"The thing is," she replied, "I wanna learn ..."
"I get it," I replied. "But notes? Really?"
Some six years later (and after, oh, 150 insistences that she stop referring to me as "my mentor"), I consider Mirin Fader a close friend and trusted colleague. More important (for these purposes, at least), I consider her as the blueprint of what – exactly – an up-and-coming journalist and the USBWA's Rising Star award winner needs to do and needs to be.
Having been in this field for (oy) two-and-a-half decades, I've encountered dozens upon dozens of aspiring scribes who say they want to be professional writers, but conditions inevitably apply. All they want to do is be a journalist – buuuuuuuut, they only see themselves covering sports. They've dreamed of chronicling Major League Baseball's Spring Training – sooooooo, no, they'd rather not take a job handling the local police beat. They'll go anywhere to write, as long as anywhere means within the state of Florida (Specifically Miami). Put simply, it's the difference between wanting it and freaking wanting it.
Mirin Fader, from the day we first met, has freaking wanted it.
During her time at the Register, Mirin would go anywhere in pursuit of a story. The sport didn't matter, the subject didn't matter – she simply wanted to write a quality piece. And, to be honest: The stuff was a little ... erratic. Mirin wasn't one to pass up a hackneyed clichι; didn't mind telling us the Orange Lutheran High quarterback was "the baby of the family." But she kept working at it; working at it; digging, scratching, clawing. When she'd sit down to read a piece by Wright Thompson or Sally Jenkins, she'd do so with pen in hand, taking (wait for it) notes. Studying ledes. Noting transitions.
Before long, her stuff was leaping off the page, and when Bleacher Report came calling in 2017, the site found itself with a dynamic and insatiably curious staff writer. For my money, Mirin's introduction to the world (or at least this world) came in 2018, when she traveled to Lithuania to chronicle the weird, unsettling journey of a young basketball player named LaMelo Ball. At that point, Mirin had never left the United States. Hell, she had never rented a car. And suddenly, she found herself in a distant land, absorbing a distant language, tracking an athlete who (truth be told) didn't wish to be tracked. It was a recipe for disaster and – if I'm being honest – I thought B/R had asked Mirin to swim the Atlantic when she had yet to remove the floaties.
I was wrong. The resulting story – THE LAMELO SHOW – is a thing of absolute beauty. Wrote Mirin: "The doors swing open. The boy with the floppy blond curls rushes into Prienai Arena. A group of Lithuanian teens, who arrived 60 minutes before tipoff, scurry over to get a closer look, but the boy ignores them. He's locked in his own world as he spots two stone-faced security guards looking on from just outside the locker room. The boy, sporting a pair of black headphones and a Big Baller Brand sweatsuit, grins while Bruno Mars and Cardi B's 'Finesse (Remix)' blasts in the background. It's his time."
Yes, it's the saga of a basketball player scaling new heights.
But, really, it's the saga of a young writer finding her voice.
Of pursuing her passion.