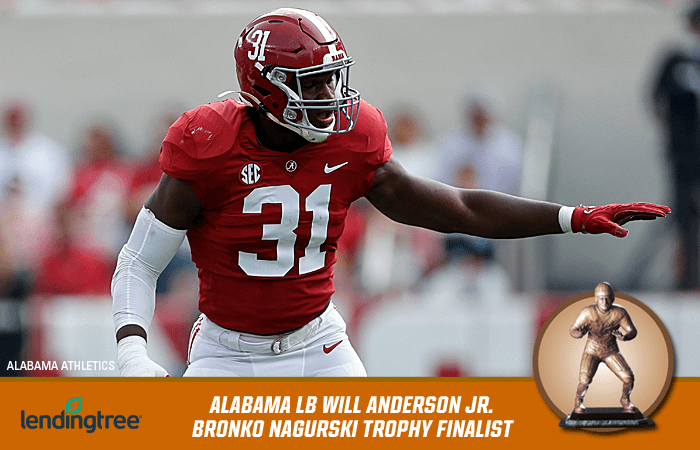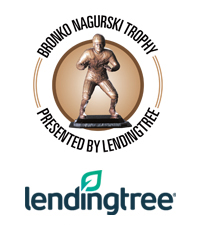 The Football Writers Association of America has chosen a National Defensive Player of the Year since 1993. In 1995, the FWAA named the award in honor of the legendary two-way player from the University of Minnesota. Bronislaw "Bronko" Nagurski dominated college football then became a star for professional football's Chicago Bears in the 1930s.
The FWAA All-America Committee, after voting input from the association's entire membership, selects a 26-man All-America Team and eventually the Bronko Nagurski Trophy finalists. The committee members then select the winner as the best defensive player in college football.
Each Tuesday during the regular season, the FWAA has selected a Bronko Nagurski National Defensive Player of the Week since 2001.
Finalists for the 2021 trophy will be announced on Nov. 17 and the winner will be unveiled on Dec. 6 at the Bronko Nagurski Awards Banquet presented by LendingTree in Chalotte, N.C.
2021 Season News
• Three finalists named for 2021 Bronko Nagurski Trophy (11.17.21)
• Bronko Nagurski Trophy preseason watch list unveiled (7.27.21)
2021 Bronko Nagurski National Defensive Players of the Week
• Weekend of Sept. 4: Jordan Davis, DT, Georgia
• Weekend of Sept. 11: Verone McKinley III, S, Oregon
• Weekend of Sept. 18: Jared Bartlett, DE, West Virginia
• Weekend of Sept. 25: Jack Campbell, LB, Iowa
• Weekend of Oct. 2: Khoury Bethley, S, Hawaii
• Weekend of Oct. 9: Matt Hankins, CB, Iowa
• Weekend of Oct. 16: Will Anderson Jr., LB, Alabama
• Weekend of Oct. 23: Kayvon Thibodeaux, DE/LB, Oregon
• Weekend of Oct. 30: Felix Anudike-Uzomah, DE, Kansas State
• Weekend of Nov. 6: Steven Jones Jr., CB, App State
Related links:
• Bronko Nagurski Trophy (All-Time Winners, Finalists and Players of the Week)
• Download the Bronko Nagurski Trophy presented by LendingTree logo: Primary (.jpg) | Primary (.eps)
Other News:
• Tulsa's Collins wins 2020 Bronko Nagurski Trophy (12.23.20)
• 2020 Bronko Nagurski Trophy finalists unveiled (12.9.20)
• 2020 Bronko Nagurski Awards Banquet cancelled (11.2.20)
• Ohio State's Young wins 2019 Bronko Nagurski Trophy (12.9.19)
• FWAA unveils 2019 Bronko Nagurski Trophy finalists (11.20.19)
ALL-TIME BRONKO NAGURSKI TROPHY WINNERS
2021
Finalists: Will Anderson Jr. (Alabama LB); Jordan Davis (Georgia DT); Kayvon Thibodeaux (Oregon DE)
2020
Zaven Collins, Tulsa (LB)
6-4
260
Jr.
Hominy, Okla.
Finalists: Tarron Jackson (Coastal Carolina DE); Daviyon Nixon (Iowa DT); Jeremiah Owusu-Koramoah (Notre Dame LB); Patrick Surtain II (Alabama CB)
2019
Chase Young, Ohio State (DE)
6-5
265
Jr.
Upper Marlboro, Md.
Finalists: Derrick Brown (Auburn DT); J.R. Reed (Georgia S); Isaiah Simmons (Clemson LB); Antoine Winfield Jr. (Minnesota DB)
2018
Josh Allen, Kentucky (LB)
6-5
260
Sr.
Montclair, N.J.
Finalists: Devin Bush (Michigan LB); Grant Delpit (LSU S); Christian Wilkins (Clemson DT); Quinnen Williams (Alabama NG)
2017
Bradley Chubb, NC State (DE)
6-4
275
Sr.
Marietta, Ga.
Finalists: Minkah Fitzpatrick (Alabama S); Josey Jewell (Iowa MLB); Ed Oliver (Houston DT); Roquan Smith (Georgia OLB)
2016
Jonathan Allen, Alabama (DE)
6-3
291
Sr.
Leesburg, Va.
Finalists: Reuben Foster (Alabama LB); Tarvarus McFadden (Florida State CB); Jabrill Peppers (Michigan LB/DB); Christian Wilkins (Clemson DE)
2015
Tyler Matakevich, Temple (LB)
6-1
232
Sr.
Stratford, Conn.
Finalists: Jeremy Cash (Duke S); Shaq Lawson (Clemson DE); Carl Nassib (Penn State DE); Reggie Ragland (Alabama LB)
2014
Scooby Wright III, Arizona (LB)
6-1
246
So.
Windsor, Calif.
Finalists: Malcom Brown (Texas DT); Landon Collins (Alabama S); Senquez Golson (Ole Miss CB); Gerod Holliman (Louisville S)
2013
Aaron Donald, Pittsburgh (DT)
6-0
285
Sr.
Pittsburgh, Pa.
Finalists: Darqueze Dennard (Michigan State CB); Lamarcus Joyner (Florida State CB); C.J. Mosley (Alabama LB); Michael Sam (Missouri DE)
2012
Manti Te'o, Notre Dame (LB)
6-2
255
Sr.
Laie, Hawaii
Finalists: Jadeveon Clowney (South Carolina DE); Jarvis Jones (Georgia LB); Dee Milliner (Alabama CB); Bjoern Werner (Florida State DE)
2011
Luke Kuechly, Boston College (LB)
6-3
237
Jr.
Cincinnati, Ohio
Finalists: Mark Barron (Alabama FS); Morris Claiborne (LSU CB); Whitney Mercilus (Illinois DE); Devon Still (Penn State DT)
2010
Da'Quan Bowers, Clemson (DE)
6-4
275
Jr.
Bamberg, S.C.
Finalists: Nick Fairley (Auburn DT); Justin Houston (Georgia LB); Luke Kuechly (Boston College LB); Patrick Peterson (LSU CB)
2009
Ndamukong Suh, Nebraska (DT)
6-4
300
Sr.
Portland, Ore.
Finalists: Pat Angerer (Iowa LB); Eric Berry (Tennessee CB); Terrence Cody (Alabama DT); Jerry Hughes (TCU DE)
2008
Brian Orakpo, Texas (DE)
6-4
260
Sr.
Houston, Texas
Finalists: Jerry Hughes (TCU DE); Rey Maualuga (USC LB); Alphonso Smith (Wake Forest CB); Brandon Spikes (Florida LB)
2007
Glenn Dorsey, LSU (DT)
6-3
303
Sr.
Gonzales, La.
Finalists: James Laurinaitis (Ohio State LB); Chris Long (Virginia DE); George Selvie (South Florida DE); Aqib Talib (Kansas CB)
2006
James Laurinaitis, Ohio State (LB)
6-3
244
So.
Hamel, Minn.
Finalists: Gaines Adams (Clemson DL); Leon Hall (Michigan DB); Reggie Nelson (Florida DB); Patrick Willis (Missisippi LB)
2005
Elvis Dumervil, Louisville (DE)
6-0
256
Sr.
Miami, Fla.
Finalists: Tamba Hali (Penn State DE); Haloti Ngata (Oregon DT); DeMeco Ryans (Alabama LB); Jimmy Williams (Virginia Tech CB)
2004
Derrick Johnson, Texas (LB)
6-4
230
Sr.
Waco, Texas
Finalists: Jonathan Goddard (Marshall DL); Erasmus James (Wisconsin DL); David Pollack (Georgia DE); Carlos Rogers (Auburn CB)
2003
Derrick Strait, Oklahoma (CB)
5-11
195
Sr.
Austin, Texas
Finalists: Dave Ball (UCLA DE); Tommie Harris (Oklahoma DT); Chad Lavalais (LSU DT); Grant Wiley (West Virginia LB)
2002
Terrell Suggs, Arizona State (DE)
6-3
252
Jr.
Chandler, Ariz.
Finalists: E.J. Henderson (Maryland LB); Terence Newman (Kansas State CB); David Pollack (Georgia DE); Shane Walton (Notre Dame CB)
2001
Roy Williams, Oklahoma (DB)
6-0
215
Jr.
Union City, Calif.
Finalists: Rocky Calmus (Oklahoma LB); Julius Peppers (North Carolina DE); Dwight Freeney (Syracuse DE); Alex Brown (Florida DE)
2000
Dan Morgan, Miami (LB)
6-3
243
Sr.
Coral Springs, Fla.
Finalists: Andre Carter (California DE); Levar Fisher (N.C. State LB); John Henderson (Tennessee DT); Justin Smith (Missouri DE)
1999
Corey Moore, Virginia Tech (DE)
6-0
225
Sr.
Brownsville, Tenn.
Finalists: LaVar Arrington (Penn St. LB); Courtney Brown (Penn St. DE); Tyrone Carter (Minnesota DB); Corey Simon (Florida St. DT)
1998
Champ Bailey, Georgia (DB)
6-1
186
Jr.
Folkston, Ga.
Finalists: Patrick Kearney (Virginia DE); Jeff Kelly (Kansas State LB); Anthony Poindexter (Virginia DB); Al Wilson (Tennessee LB)
1997
Charles Woodson, Michigan (CB)
6-1
197
Jr.
Fremont, Ohio
Finalists: Sam Cowart (Florida State LB); Andy Katzenmoyer (Ohio State LB): Jason Peter (Nebraska DT); Grant Wistrom (Nebraska DE)
1996
Pat Fitzgerald, Northwestern (LB)
6-2
233
Sr.
Orland Park, Ill.
Finalists: Chris Canty (Kansas St. CB); Canute Curtis (West Virginia LB); Derrick Rodgers (Arizona St. DE); Grant Wistrom (Nebraska DE)
1995
Pat Fitzgerald, Northwestern (LB)
6-2
228
Jr.
Orland Park, Ill.
Finalists: Cornell Brown (Virginia Tech DE); Chris Canty (Kansas State CB); Kevin Hardy (Illinois LB); Zach Thomas (Texas Tech LB)
FWAA National Defensive Player of the Year Award
1994
Warren Sapp, Miami (DT)
6-3
284
Jr.
Plymouth, Fla.
Finalists: Dana Howard (Illinois LB); Ed Stewart (Nebraska LB)
1993
Rob Waldrop, Arizona, (DL)
6-2
274
Sr.
Phoenix, Ariz.
Finalists: Antonio Langham (Alabama CB); Derrick Brooks (Florida State LB)
2020 Bronko Nagurski National Defensive Players of the Week
• Weekend of Sept. 5: Isaiah Kaufusi, LB, BYU
• Weekend of Sept. 12: Curtis Ryans, DE, Georgia Tech
• Weekend of Sept. 19: Tavante Beckett, LB, Marshall
• Weekend of Sept. 26: Jahron McPherson, S, Kansas State
• Weekend of Oct. 3: Bumper Pool, LB, Arkansas
• Weekend of Oct. 10: Nick Bolton, LB, Missouri
• Weekend of Oct. 17: Grant Morgan, LB, Arkansas
• Weekend of Oct. 24: Nick Andersen, S, Wake Forest
• Weekend of Oct. 31: Joseph Ossai, DE/LB, Texas
• Weekend of Nov. 7: Jeremiah Owusu-Koramoah, LB, Notre Dame
• Weekend of Nov. 14: Zaven Collins, LB, Tulsa
• Weekend of Nov. 21: Blake Gallagher, LB, Northwestern
• Weekend of Nov. 28: Nate Landman, LB, Colorado
Related links:
• Bronko Nagurski Trophy (All-Time Winners, Finalists and Players of the Week)
• Download the Bronko Nagurski Trophy presented by LendingTree logo: Primary (.jpg) | Primary (.eps)
2019 Bronko Nagurski National Defensive Players of the Week
• Weekend of Aug. 31: Alijah Halliburton, Wyoming
• Weekend of Sept. 7: Evan Weaver, Cal
• Weekend of Sept. 14: David Reese II, Florida
• Weekend of Sept. 21: Demetrius Taylor, Appalachian State
• Weekend of Sept. 28: Benny Walls, Temple
• Weekend of Oct. 5: Jordyn Brooks, Texas Tech
• Weekend of Oct. 12: Israel Mukuamu, South Carolina
• Weekend of Oct. 19: Amik Robertson, Louisiana Tech
• Weekend of Oct. 26: Chase Young, Ohio State
• Weekend of Nov. 2: Dele Harding, Illinois
• Weekend of Nov. 9: Terrel Bernard, Baylor
Related link:
• Bronko Nagurski Trophy (All-Time Winners, Finalists and Players of the Week)
2018 Bronko Nagurski National Defensive Players of the Week
• Weekend of Sept. 1: Tyler Horton, Boise State
• Weekend of Sept. 8: Nate Landman, Colorado
• Weekend of Sept. 15: Alvin Davis Jr., Akron
• Weekend of Sept. 22: Ben Burr-Kirven, Washington
• Weekend of Sept. 29: Jerry Tillery, Notre Dame
• Weekend of Oct. 6: Montez Sweat, Mississippi State
• Weekend of Oct. 13: Keisean Lucier-South, UCLA
• Weekend of Oct. 20: Austin Robinson, Houston
• Weekend of Oct. 27: Reed Blankenship, Middle Tennessee
• Weekend of Nov. 3: Quinnen Williams, Alabama
Related link:
• Bronko Nagurski Trophy (All-Time Winners, Finalists and Players of the Week)
2017 Bronko Nagurski National Defensive Players of the Week
• Weekend of Sept. 2: Jordan Wyatt, SMU
• Weekend of Sept. 9: Austin Bryant, Clemson
• Weekend of Sept. 16: Kameron Kelly, San Diego State
• Weekend of Sept. 23: Josey Jewell, Iowa
• Weekend of Sept. 30: Dorian O'Daniel, Clemson
• Weekend of Oct. 7: Minkah Fitzpatrick, Alabama
• Weekend of Oct. 14: Austin Hall, Memphis
• Weekend of Oct. 21: TJ Carter, Memphis
• Weekend of Oct. 28: Paddy Fisher, Northwestern
• Weekend of Nov. 4: Khaleke Hudson, Michigan
Related link:
• Bronko Nagurski Trophy (All-Time Winners, Finalists and Players of the Week)
2016 Bronko Nagurski National Defensive Players of the Week
• Weekend of Sept. 3: Justin Evans, Texas A&M
• Weekend of Sept. 10: Sunia Tauteoli, Utah
• Weekend of Sept. 17: Steven Taylor, Houston
• Weekend of Sept. 24: Travon Blanchard, Baylor
• Weekend of Oct. 1: Ben Boulware, Clemson
• Weekend of Oct. 8: Josiah Powell, Navy
• Weekend of Oct. 15: Zach Cunningham, Vanderbilt
• Weekend of Oct. 22: Jonathan Allen, Alabama
• Weekend of Oct. 29: Jarron Jones, Notre Dame
• Weekend of Nov. 5: Drico Johnson, UCF
2015 AutoNation National Defensive Players of the Week
• Week of Sept. 5: Karl Joseph, West Virginia
• Week of Sept. 12: Kai Nacua, BYU
• Week of Sept. 19: RJ Williamson, Michigan State
• Week of Sept. 26: Jeremy Cash, Duke
• Week of Oct. 3: Eric Striker, Oklahoma
• Week of Oct. 10: Emmanuel Ogbah, Oklahoma State
• Week of Oct. 17: Minkah Fitzpatrick and Eddie Jackson, Alabama
• Week of Oct. 24: Cameron Smith, USC
• Week of Oct. 31: Quenton Meeks, Stanford
• Week of Nov. 7: Chad Whitener, Oklahoma State
• Week of Nov. 14: Elandon Roberts, Houston
• Week of Nov. 21: Ejuan Price, Pittsburgh
• Week of Nov. 28: Tyler Matakevich, Temple
• Week of Dec. 5: Tarris Batiste, Georgia State
2014 Bronko Nagurski National Defensive Players of the Week
• Aug. 30: Eric Kendricks, UCLA
• Sept. 6: Kyshoen Jarrett, Virginia Tech
• Sept. 13: Josh Keyes, Boston College
• Sept. 20: Quentin Poling, Ohio
• Sept. 27: Weston Steelhammer, Air Force
• Oct. 4: Nate Orchard, Utah
• Oct. 11: Terrance Plummer, UCF
• Oct. 18: Terrell Pinson, Louisiana Tech
• Oct. 25: Scooby Wright, Arizona
• Nov. 1: Zach Patt, Rice
• Nov. 8: Cedric Reed, Texas
2013 Bronko Nagurski National Defensive Players of the Week
• Aug. 31: Collin Ellis, Northwestern
• Sept. 7: Shilique Calhoun, Michigan State
• Sept. 14: Anthony Barr, UCLA
• Sept. 21: Brock Hekking, Nevada
• Sept. 28: Shaquil Barrett, Colorado State
• Oct. 5: Terrance Plummer, UCF
• Oct. 12: Isaiah Newsome, ULM
• Oct. 19: Lamarcus Joyner, Florida State
• Oct. 26: Sam Scofield, Tulane
• Nov. 2: Aaron Donald, Pittsburgh
• Nov. 9: DeVon Edwards, Duke; Shayne Skov, Stanford
2012 Bronko Nagurski National Defensive Players of the Week
• Sept. 1: Derrick Wells, Minnesota
• Sept. 8: Jarvis Jones, Georgia
• Sept. 15: Yawin Smallwood, Connecticut
• Sept. 22: Manti Te'o, Notre Dame
• Sept. 29: Chip Thompson, East Carolina
• Oct. 6: Brandon Sharpe, Syracuse
• Oct. 13: Khaseem Greene, Rutgers
• Oct. 20: Kevin Minter, LSU
• Oct. 27: Jarvis Jones, Georgia
• Nov. 3: Allen Chapman, Kansas State
2011 Bronko Nagurski National Defensive Players of the Week
• Sept. 3: Nordly Capi, Colorado State
• Sept. 10: Ja'Gared Davis, SMU
• Sept. 17: Javon Harris, Oklahoma
• Sept. 24: Jeremiah Attaochu, Georgia Tech
• Oct. 1: Brady Amack, Air Force
• Oct. 8: Jamell Fleming, Oklahoma
• Oct. 15: Vinny Curry, Marshall
• Oct. 22: Kourtnei Brown, Clemson
• Oct. 29: Jarvis Jones, Georgia
• Nov. 5: Eric Reid, LSU
2010 Bronko Nagurski National Defensive Players of the Week
• Sept. 4: Kenny Tate, Maryland
• Sept. 11: Chimdi Chekwa, Ohio State
• Sept. 18: Patrick Larimore, UCLA
• Sept. 25: Robert Lester, Alabama
• Oct. 2: Jayron Hosley, Virginia Tech
• Oct. 9: Tramain Thomas, Arkansas
• Oct. 16: Chris White, Mississippi State
• Oct. 23: J.J. Watt, Wisconsin
• Oct. 30: Sio Moore, Connecticut
• Nov. 6: Michael Hodges, Texas A&M
2009 Bronko Nagurski National Defensive Players of the Week
• Sept. 5: B.W. Webb, William & Mary
• Sept. 12: Nate Triplett, Minnesota
• Sept. 19: Donald Butler, Washington
• Sept. 26: Pat Angerer, Iowa
• Oct. 3: Rolando McClain, Alabama
• Oct. 10: Ndamukong Suh, Nebraska
• Oct. 17: Ryan Kerrigan, Purdue
• Oct. 24: DeAndre McDaniel, Clemson
• Oct. 31: Jared Crick, Nebraska
• Nov. 7: Matt O'Hanlon, Nebraska
2008 Bronko Nagurski National Defensive Players of the Week
• Aug. 30: Ben Owens, Arkansas State
• Sept. 6: Patrick Benoist, Vanderbilt
• Sept. 13: DeAndre Levy, Wisconsin
• Sept. 20: Ryan Hamilton, Vanderbilt
• Sept. 27: Trimane Goddard, North Carolina
• Oct. 4: Scott McKillop, Pittsburgh
• Oct. 11: Tyrrell Herbert, Toledo
• Oct. 18: Jerry Hughes, TCU
• Oct. 25: Darryl Gamble, Georgia
• Nov. 1: Daniel Charbonnet, Texas Tech
• Nov. 8: Rashad Johnson, Alabama
2007 Bronko Nagurski National Defensive Players of the Week
• Sept. 1: Pig Brown, Missouri
• Sept. 8: Nate Allen, South Florida
• Sept. 15: Robert Johnson, Utah
• Sept. 22: Larry English, Northern Illinois
• Sept. 29: Ben Moffitt, South Florida
• Oct. 6: Eric Norwood, South Carolina
• Oct. 13: Mike Humpal, Iowa
• Oct. 20: D.J. Moore, Vanderbilt
• Oct. 27: Terrence Wheatley, Colorado
• Nov. 3: James Laurinaitis, Ohio State
2006 Bronko Nagurski National Defensive Players of the Week
• Sept. 2: Buster Davis, Florida State
• Sept. 9: James Laurinaitis, Ohio State
• Sept. 16: Prescott Burgess, Michigan
• Sept. 23: Terrail Lambert, Notre Dame
• Sept. 30: Philip Wheeler, Georgia Tech
• Oct. 7: Aaron Ross, Texas
• Oct. 14: Quentin Groves, Auburn
• Oct. 21: Ameer Ismail, Western Michigan
• Oct. 28: Damon Nickson, Middle Tennessee
• Nov. 4: Quinton Culberson, Mississippi State
2005 Bronko Nagurski National Defensive Players of the Week
• Sept. 10: Dion Byrum, Ohio
• Sept. 17: A.J. Nicholson, Florida State
• Sept. 24: Ben Moffitt, South Florida
• Oct. 1: Jon Abbate, Wake Forest
• Oct. 8: Tim McGarigle, Northwestern
• Oct. 15: Bobby Carpenter, Ohio State
• Oct. 22: Herschel Henderson, Northwestern
• Oct. 29: Michael Johnson, Arizona
• Nov. 5: A.J. Davis, North Carolina State
2004 Bronko Nagurski National Defensive Players of the Week
• Sept. 11: Michael Boley, Southern Miss
• Sept. 18: Matt McCoy, San Diego State
• Sept. 25: Derrick Martin, Wyoming
• Oct. 2: Junior Rosegreen, Auburn
• Oct. 9: Mike Patterson, USC
• Oct. 16: Scott Starks, Wisconsin
• Oct. 23: Chris Harris, Louisiana-Monroe
• Oct. 30: Tim McGarigle, Northwestern
• Nov. 6: Morgan Scalley, Utah
2003 Bronko Nagurski Players of the Week
• Sept. 9: Eric Henderson, Georgia Tech
• Sept. 16: Jamaal Brimmer, UNLV
• Sept. 23: Corey Webster, LSU
• Sept. 30: Usama Young, Kent State
• Oct. 7: Dave Ball, UCLA
• Oct. 14: Jorge Cordova, Nevada
• Oct. 21: Keiwan Ratliff, Florida
• Oct. 28: Janssen Patton, Bowling Green
• Nov. 4: Derrick Johnson, Texas
• Nov. 11: Erik Coleman, Washington State

Related Link:
• Charlotte Touchdown Club
2002 Bronko Nagurski Players of the Week
• Sept. 9: Maurice Sikes, Miami
• Sept. 16: Shane Walton, Notre Dame
• Sept. 23: Willie Pile, Virginia Tech
• Sept. 30: R.J. Jones, Missouri
• Oct. 7: Matt Grier, Mississippi
• Oct. 14: Corey Webster, LSU
• Oct. 21: Brandon Everage, Oklahoma
• Oct. 28: Terrell Suggs, Arizona State
• Nov. 4: Josh Ott, Boston College
• Nov. 11: Bobby Walker, Kansas State
Related Link:
• Charlotte Touchdown Club
2001 Bronko Nagurski Players of the Week:
• Sept. 10: James King, Central Michigan
• Sept. 24: Julius Peppers, North Carolina
• Oct. 1: Dan Dawson, Rice
• Oct. 8: Roy Williams, Oklahoma
• Oct. 15: E.J. Henderson, Maryland
• Oct. 22: Bob Sanders, Iowa
• Oct. 29: Jamie Burrow, Nebraska
• Nov. 5: Jermaine Petty, Arkansas
• Nov. 12: Eugene Wilson, Illinois
• Nov. 19: Jermaine Petty, Arkansas
Related News:
• Sept. 24: Charlotte Touchdown Club changes award date